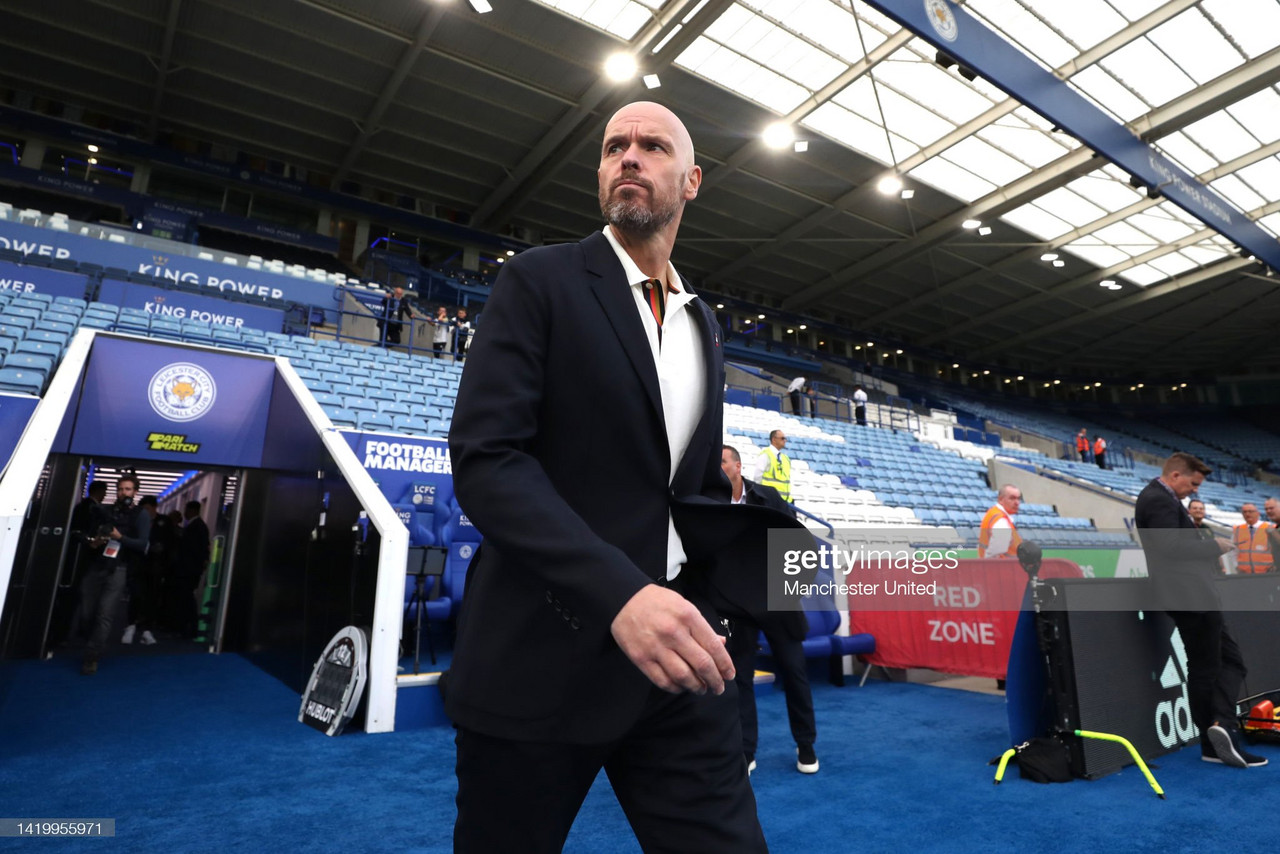 Manchester United beat Leicester City 1-0 at the King Power Stadium in the Premier League.
A first-half strike from winger Jadon Sancho was all that separated the two sides, with United looking particularly dominant in the first-half. All that The Foxes managed to muster was a rasping James Maddison free-kick that needed saving by David de Gea in goal for the Red Devils.
During his post-match interview with Shamoon Hafez Ten Hag said: "We have to be more [ruthless]. There is room for improvement."
He added: "I am happy with the clean sheet. The XI on the pitch defend and attack together. You can see what we can achieve."
"The defensive skill is the base for winning games. It makes you hard to beat. We have to stick to that. I know we can be better. We were already better than at Southampton. I am sure we will improve on that fact. Pressing also needs room for improvement."
The result makes it three wins in three for the Red Devils, Erik ten Hag was happy with his side's performance.
"A step forward. We are happy with that and again a good team spirit and eleven players on the pitch fighting for each other."
The Dutchman followed this up with: "We can be dangerous in the transition moments. There were many spaces in the second half but did not explore them that well. We should have scored a second goal."
Whilst talking to Athletic reporter Laurie Whitehall, Ten Hag said: "We are raising a team, they are sticking together, they fight for each other, cooperate. Now we have to step up further."
"Quite solid performance, we defended well with the eleven, the free-kick — the moment at the end is what we have to avoid. But we should have been up 2-0, there was so much space on the pitch."
The talk then turned to two former Real Madrid stars: Cristiano Ronaldo and summer recruit Casemiro. Both players came on and had a considerable impact on the game.
"Once Casemiro and Ronnie get fitter and fitter, we need not only a team but a squad."
Whilst talking to BBC Sport, Ten Hag said: "Casemiro has to get used to a different league. He has achieved everything that you can imagine. Now he is in a different league and we want to give him the minutes to adapt to that, to his team-mates and the style of football."
Ten Hag was also quick to heap praise onto goal scorer Jadon Sancho. The Englishman notched his second of the season tonight, placing one behind his total for the entirety of last season.
"I am very happy for Jadon Sancho. He scored many goals in pre-season, now also he scores against Liverpool and today. He is getting his rewards. But it was a team goal, how we built it up from the back. It was a transition moment, a good pass and finish."
The signing of Brazilian winger Antony was confirmed on deadline day. Understandably, Ten Hag was asked about the former Ajax player.
"Of course I am really excited, a really good signing. He will bring temperament, creativity, fighting spirit and we need quality in numbers in the offensive department," he said to Shamoon Hafez.
When asked whether Antony will play on Sunday, Ten Hag stated: "We will see on Sunday."
Talk then turned to the prospect of facing league leaders Arsenal on Sunday.
"Saturday [against Arsenal] is a real test for us. We have to be good, we know that. It is a good test to see where we are."
Erik ten Hag will be happy with the level of performance his side has been putting out. Following on from their rather horrible start to the season, the Red Devils have been able to put together a great run of form.
The Mancunians prepare to take on rivals and Premier League tale-toppers Arsenal on Sunday. It will be a true test for each side, and give us an idea of where Erik Ten Hag's men really are.