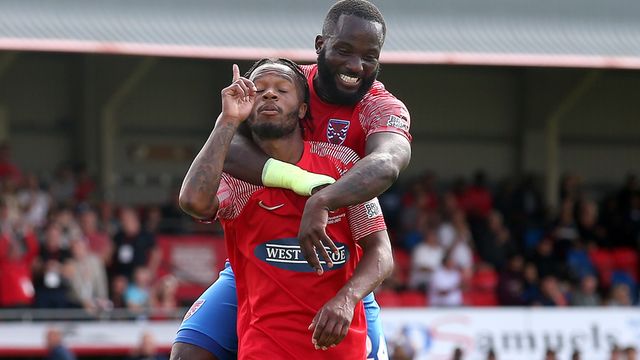 Altrincham's tumultuous acclimatisation to a full time training model dragged on, the still-winless Robins - alone within the division in being so - slumping to bottom of the table through a convincing defeat at Dagenham & Redbridge.
A remarkably open game yielding a fluent flow of chances at both ends was always going to hinge upon which side could take theirs more efficiently, and Daggers' superiority in that regard ultimately led to a somewhat deceptive margin of victory, worthy though they indisputably were for it.
First half strikes from Manny Onariase and Mauro Vilhete gave them a comfortable lead, later expanded into the territory of a rout with an own goal then solo effort by Josh Walker, before Alty restored some dignity via Josh Lundstram's stunning consolation.
The subdued atmosphere among both sets of supporters at Victoria Road ahead of kick-off aptly encapsulated the mood of two clubs desperate for a victory after enduring challenging periods. Altrincham were without one all season, while their hosts had conceded nine during heavy defeats in their past two outings.
Phil Parkinson's visitors began with confidence defying their lowly league position, as Chris Conn-Clarke immediately won the first of many corners inside the opening ten minutes. While none amounted to anything, they were nonetheless positive signs.
Dagenham failed to heed the warnings, instead indebted to their perennial saviour between the sticks, Elliot Justham, for then tipping wide a powerful low effort from Elliot Osborne, at the unpunished expense of yet another set-piece.
The home outfit finally livened up at the other end, Paul McCallum being denied by a last-ditch intervention after Mauro Vilhete's pass intelligently found him inside the area. From that moment, each team took turns to launch an attack, with the respective defences offering little resistance.
Altrincham went completely upfield within seconds, a sweeping move eventually ending with their biggest threat Ryan Colclough forcing a superb stop from the feet of Justham after getting in behind far too easily.
In a similar vein, no sooner had Colclough's cross whistled tantalisingly across the face of goal, when Josh Walker was through in the opposite box and fired marginally wide himself. The game was now on a knife-edge, the opener tangibly imminent.
Sure enough, the very next attack brought the breakthrough and it was Dagenham who got it. Somewhat ironically given the converse nature of the game, it came in the scrappiest manner imaginable, though such was their desperation for a confidence boost that the hosts would not have minded whatsoever.
Oliver Byrne in the away net was caught in no-man's-land as a corner sailed over him to the far post, where Manny Onariase outmuscled the two defenders in his vicinity to nudge it over the line. Just as vital as that contribution from the Daggers man, though, was him preventing a brilliant cross from being met by Marcus Dinanga shortly afterwards.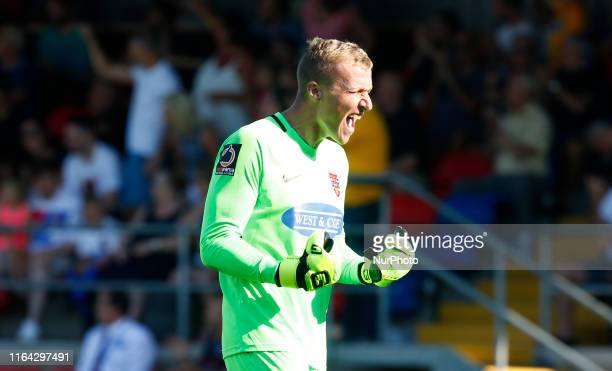 Elliott Justham was in top form between the sticks again. (Photo by Action Foto Sport/NurPhoto via Getty Images)
The importance of that action soon became clear when Dagenham doubled their advantage. Matt Robinson and Junior Morias combined to work the ball out to Vilhete, who caressed a sublime curler into the net via the post, which added further aesthetic appeal.
Seeking an immediate response, while simultaneously demonstrating that they weren't yet beaten, Alty went forward and came agonisingly close to halving the deficit as Colclough struck the woodwork. Mere inches had aided Dagenham, then denied their visitors, thus epitomising the fine margins in football.
The half time whistle sounded, bringing a temporary end to the drama, but the game immediately resumed in a similarly chaotic fashion thereafter. Almost straight away, Walker hared down the line before setting up Morias to fire wide of the target.
Walker continued to single-handedly lead his side towards a killer third, freely dancing beyond defenders before seeing a subsequent cutback cleared by a covering player from the Greater Manchester outfit. Having seen enough, Phil Parkinson in the visiting dugout promptly made a double substitution.
However, it couldn't prevent Dagenham putting the result beyond doubt, as they netted twice within a short timeframe spanning just three minutes. Firstly, Myles Weston breezed past Eddy Jones into the area before delivering a powerful cross that Ross Barrows calamitously powered into his own net.
The backline remained at sixes and sevens when, from along-range free kick directly after the restart, Vilhete found Walker. He then played a one-two with Paul McCallum, whose clever backheel granted the space for the striker to cut inside and blast home.
With over half an hour still on the clock, home supporters were optimistically envisaging a big victory, however their side instead took their foot off the gas somewhat. As a result, Altrincham had a little spate of control, which nearly brought a deserved goal as Justham once again repelled a decent attempt from Colclough.
The Robins did get their consolation in the end, and some strike it was too. Lundstram lined up a speculative piledriver from 25 yards, arrowing into the very upper stanchion of the net as a motionless Justham watched his hard-earned clean sheet evaporate.
He would have soon overcome the disappointment as the referee signalled three points for his team, which they will be hoping is a platform to truly kick-start their season in the coming weeks. Alty, meanwhile, are in even more desperate need to find some form.
Mauro Vilhete (Dag & Red) | Comfortably the Portugese wide-man's best performance of a fairly indifferent season thus far, in which he showcased his technical ability, most notably with the nonchalant manner whereby he curled beyond the keeper to double his side's lead. Continued to cause problems thereafter, remaining an integral part of the build-up play as Altrincham struggled to contend with his movement and close control.
DAGENHAM & REDBRIDGE: Elliot Justham; Mauro Vilhete ⚽, Sam Ling, Manny Onariase ⚽, Kamarl Grant, Myles Weston (Harry Phipps 77'); Mo Sagaf (Dean Rance 82'), Matt Robinson; Josh Walker ⚽, Paul McCallum, Junior Morias
ALTRINCHAM: Oliver Byrne; Eddy Jones, James Jones, Toby Mullarkey, Ross Barrows; Dan Malone (Aaron Bennett 64'), Josh Lundstram ⚽, Elliot Osborne; Ryan Colclough, Marcus Dinanga, Chris Conn-Clarke (Brad Jackson 62')