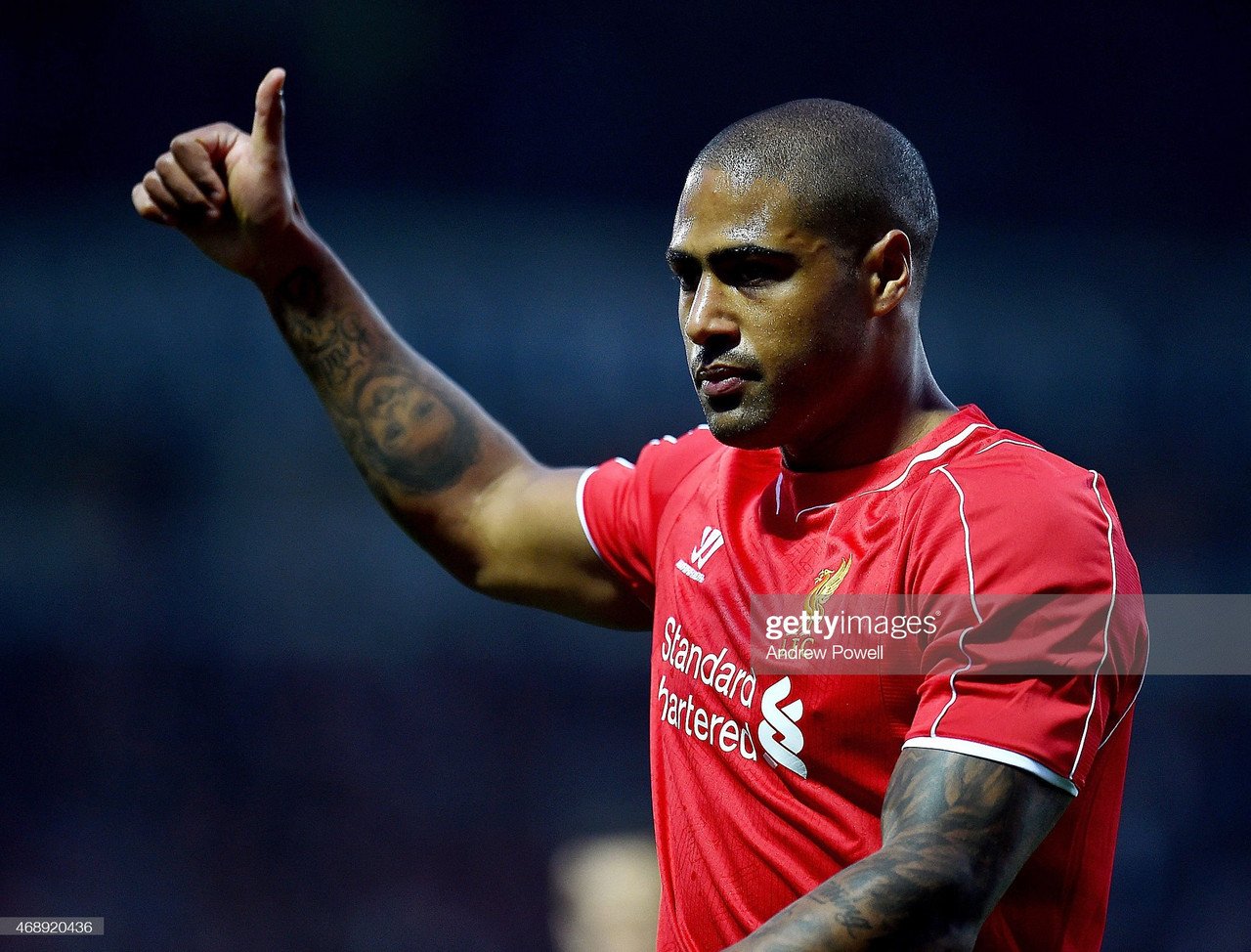 Glen Johnson believes Trent Alexander-Arnold must not sulk, or "it's only going to get worse" for the full-back. The Englishman was left out of Gareth Southgate's squad for England's match against Germany on Monday night.
Despite being classed as one of the best full-backs in the world by the worldwide media, he is yet to cement his place in the current England squad.
Glen Johnson had a successful footballing career over a sixteen year spell. The full-back featured for Chelsea and Liverpool, whilst also representing the Three Lions on 54 occasions (Wikipedia).
The former Stoke player also spoke about the upcoming North London derby, and believes "it's going to be a tough one to call" as both teams "look great".
Alexander-Arnold's England career has been a rollercoaster full of emotions. He made his Three Lions debut at the age of nineteen, but has struggled to cement his place since then.
Last summer, he was forced to pull out of Euro 2020 due to a thigh injury. The Liverpool full-back's luck with England can be summed up by those events last summer.
Glen Johnson has full belief in the 23-year-old, but believes he must work hard and not give up on his international career.
He said: "It's a kick in the backside, one moment he's starting for Liverpool every week but not for England every week. Of course there's kickbacks, but it's how good players respond. Every player has had that moment whether they've been dropped for the club or dropped for the national side, it's how you bounce back."
"If he sulks and feels sorry for himself, then it's only going to get worse. If he realises that he's got a lot of work to do to find his form, then I'm sure he'll be starting for England again very soon."
Johnson felt sorry for Alexander-Arnold and Ivan Toney, who both failed to earn minutes in the recent international break.
He added: "I can only imagine that wasn't his intention. If you've got no intention of playing anyone, then there's no point in them being in the squad. I can only imagine he picked the squad with an open mind and then picked the team from how people were performing during training."
"If you've got no intention of playing them, then you might as well leave them at home. For them personally, of course, you're so close to the World Cup and not many players are in form, they'll be super disappointed in terms of not at least getting on a pitch."
The North London Derby is always one of the biggest matches of the season. Crunching tackles, tensions on the sideline and police escorts to the stadium some up an experience at this match.
This season, both sides come into the game in fine form. Tottenham Hotspur are yet to lose in the Premier League this season, whilst Arsenal top the table. Whoever wins will go to first place, showing the significance of Saturday's match.
Johnson believes it is a hard match to predict, but has faith in Arsenal to earn the bragging rights.
He said: "It's going to be a tough one to call to be honest. Tottenham look great, Arsenal look great. Finally, we've got two good teams going into the North London derby! I literally have no idea how the game will play out because Arsenal surprised me, Tottenham look really solid. This game is probably the biggest 50/50 this season. I'm going with 2-1 Arsenal"
"It would be a massive win for either team, because both teams are performing really well and you've got to show that you're at that level. There's a lot of teams in the league that can get to a position near the top of the table, but it can be false, because it depends who you've been playing."
"These are two clubs now where they're both in form, they're both knocking around the top of the table and you're going to have to prove that you're the best at some stage. This is their first big test, for both teams."
The match might be highly dependent on the teams' two star players. Harry Kane has started the season strongly. Meanwhile, Gabriel Jesus, who joined from Manchester City in the summer, has provided a vocal point upfront for the Gunners.
Naturally, this had led to comparisons between the strikers, but Johnson believes Kane is the superior player.
He said: "I'm a fan of both but I have to go for Kane. I'm a big fan of Jesus, but Kane is a proper goalscorer. Jesus' all around game is better, but if you've got a goalscoring opportunity to win the game then I think Kane is the man."
The expectations at Chelsea
Chelsea had a poor start to the season, which led to Thomas Tuchel being sacked by Todd Boehly. Graham Potter was poached from Brighton as his replacement, but he was unable to earn a victory on his debut.
Glen Johnson believes Chelsea could become a serious threat under the Englishman, but Potter must make sure he priorities on the Champions League to prevent embarrassment.
He said: "Any manager wants to start well, he's got a fantastic squad there and if he can get them firing then they could turn into a real good side. Everyone wants to win, just for momentum it's important to get a first one under the belt, especially when you're at a top team now."
"As long as he's the Aubameyang of old and wants to be there, he's proved that he is a goal machine when he's happy. They've got a good player, it's just more about where his head's at."
There's a chance that they'll drop out [of the Champions League], but they're all tough games at that level, so if you're not firing and you're not playing to your usual standards, of course you're going to get found out."
"But they're going into it now with the new manager, they have new philosophies, certain players are going to come back from the dark, as long as the manager can get them going early on, then they're still expected to get out of the group. But you can't keep saying it, they're just gonna have to go and win games."
Pressure mounting on Mount
After a couple of sensational seasons at the West London side, Mason Mount has failed to deliver for the Blues this season. Currently, the playmaker has zero goal contributions in six Premier League matches.
Glen Johnson believes Mount has lost confidence, but will soon bounce back.
He said: "Yes, because he set the bar really high. He was pretty much the centre of everything that Chelsea did well last season. You don't lose your class overnight. It's just a little bit of confidence that's missing, he's still capable of top performances and I'm sure he'll bounce back soon but he's just not firing on all cylinders at the moment."
The former Chelsea player added that he believes Mount is a great impact off the bench, therefore he should not be a guaranteed starter at the World Cup for England.
He said: "Some players have impact from the bench and they're great at doing it. But just because they come off the bench and perform it doesn't mean they would have performed like that if they started the whole game. We're never going to know the answer. But I think subs are just as important, because when the starting 11 isn't playing well, you need people that can come on and have an impact and change the game."
"It's a tough one but at the same time, if people aren't firing and your subs are coming off the bench and putting in a good performance, then of course that's going to be in your mind to give that certain person more minutes. I would rather play people that are showing me something rather than giving everyone a chance."
On Sunday, Manchester City host Manchester United at the Etihad stadium. The hosts will be firm favourites after an impressive start to the season, but Erik Ten Hag's side will be determined to earn the bragging rights.
Glen Johnson believes Man United must neutralise Erling Braut Haaland and Kevin De Bruyne if they want to win.
He commented: "Haaland is a goal machine, everyone needs to get their tactics right and try and limit the space to numb him out of the game as much as they possibly can. There's not a lot that this kid [Haaland] can't do."
"Everyone for United needs to be on it, it's not about one individual keeping him quiet, everyone needs to get around him. You either stop the source at the beginning or you just make sure you get bodies around him. When you're coming up against a player like that, that can do almost anything, you're thinking 'bl**dy hell how are we going to stop this."
"You've got to be brave enough to push up the park. But this is City's ability, if you put bodies around Haaland, that means you're giving space to other City players. They've got players like De Bruyne that can obviously hurt you as well. United have to go get in their face, go toe to toe with them."
"As soon as De Bruyne is on the ball, someone's got to be close to him so that he passes it sideways rather than forwards. As soon as De Bruyne gets his head up, and Haaland is running behind, then you know De Bruyne is going to find him. You can't let De Bruyne enjoy himself, you can't let City get into momentum."