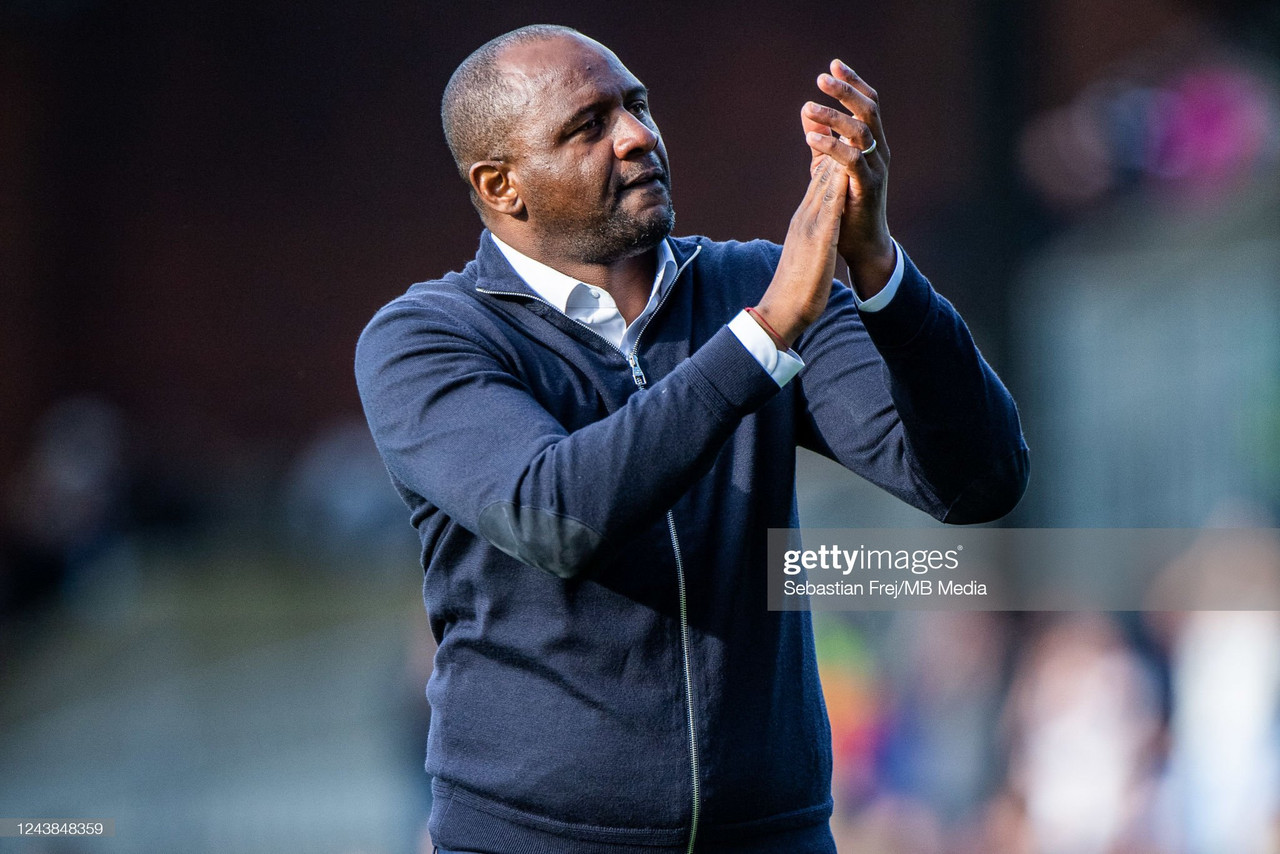 Crystal Palace will need "to perform at their best" if they are to come away with a result at home against Wolverhampton Wanderers in the Premier League on Tuesday night, according to manager Patrick Vieira.
The Frenchman was speaking in his pre-match press conference, and commented on a variety of topics, including the performance in their previous game, the prospect of facing a managerless team, and a holistic summary of his side's performances so far.
When Wolves do travel down from the West Midlands to South London for this midweek clash, they will do so for the third successive game without a permanent head coach being appointed, following the sacking of Bruno Lage.
Since then, Steve Davis and James Collins have been taking charge of the team as caretaker managers, to mixed success, losing 3-0 to Chelsea but then picking up a victory over Nottingham Forest at the weekend.
Vieira made it clear that it would be wrong to assume being without a manager would make facing Wolves an easier prospect, saying, "There is not a good time or a bad time to play Wolverhampton or any other team.
"We know where they are at the moment, we know their strengths and we know that we have to perform at our best. We are going to face a team who are well organised. There is no doubt about their organisation. It will be challenging because they want to get out of their position [in the table] and we want to get higher.
"It will be a challenging game for us. We don't think for one second because of their temporary manager or the league table that it is going to be an easy game. There are no easy games in the Premier League."
The 46-year-old is right to not get ahead of himself in terms of Palace's advantage over their upcoming opponents: for all of the turbulence at Molineux, they sit just one point behind the Eagles in the league table, albeit having played one game more.
Still, it is reflective of the tough start that has occurred at Selhurst Park, with just two wins from their opening ten games being something of a concern, even if many teams around them are suffering similar issues themselves.
Vieira summed up his team's difficulties at the start of this campaign: "We would like to score more goals, and we would like to concede fewer goals. We would like to grow as a team and we have seen against Leeds [a 2-1 win] that we managed the game well.
"This was one of the elements that we needed to improve [managing games], but we need to be more consistent in our clarity about how we want to approach the game.
"We are still growing as a team. We know that there is a lot to improve but so far we are in a good place - even if I want more from the players."
As mentioned a little earlier, Palace were frustrated during the early kick-off on Saturday when they were held to a 0-0 draw against then-basement boys Leicester City away from home, in a game where they only managed a single shot on target.
Such a statistic ought not to be too concerning when isolated by itself, but the Eagles have only scored more than two goals in a game once this season, that coming back in August against Aston Villa, so troubles in front of goal have been a consistent theme.
"In the first half there were opportunities for us to hurt them a little bit and we didn't," Vieira admitted with regards to the aforementioned Leicester game. "This is the process that we have to go through as a team.
"It's about in a really good period how can we insist a bit more and be more aggressive to score the goals in a good period where the opposition are not at their best. We were a bit flat in those moments and we didn't take advantage of the situation.
"It's about experience, what we want to do as a team to organise those situations and to be more clinical. Of course, that will come with experience."