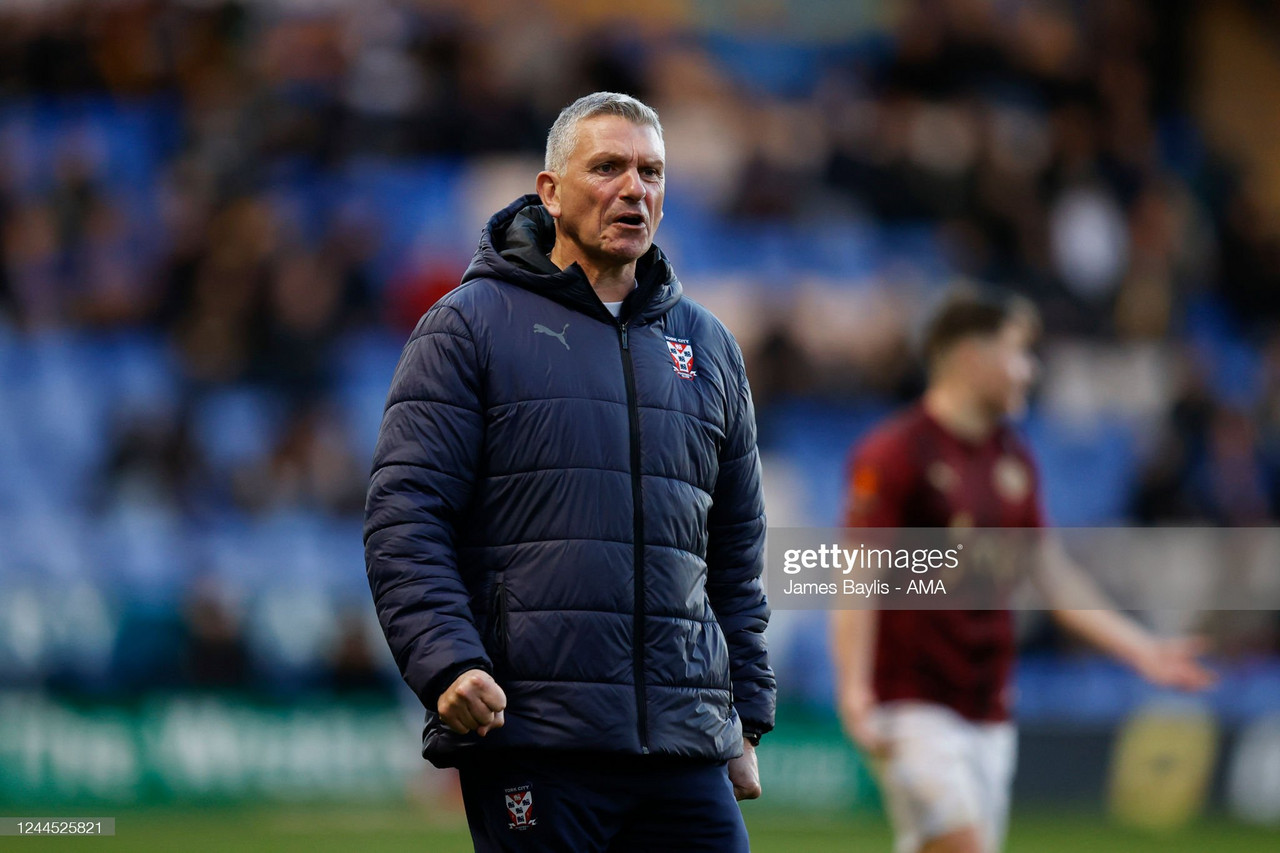 York City are without a win in their last four league matches, and now have the challenge of going to out-of-form Altrincham, with the BT Sport cameras also in presence.
The Minstermen's last outing in the National League was a long midweek trip down to Boreham Wood, where Lenell John-Lewis gave them an early lead from the spot, but ex-York man Jamal Fyfield shared the points with his second half leveller.
City boss John Askey looked back at the game, and to whether he though his side deserved only a point.
"I think at the end of the day, we'll got to be settled with a point.
"In the first half, we did really well, in the second half, I didn't think we played enough, although we did have one or two opportunities to get the three points, but if you'd have said before the game, I'd probably have taken a point."
For National League players, it's quite a big deal to play in front of the cameras, but for Askey's York, it's not the first time this season, having drawn away at Solihull Moors live on BT Sport.
"It shouldn't be pressure. It should be a privilege to play in front of the cameras, so hopefully that's how they think. Hopefully one or two don't get carried away, thinking they've got to impress.
"The main aim is to win the game, and to play football how we want them to play, but first of all, you've got to be committed, and you've got to stop the opposition from playing, and that's what we've got to do."
City's opponents, Altrincham, aren't having a brilliant time so far this campaign, sitting in 17th, just three points clear of the relegation zone. They are also hoping to avoid a fourth consecutive defeat, and their third in a row at home.
The visitors come into this in 11th, and are aiming to push back into the playoffs in the next few games, but there's a four point gap between them and 7th place.
"You would think (that it's a good chance to close the gap), but if you watch the games, then in all the games, they could have won; the Wrexham game was a different game - not many people expected them to get much there.
"But the other occasions when they've played, they've very much been in the game, created chances, and they've been a bit unfortunate. Hopefully we go there and they aren't full of confidence."
Injuries aren't looking too bad for Askey's side, with just a few players ruled out.
"We have pretty much a full squad to pick from, apart from Nathan Thomas and AJ Greaves - everyone else is fit."