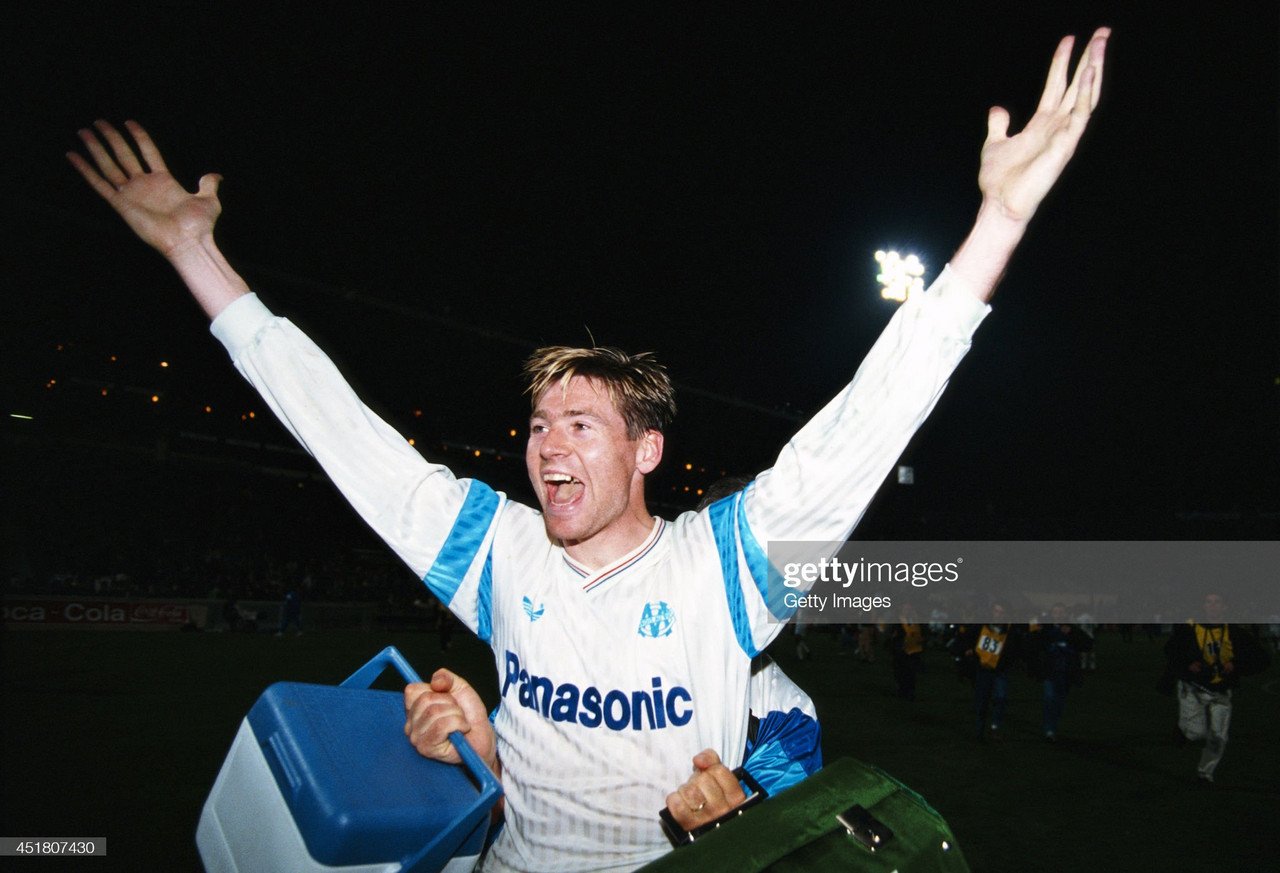 During a time where European competition was banned for English clubs following the Heysel Stadium disaster on May 29 1985, Chris Waddle remained one of the binding superstars in the old First Divison, expressing himself for Tottenham Hotspur for another three seasons as others sought life overseas.
After being a spectator to much of the emigration of talent in the mid to late-80s, Waddle would eventually follow in the footsteps of other English footballers in 1989 with a move to Marseille.
The transfer came about after scoring 33 times in 138 league appearances for the north Londoners. Although coming as a surprise to the Gateshead-born attacking midfielder, his fee of £4.5 million was the third-highest sum ever paid for a footballer at the time.
"I didn't see it coming if I'm being honest," Waddle admitted. "I had just signed a long-term deal at Spurs, and I was very happy at Tottenham."
"I got a little disheartened after 87/88 Tottenham got rid of a lot of players such as Clive Allen, Glenn Hoddle and Richard Gough. A lot of players left and suddenly it became a rebuild."
Of those players, it was Glenn Hoddle who would resonate with Waddle the most. The duo, aptly named "Glenn and Chris," would go on to become unlikely pop stars with their release of 'Diamond Lights' in 1987.
Just about anything went in the 80s, so perhaps it wasn't too wild of an idea for the pair to have a crack at pop stardom. Think Tears for Fears meets maverick footballers with dodgy haircuts and zero stage presence, and you get 'Diamond Lights'.
Reflecting on the blurred lines between a potential appearance on Top of the Pops and a successful football career, however, the duo prospered when they chose to stick to what they knew, moving across the English Channel to chase their sporting dreams.
Continuing to recount how the move came about, Waddle said: "I was 28 or 29 at the time and I thought this could be two or three seasons before we get something out of this team. We had a lot of young players coming through, but I was quite happy to see where it went and get on with it.
"Obviously, the transfer fee came in from Marseille, which was the price Tottenham had set for me.
"All of a sudden, I was gone. I didn't have a plan, but looking back, it was the right thing to do, and I did want to play in Europe because of the ban at the time."
Not your typical English footballer
Foreign territory is something rarely conquered by Britain's homegrown footballers. Many who move abroad fail to live up to expectations.
However, that notion is something of a two-sided coin.
On one side, you have the Jonathan Woodgate and Stan Collymore catastrophes at Real Madrid and Real Oviedo. But on the other, you have a charmed circle of supreme British exports that features David Platt, Kevin Keegan, and one Chris Waddle.
Waddle wasn't your archetypal English player, however. Seemingly cut from a different cloth from his compatriots at the time, he was a mesmerising footballer who had the elementary traits to bewilder defenders and incessantly reward his brilliance with goals and assists to show for it.
Ultimately, his talents deserved to be heralded on the European stage.
If Waddle was to play at the level he so merited, a move abroad was his only viable option. And at Marseille, his rags and riches story from South Shields to the south of France saw him join a team lauded as one of the best of the 90s.
"I looked at Marseille's team and I thought there was a very good chance of winning the Champions League there. I thought, if it didn't work out, then I could always come home, and luckily for me, it did work out.
"Looking back, it was the right move at the right time. If you look at Marseille's history they're a team who are up and down. They have two or three great seasons, then they have three or four where you're wondering what's happening.
"Someone then comes into the club to try to make them great again and they start to go on a journey before something goes wrong. They just can't seem to compete at the top every year as PSG do now.
"Marseille have always been an up-and-down club, so I was quite lucky that when I got there, they were on a high."
When Waddle joined up with his teammates ahead of the 1989-90 season, he was greeted with a changing room that boasted a set of players that would go on to make up Marseille's galáctico.
Jean-Pierre Papin, Eric Cantona, Didier Deschamps, Jean Tigana and Dragan Stojkovic were among the ranks in a star-studded lineup ready to take the continent by storm.
Waddle would become the main link between midfield and attack, with his incise passing and streamlined dribbling a cornerstone of a team that propelled his game to the next level.
"They were very ambitious and wanted to be the best team in Europe," he said. "So when I got there it was me walking into a team full of French internationals.
"Brazilian, Ghanaian, Uruguayan, Yugoslavia which became Serbia for Stojkovic. I was playing with players who were international footballers, there were some world-class talents and some very good footballers.
"Everywhere we went we entertained, and everyone would be looking at Marseille."
As any reader that gets to this point would have been able to guess, Waddle fell in love with France, and France fell in love with him. While he was given the freedom to express himself under Raymond Goethals, the creative cog that he became meant he was quickly adored.
In each of his three seasons with Les Olympiens, Waddle played an instrumental role in helping the team win the French First Division, contributing to 64 goals in 140 games.
His exciting brand of football earned him the name 'Magic Chris' in France's second-largest city. Showing the first glimmers of his excellence with a speculative goal against PSG, he never looked back after his first goal for the blue and white of Marseille.
Controlling a lofted ball with his chest, flicking it over the goalkeeper Joël Bats, and audaciously back-heeling it into an empty net, had summarised his days as a British export before it really kicked into gear.
The game against France's most superior footballing side of the modern era heralded Chris Waddle in his finest hour. His ability was immeasurable. Beyond compare. And it was just the start of three brilliant years.
"I loved it there; I had three great years at Marseille," Waddle reflected.
"If I said to a manager this is how I like to play football, Marseille would say to me yeah go do it then. Terry Venables in my last year at Tottenham gave me free rein and it continued at Marseille; I had the license to do what I wanted.
"That's how I wanted to play football, and luckily enough, I found that team who gave me the license, and they were an outstanding team. It wasn't like joining a team who were plodding along, we were winning trophies and entertaining."
The only disappointment for Waddle was not lifting the big-eared European Cup over his head in 1991 after reaching the final. Instead, the unlikely triumph of Red Star Belgrade, Stojkovic's former side, prevailed.
Losing on penalties proved reminiscent of Waddle's Italia 90 adventures with England when he missed the decisive penalty against Germany in the semi-final of the World Cup. Although choosing to opt out of taking a spot kick against Red Star, the outcome was the same.
Still, the Englishman was excellent on the road to the final. And looking back on it, he had no regrets.
"I just look back with pleasure, I loved it. I had three years there and enjoyed travelling all over France. You obviously have to play to win, but I wanted to try and entertain the crowd."
Upon the conclusion of his third season, Waddle swapped out the blue and white of Marseille for the blue and white of Sheffield Wednesday, where he could reunite with his family.
Nowadays, you won't get a glimpse of just how good he was with the ball at his feet unless you watch his hour-long compilations on YouTube. However, Waddle still graces the sport he loves unconditionally through his analysis as a top-class pundit.
As football fans, we never want to see the sport's greatest figures ever leave the game behind.
Whether it's in the concrete-clad suburbs of north London, where hard-knock challenges are frequent, or in the sunswept landscapes of the south of France, where football is likened to art, for one Gateshead man, Marseille became his spiritual home.
"I left in 1992 and I still get contact from the club asking me to go out for games. I'm hoping to do that this season and whenever I have gone back it's like I never left.
"It feels like I'm still a player, that's the amount of respect I get and it's mutual from my end to the club as well. I loved my time there, it was a fantastic experience and I always look out for the results, hopefully, one day, the glory days can come back."
*Exclusive quotes provided by Free Super Tips. Please gamble responsibly. GamCare offer a free and confidential service for those who may require further support*