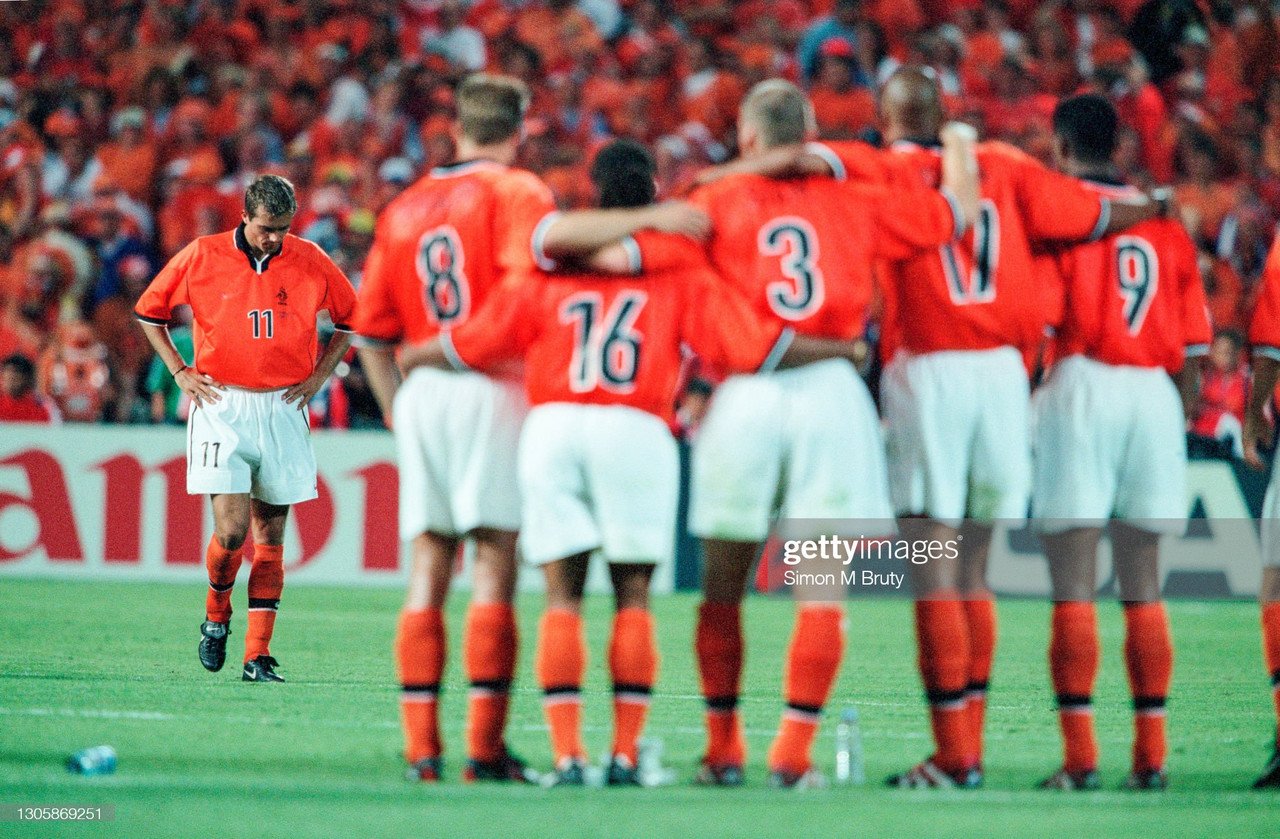 1998 was Jaap Stam's halcyon days as a professional footballer. Having branded himself as a dictatorial centre-half under Bobby Robson at PSV Eindhoven, the Dutchman had done all that he could to allow him time to contemplate his next move as the rest of Europe cashed in on the 26-year-old.
Briefly, Stam was rewarded for his performances, which initially allowed him convalescence from football. Whilst his achievements of the 1996/97 campaign: an Eredivisie title, Johan Cruyff Shield trophy and VVCS Footballer of the Year award, weren't replicated in the following season, he persisted in his evolution as one of the best defenders in the world.
His rest was liminal, however, for the Dutchman was next in line for an international call-up ahead of the 1998 World Cup. To play for your nation is the peak of any footballer's career, but it didn't come without its challenges for Stam, who spoke about the pride he felt towards his national contributions.
"As a youngster, when you go into professional football, there's always that thought of wanting to join up with your national team. So, for me to eventually play for the Netherlands, it was incredible.
"To play for your country is the highest achievement you can have as a footballer - to be one of the best players in your country.
"It's always an honour to be invited to join up with the team, and to play, especially in tournaments, so for me, it was great; I enjoyed being surrounded by the best players.
"In my playing days, all the players played in big European teams as well, and so they were playing regularly at a high level, and then it made our country become very competitive. I enjoyed it, I enjoyed every minute of it."
As already mentioned, the summer of 1998 was one of transition for the Dutchman, and settling into France for his first-ever World Cup campaign wasn't plain sailing.
Being the most expensive defender in the world at £10.6m after Manchester United's swoop brought about the burden of added attention to his ability to perform.
Suddenly, Jaap Stam was a celebrity, and he had to find a way to stabilise the swinging pendulum between outside noise and the importance of delivering the World Cup to his home country.
"Playing in the 1998 World Cup was a great experience. Going into the World Cup, I was signing for United, and when the time comes, you need to switch your focus to the national team.
"That was not the easiest of things sometimes, but after a while, you get into it, because you're with the national setup for several weeks.
"For me, the World Cup came at a time when I had made the move from PSV to United, so I had to deal with added pressure from media and journalists, alongside settling into new surroundings for the national team.
"I could feel, for me, that there was more attention on me because of this move."
In his time with the Red Devils, Stam won the FA Cup, Champions League, and Premier League treble in the 1998/99 season, winning a further two Premier League winner's medals in his 79 league appearances before moving to Lazio after three seasons.
The precedent to show his worth and be a serial winner was in the limelight during his playing days in England, but it was something ingrained into him before Sir Alex Ferguson came calling.
"As a player, you feel the need to perform well and show everyone what you can do. In international tournaments, you are at a very big stage where you need to focus on individual games and block out what's going on around the outside.
"You can show everybody around the world what you can do and what you bring as an individual but also as a team. Facing all of these quality nations and players, that's the thing you're always looking forward to, especially for us Dutch who have a very small country, but we develop brilliant players.
"Playing for your nation at these tournaments is exceptional, it gives you a great feeling."
As luck would have it, the Netherlands squad of 1998 was stocked with like-minded personalities. From Edwin Van Der Sar and the De Boer brothers to Dennis Bergkamp, Edgar Davids, and Clarence Seedorf, the Dutch team under Guus Hiddink was one to be feared.
When asked about what it was like to play with a team of that calibre, Stam said:
"Yeah, that was great. For me, playing as a player in these teams, it makes you become a better player as well, because every day when you go into training sessions, you play against these great players, so you need to be switched on and that's the same for them.
"We all try to show each other what we can do.
"It was great to be with them and to work with them as well because we had a great squad going into the World Cup, great personalities, and there was no player who felt he was the most important player in that team.
"Everybody was really up for working together and creating a positive atmosphere to perform as a unit on the pitch.
"That's what you needed as a team, we all knew what we had to do. Unfortunately, we didn't make it to the final, but at least we could show bits of what we could do."
Stam explained that a lot of the reasons his Netherlands team crystallized together was down to Guus Hiddink's man management philosophy.
Also going into his first World Cup, Hiddink had previously led PSV to its first-ever European Cup triumph in 1988 as part of a treble-winning season that affirmed the Eindhoven club's ranking as one of the three giants of Dutch football, alongside Ajax and Feyenoord.
"Hiddink will never take all the credit for himself, he will also involve his staff in it. That adds to the strong sense of unity. Hiddink has final responsibility but always shares it with the team around him. He is a real team player," said Berry van Aerle, who was coached by the Dutchman on two separate PSV stints.
That was a quote that resonated when VAVEL asked Stam about his thoughts on the Dutch coach. Whilst the team as a whole was special, it could be argued that Hiddink was, to some degree, the centre of it all.
"He was very much a man manager in terms of being very good at building relationships in the squad," he said. "He was also good at getting everyone to know exactly what we needed to do. He made us all feel important, giving us confidence, and every player, even the ones that weren't starting, wanted to work hard for him.
"It was really important for him that he was good at boosting the mood in the camp, because at national level, as a manager, you don't need to teach players how to control the ball or shoot, it's more about the psychology going into the World Cup.
"It was very important that everyone, from the staff to the players, had a good relationship, and he was good at doing that."
As a unit, the Netherlands at the 1998 World Cup proved deserving of going far. After topping their group, which consisted of Mexico, Belgium, and South Korea, with seven goals and only two conceded, they played Yugoslavia, Argentina and Brazil in the knockout stages.
For Stam and his teammates, the semi-final was a step too far for them, but the Dutchman reflects upon just how close they were to going further.
"You've got the games in the group that you need to get through before facing teams like Argentina and Brazil, normally, and always, two of the best footballing countries in the world, and they are always a contender to win these trophies.
"We were very close, and the quality between us and them was not that different. Against Argentina, we won 1-0 through a great goal from Bergkamp. You know, a great pass from De Boer to set up the goal in a match that proved to have very fine margins.
"It's all about staying focused and showing your ability, mentally being strong and then that's how we won that game. Then we went into the game against Brazil, matched up against players such as Ronaldo, Bebeto, Cafu, and other great players of course in that team."
"You also saw in that game that the quality between each country was very close. We go 1-0 down, then you get back into the game and get another opportunity that you miss, so then it goes to penalties.
"Us Dutch are not the best at penalties, so they went through, and that's, of course harsh, you know, because you want to go all the way, but we measured ourselves against the best teams in the world and we were equal at times, perhaps sometimes even better.
"And that tells you a lot about our team in the 90s. But the only thing is, when you go into these tournaments, everybody is looking at the winners at the end of the day, who were the best team, and we weren't at that time, and that's sometimes a shame.
"I think, in the period I played with the national team, for some reason, we didn't get the most out of the team if you look at the quality that we had."
Brazil would eventually go on to lose the 1998 World Cup final to the host nation France, who came out 3-0 winners after a goal from Emmanuel Petit and a brace from Zinedine Zidane showcased just how good the French were at football in the 90s, despite the competition elsewhere.
For the Netherlands, they would finish in fourth place as they lost their third-place playoff against a Croatian side featuring the mercurial talents of Robert Prosinečki.
In recent seasons, it feels like the Netherlands is undergoing a resurgence. Whilst the Eredivisie continues to be a hotbed for up-and-coming superstars, the national side is benefitting from the youthful renaissance.
During the Qatar World Cup, Stam is enjoying life as a fan. His role in football has relaxed for the better as the Dutchman spends some valuable time away from the ever-changing landscape of management.
When asked about the quality of the current Netherlands squad, who topped their group just like Stam's squad did all those years ago, the 50-year-old was reserved.
He said: "They're doing okay. I don't think they have the quality that past Dutch teams have had, such as ours in 1998. It's different. But as a team, they've shown, before and during Qatar, that they can play very good football in their 5-3-2 system.
"They showed it against Germany, and they showed it against Belgium as well; they are a very good team at what they do. The only difference now, in Qatar, is that, despite topping the group, their performances haven't been as good.
"We know this can happen in tournament football sometimes. Their opposition is dropping in deep, not giving them a lot of space, and that definitely affects the ability to create good chances.
"However, I do think that they can go a long way.
"Now they must face the USA, which are a good team that wants to attack and play an exciting style of football, so maybe they will allow some space in the process for the Dutch to exploit, so hopefully, they ramp it up a bit and make it to the quarter-finals.
"That would be a good achievement for this team, and I believe this group can do it."
Although no longer as young as his teammates, an interview with Jaap Stam wouldn't be completed without a mention of Holland's modern-day centre-back.
A tall, strong centre-half is a hallmark of a great Netherlands squad, and Virgil Van Dijk embodies such a statement.
The Liverpool defender has been instrumental in his club's trophy-laden trajectory over recent seasons, displaying near-perfect ballplaying traits, which are harmonised by his brilliant one-on-one record.
Parallels can be drawn between the Dutch defender of the 90s and the current one. But when Stam was asked by VAVEL about his thoughts on the 31-year-old, as usual, he was restrained from getting too carried away.
"As a physique, he's even taller than I am. As a personality, he's the type of player that can lead a team. He's been very important for Liverpool of course, and for the national team too, and everyone looks up to him.
"We're not similar in everything that we do, I think when we played, it was a different system.
"When I played, there was a lot more space, I had to deal with one-on-ones all over the pitch whereas you don't see that as often these days; it's a lot more controlled. But for the Netherlands, he's doing a great job, he's always trying to organise the defensive shape as well as do his bit.
"He's a great defender and you can see that as he's been crucial to Liverpool winning trophies in recent seasons.
"But he doesn't just bring leadership and defensive qualities, he is also able to create chances from set pieces, and this is something that can prove vital for his national team.
"The best defender in the world? Well, that's hard to say. You need to look at it from year to year, you need to look at consistency. Everybody has bad form and good form, but players around you also affect how good you are.
"Can we say at the moment that he's the best defender in the world? I don't think so, I think he's one of the best, but there are other players, of course, that are doing very well."
*This interview was done thanks to BoyleSports. Please gamble responsibly. GamCare offer a free and confidential service for those who may require further support*