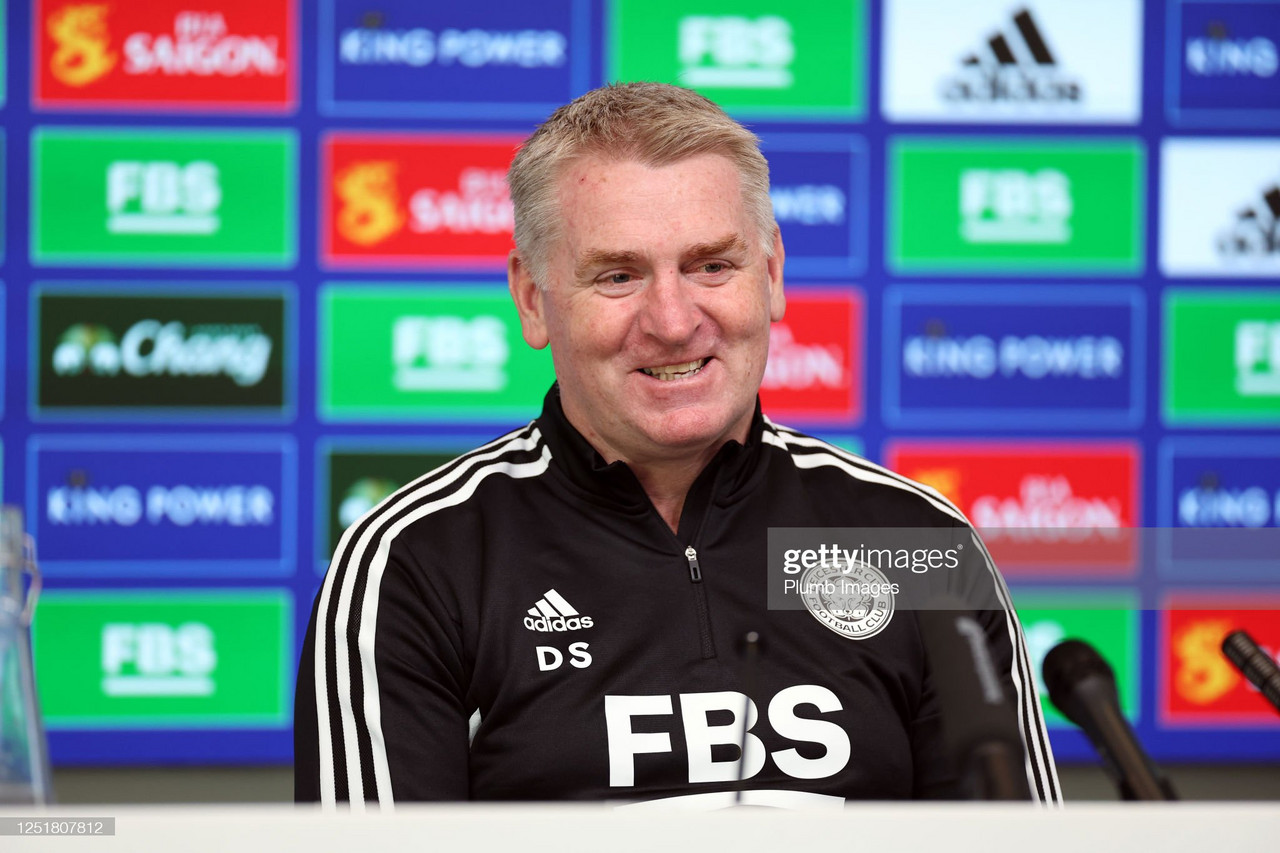 New Leicester City interim manager Dean Smith sat down with the press before their trip to the north-west to face Manchester City on Saturday evening.
Smith was appointed on Monday night on a short-term deal until the summer, with the main target of keeping Leicester in the Premier League. Smith joins the Foxes along with former Leicester manager Craig Shakespeare and Premier League winner John Terry.
The former Aston Villa and Brentford manager was quizzed on the fitness of his squad, the task ahead, and the relegation battle.
On the fitness of the squad
Youri Tielemans has been unavailable since February after damaging his ankle ligaments, but the Foxes have been boosted by the return of the Belgian midfielder.
Smith said: "He's available for selection. He hasn't done a lot of minutes in training, so we'll have to see if he's ready to start. He'll play a big part. He and Jonny give the team calmness.
"I look at the likes of him and Jonny (Evans), and I think they give the team calmness. They give them experience and give them quality as well, so they're going to be very important."
But on one hand, Leicester were dealt some positive injury news, on the other was a handful of negative news as Smith confirmed that Ricardo Pereira and Harvey Barnes will miss the trip to Manchester after picking up hamstring issues.
"Unfortunately, we've got a couple of players missing at the moment in some key areas. Harvey Barnes got injured in the last game and will be out certainly for Saturday and is touch and go for next Saturday.
"Ricky felt his hamstring after the game last week. His looks a little bit worse than Harvey's. He's going to be out for a few weeks, whereas Harvey's is in an area of the hamstring that you're a little bit less concerned about. That takes away a few our wide options."
With the Foxes not winning since their 4-1 win over Tottenham in February, the mood around the Leicester camp is low and Smith has challenged himself to change that.
"The main reason I took the job on was that Craig and JT wanted to do it as well. The points are there to be won, to grab, and to get out of the bottom three. It's been a season I've not seen before in terms of nine teams involved in the relegation battle. The more we can keep in that, it's not insurmountable to get out.
"We've lost seven out of the last eight games, so confidence isn't going to be high. I was 80-20 to take the job, but I probably went down to 50-50 after watching the Bournemouth game! I felt they just needed a lift. I felt confident we could do that. We've seen great enthusiasm. We're trying to put smiles on their faces, and that should lift their confidence very quickly.
"No [on complacency concerns]. From the first time I spoke to the players, I've been impressed with their enthusiasm and attitude and quality. Unfortunately, we've got a couple of players missing. Harvey Barnes will be out for Saturday and is touch and go for next Saturday. The quality has impressed all of us. We've been impressed with what we've seen.
"Looking back to the Bournemouth game were players without confidence and with lethargy. We've tried to make training more fun and intense. We've tried to make it more frantic. We've had a response. Today is more tactical."
On the relegation battle and Leicester's league position
Few people would have had Leicester down in 19th in their pre-season predictions, but an underwhelming season has seen them drop down the league with the Foxes' performances far too inconsistent.
Leicester have the quality to stay up and Smith will be hoping to harness that to keep the Foxes in the league.
"It's strange to have so many teams involved and so few points between everyone. It's a really interesting period. The games we have after Man City will be interesting, but we have to get a performance from this weekend and hopefully get some points.
"Yes [on whether he was surprised with Leicester's position]. One of my first points of action was to speak to the leadership group on Monday evening, and get their thoughts on why they think we are where we are and what they think we should do to get out of it. We have our ideas and will put demands on the players. Ultimately players make the decisions on the pitch."
Leicester take on Manchester City on Saturday evening live on Sky Sports.