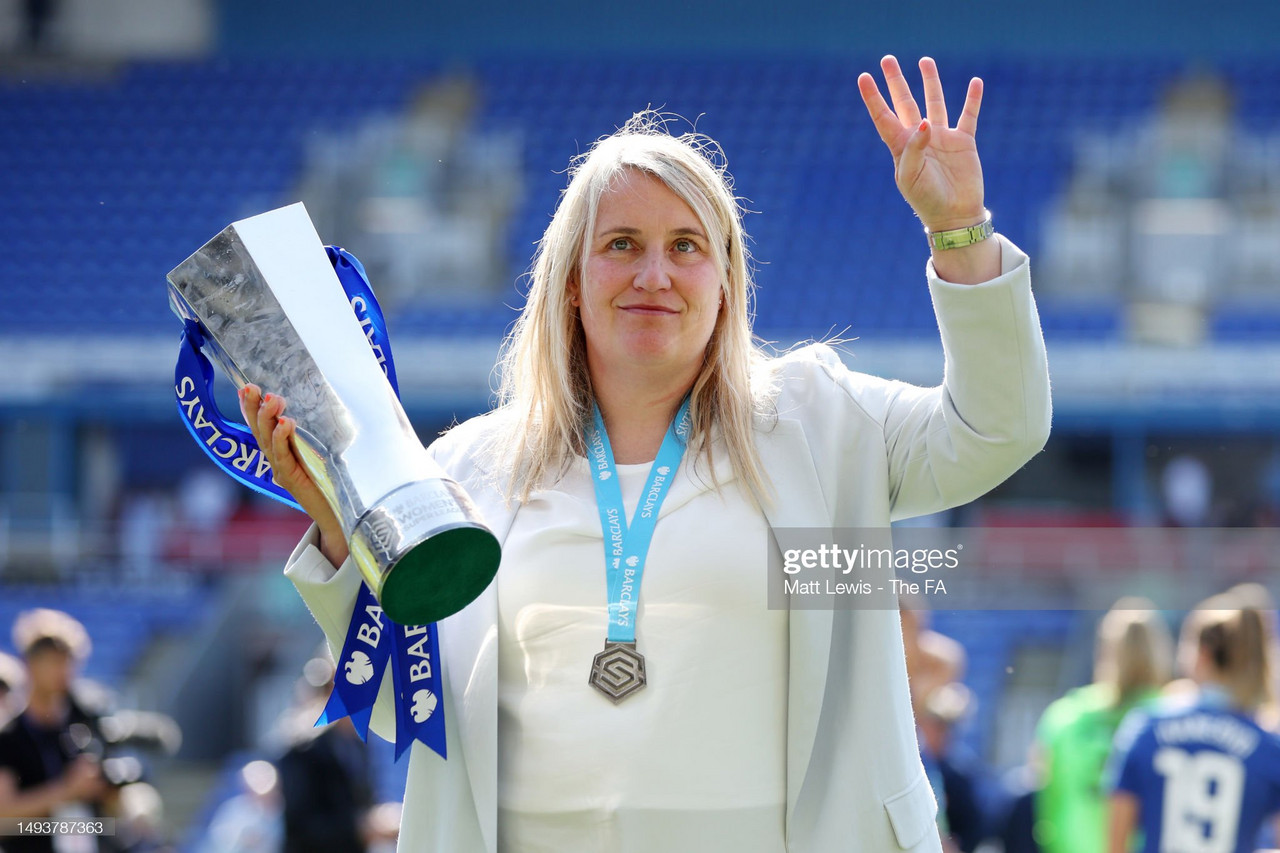 After securing Chelsea's sixth WSL title on Saturday afternoon with a victory over bottom-placed Reading, manager Emma Hayes explained that the motivation for continued success lies within the fear of losing.
"The fear of losing drives me more than the will to win," she said. "This has definitely been the hardest year. I'm relieved that it's over, for lots of reasons.
"I'm a bit sad because winning the league and relegating a friend doesn't feel good in my soul, with who I am," she added.
A 3-0 away victory at the Select Car Leasing Stadium on Saturday saw the curtain close on another triumphant season for The Blues, but it didn't come without its challenges.
For the majority of the season, through fault of fixture cancellations and a slow start to the league campaign, Hayes found herself chasing Marc Skinner's Manchester United, who occupied top spot until very recently.
When asked about the dynamic of the title race, and whether she preferred leading or chasing, she said: "When you're always chasing, the whole year, because you lose the first game and then games are cancelled, it almost felt like the pressure wasn't on us, because we were never in the front position for long.
"We've had different experiences of being first and being second and, to be honest with you, we like being in both of them. This year we knew we had to dig out results sometimes."
A nod to this season's difficulty couldn't have been made without reference to the turbulence The Blues have suffered on and off the pitch.
Injuries have been frequent, and at one stage, there were more coaches than players - but it never derailed Chelsea's title ambitions and mentality of serial winners.
Pernille Harder was out from November through to May, while Fran Kirby has been out since February. Millie Bright joined her England teammate on the sidelines after she picked up a knee injury in March. Katerina Svitkova has been out since February, while Kedeisha Buchanan picked up an injury in April.
Such is the case with teams of their calibre, there is always a way. For Hayes, while Kirby was a significant loss, Guro Reiten stepped up to the plate, finishing the season with the most assists in the WSL.
Though she was quick to point out that her squad is strong in all areas, the manager gave a special mention to her Norwegian winger as a standout for the season.
"She's my player of the season," Hayes said. "She's unreal. She's exceptional. She's really grown up and become a leader in this team. She's got an unbelievable mind, very wise. Funny, witty, but she's got an eye for a pass that is second to none.
"She doesn't even have to see where Sam moves, she just gets half a yard and she always finds her. Guro Reiten deserves to be recognised as one of the best players in the world."
A time to celebrate and unwind
Whether it was the fear of losing or the drive to win that has kept Chelsea focused on a back-to-back FA Cup and WSL double, Hayes made it clear throughout her media duties that, now the season has finished, there is time for the squad to take pride in their achievement.
As Chelsea had been in the driving seat long before the final kick of the season, the celebrations were locked away in the cupboards, waiting for the inevitable to happen.
So upon full-time, pictured with a beer in hand, Hayes marked her revelries by saying: "It's gin o'clock!
"You'll find me tomorrow in North London on a park bench with a bottle of gin!"