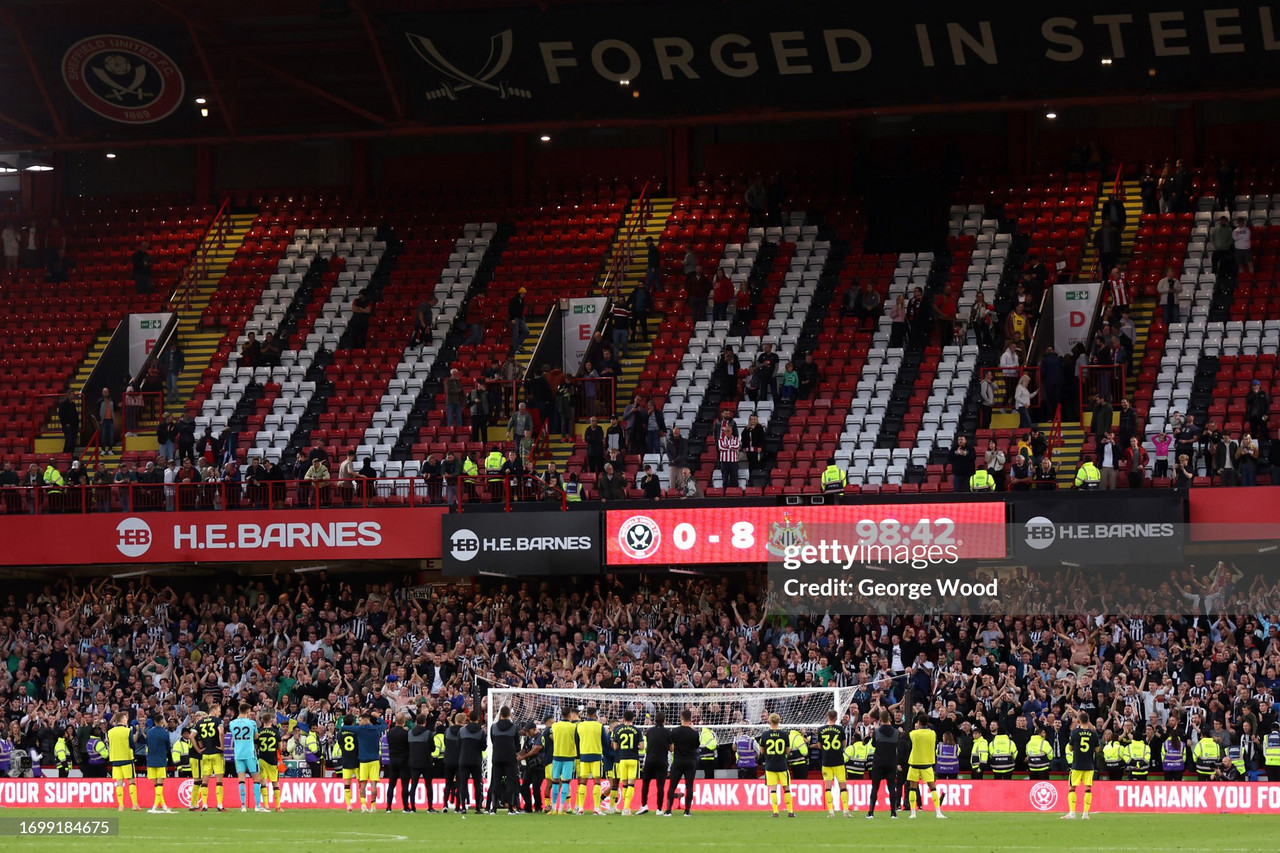 On November 18th 1933, Middlesbrough beat Sheffield United 10-3 in a Division 1 game. This was Sheffield United's worst league defeat for 90 years.
This weekend, that record was finally broken. Another north-east outfit, Newcastle United, left no stone unturned in their demolition of the Blades.
Remarkably, the 8-0 scoreline came with 8 different scorers for Newcastle.
Recent performances by Sheffield United had been valiant and deserving of better results. This performance; however, was a complete disaster from start to finish. Where do Sheffield United go from here?
Naturally, Paul Heckingbottom will now be answering many questions about his future at Bramall Lane.
On that subject, Heckingbottom said: "I think this might be a theme now by the looks of it. I can't answer any of those questions. The game, I can. The players, my department, yeah no problem."
"But things like that, you're asking the wrong man."
"There were tears on the pitch before the game."
The defeat to Newcastle sums up what has been a traumatic week for the club.
On the 20th of September, Sheffield United Women's player Maddy Cusack was pronounced dead at her home in Derbyshire. She was the first player to make over 100 appearances for the women's team and died only aged 27.
Wreaths were laid in the centre circle before kick-off by officials from both Newcastle and Sheffield United. A minute's silence was also observed.
"It's affected a lot of people," Heckingbottom said.
"There were tears on the pitch before the game but we were determined to try and finish what's been a really tough week strongly and we weren't able to do that."
"So yeah, it's been a tough week for everyone at the club. A real tough week and one we want over."
"Is this going to define our season? No."
Sheffield United now have only one point from six games and a goal difference of -12.
As encouraging as previous games have been, it is beginning to feel like one step forward, two steps back for The Blades.
In his post-match press conference, Paul Heckingbottom highlighted how United are leaking too many goals from set-pieces.
"We couldn't capitalise on our moments, our chances. The frustrating thing is to go in 3-0 down from three restarts. A throw-in, a corner and a wide free-kick."
"So yeah, it totally changes the complexion of the game, regardless of how good of a side you're playing against. To go three down to three restarts is really poor."
Sunday was the first time that Sheffield United had conceded more than 4 under Paul Heckingbottom since his very first game in charge against Leicester City in March 2021.
A capitulation like this has been rare during Heckingbottom's time as Bramall Lane.
"That's the biggest thing from the game for me which I spoke to the players about. Is this result going to define our season? No. It's three points we've lost."
"I think what you have seen there is something that while I've been here we've never seen before. That's what we have to address."
"You prepare for everything in this division. We also prepare for our best performance not being good enough and that's a kick in the teeth."
"But this is a reminder that if we drop below our levels, that can happen. We're playing against good sides, good players and we need to make sure that we learn from it."
"It's not an easy league. Football isn't easy, whatever level you're at, to win. Whether it's a game. Whether it's a league. Whether it's a promotion. Whether it's a cup. To win, you have to compete, and that's what we have to take from that."
Up next for Sheffield United is an away trip to West Ham United, who currently sit 7th in the Premier League table.