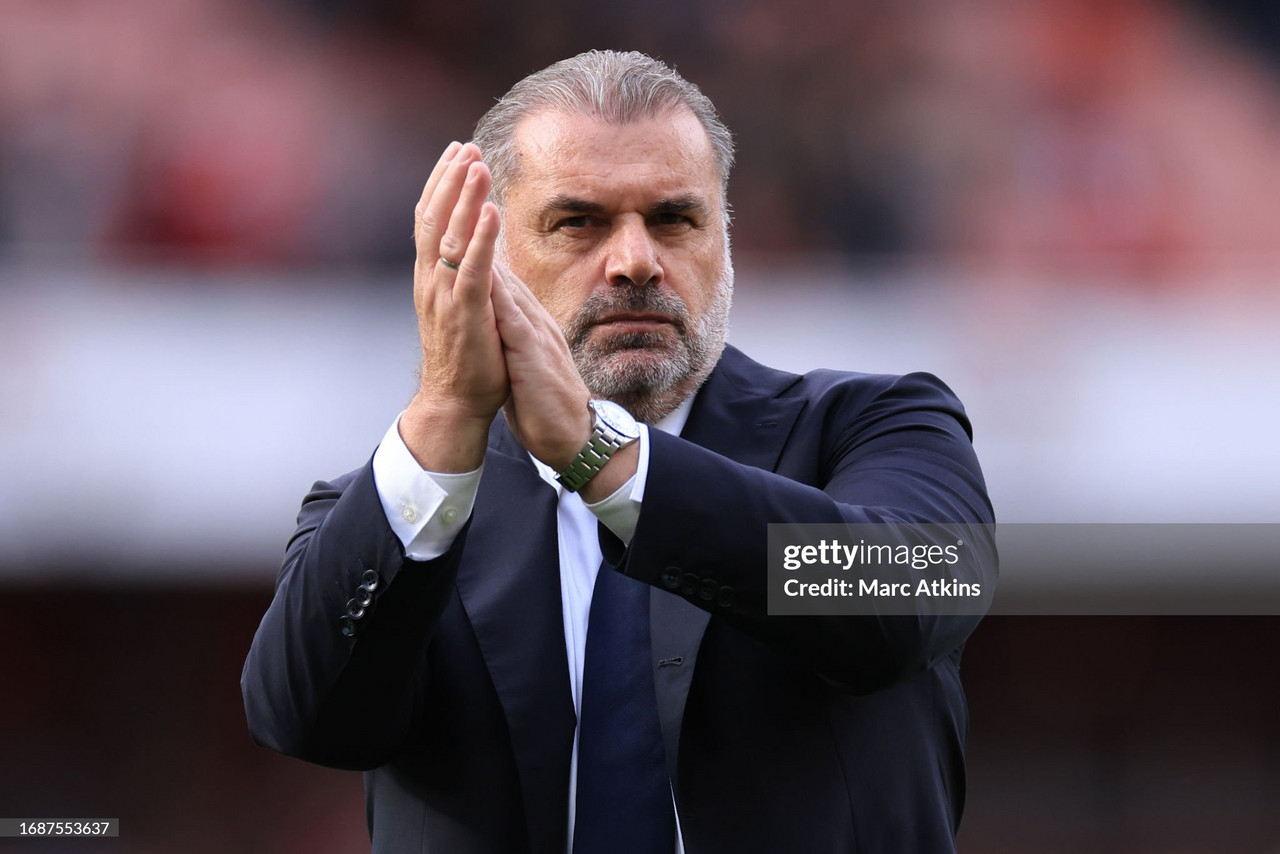 Ange Postecoglou has become one of the most relatable managers in the Premier League since his appointment in June. Now, the Tottenham Hotspur manager has admitted he was "fascinated by the culture at a club like Liverpool", where his heroes - namely Kenny Dalglish - made him fall in love with football.
In the 1970s, Liverpool were dominating the scene alongside Manchester United, and with technology still slow, the only football the Australian could watch down under involved the biggest teams. At 4 AM in the morning, he would watch his team play, yet that love is now long gone, despite the 58-year-old still holding onto the tapes of the matches.
Elsewhere, Postecoglou confirmed Spurs are keeping their options open in the final third, especially with Richarlison's versatility.
"Richy has played there in his career - left and right. He does give us that option if we need it in games moving forward. The fact him and Sonny can play centrally and out wide is going to be helpful for us," the Australian confirmed.
'I was fascinated by Liverpool'
Everyone grows up supporting a team; it's how football journeys begin and Postecoglou was no different.
The Australian has regularly talked about his childhood and the struggles he faced moving from Greece to Australia. Football acted as a form of escapism, with Liverpool the team most often on TV down under.
"I guess you're a young kid and I was consumed by football. It wasn't just playing the game, my fascination was with all the game, so I wanted to read about all of it. Once I was fascinated by the culture at a club like Liverpool, with people like [Bill] Shankly and [Bob] Paisley, I loved reading about it, just as I was interested in reading about Sir Alex [Ferguson] or any [famous manager].
"It seemed at a really young age that I read people of influence because I loved the game. Reading those kinds of stories back then was my escape. We all have something we love that takes us away from the world we're in and that was my world.
"I loved reading about the history of football clubs. With Liverpool at the time, there was a really unique story there about this mythical story where all the magic happened. For me, it was almost like reading fairytales at the time. Obviously, that has an influence, but I don't that's any different from anyone that has a real passion for something. I was mad about Kenny Dalglish," Postecoglou suggested.
The 58-year-old continued, making a joke about Liverpool's memorable win against Tottenham in the 1970s: "European Cup finals - definitely [the most memorable]. They beat Tottenham 7-0 which was pretty memorable. We watched all of them, mate.
"I taped them, do you know what tapes are," Postecoglou joked.
"When they won the European Cups, that was 4 AM for me as an 11-year-old, so a fair bit of commitment to get up and watch them. I do, bizarrely [still have the tapes]. I don't know what to do with them. I'm a bit of a hoarder when it comes to stuff I grew up with."
One of Postecoglou's heroes was legendary Scottish striker Kenny Dalglish, with the Australian explaining the reasoning:
"Scoring in European Cup finals and the way he [Dalglish] played, there was something different about him. When you're younger you look for heroes, and it was him and the Fonzies, mate!"
Postecoglou's '1000 mistakes'
Heung-Min Son had a season to forget under Antonio Conte last season, but five goals in six games - including two crucial goals against bitter rivals Arsenal - this season have started the South Korean's renaissance.
Despite this, his manager does not think he has changed much to improve Son and suggested injury had a significant impact on him.
"In terms of Son, I don't think he was 100% last year, but that's his nature. If he's asked to play, he'll play. That probably affected his form more than anything else. I think last year was a bit of a unique year because of the World Cup for top players.
"With the quality Sonny has - there's no doubt - I don't think I've done anything dramatic to him. He just feels better; he's had a pre-season. He loves playing for this football club and I think the way we're playing suits him. With where he's at in his career, I'm sure there's more to come," Postecoglou suggested.
Later on, Postecoglou was asked if he had made any mistakes in the transfer market, after Jurgen Klopp recently suggested missing out on signing Son was one of his biggest mistakes.
"I've made 1000 mistakes [in the transfer market]! You follow a few of these players and you think you were close to getting them, but such is life. You make mistakes and you learn from them," the Australian claimed.
Vicario's 'infectious personality'
Spurs were forced into the goalkeeper market this summer after Hugo Lloris' form rapidly deteriorated last season.
Guglielmo Vicario joined from Empoli and he has already impressed the travelling faithful every week, with the nickname 'venom' already gaining traction. Postecoglou admitted he was impressed by the Italian from their first conversation.
"It was the priority position when I came in, because at the time it looked like Hugo Lloris was moving on and we felt there was the need for a new starting goalkeeper. It's one of those things where you get presented with options, but I really liked Vicario from the start - in terms of the characteristics he has as a goalkeeper, his general goalkeeping ability, his demeanour and his character around the game.
"You look at Vicario and he's taken big steps very quickly. I think he's been outstanding for us in the first six games; he's been a strong influence on the field in big moments. Every day he comes in he wants to improve, and that's exactly what we need," the 58-year-old said.
Udogie 'has it all in him'
Just like Vicario, Destiny Udogie has taken to life in the Premier League with two firm hands. The Italian - despite a shaky start - kept Bukayo Saka at bay for the majority of the north London Derby, and he will have to do the same to Mohamed Salah this weekend.
Postecoglou has been impressed by the Italian from the beginning, suggesting he 'has it all in him'.
"When I took the role, I had a look at all of the players who were out on loan last year. Destiny [Udogie] was one and I really liked his profile. Physically, he's got outstanding attributes, but obviously, he played a different style of football as at times he was used as an attacking wing-back and he made a real impact in a tough league as a young man.
"He handled himself really well, and when we got him, he was one of the players that I could see wanted to improve every day. For a 20-year-old, he's already had some really big challenges. Defensively, he's handled himself so well. He has it all in him; he runs forward and he looks exciting, so I'm really pleased to have him. There's no greater learning curve for him [than the Premier League]," Postecoglou stated.