The football governing body FIFA had been without a leader since the departure of Sepp Blatter last May after an FBI investigation found him guilty of corruption charges.
Along with plans for a 40 team World Cup, Gianni Infantino, the Secretary General of UEFA, has promised to reform FIFA. The reforms, including a fixed-term presidency of 12 years, disclosed salaries and a new FIFA council that will include more women, will be put in place after the 207 members voted almost unanimously in favour earlier in the day.
Infantino to lead FIFA until 2019
The Italian/Swiss lawyer, who spoke in five different languages during his final rallying speech, was not considered the favourite prior to the voting. Sheikh Salman of Bahrain was expected to gain vital support from CAF, the African governing body. However, after a first ballot failed to find a majority, a second round of voting took place, and Infantino, who has been quietly confident all week, won 115 votes to Salman's 88, securing the most powerful seat in world football.
The result spared the embarrassment of FIFA electing a president who is being accused of violating human rights. The family of Salman, who are in charge of Bahrain, allegedly tortured athletes during the Arab Spring in 2011. Electing an individual involved in such offences would only have meant further questions for FIFA.
Infantino wants to rebuild FIFA after year of turmoil
Addressing the congress after the result was announced, the incoming president promised to "restore the image of FIFA and the respect of FIFA".
Ending a long week of campaigning, he added, "I want to work with all of you together in order to restore and rebuild a new era of FIFA where we can put again football at the centre of the stage."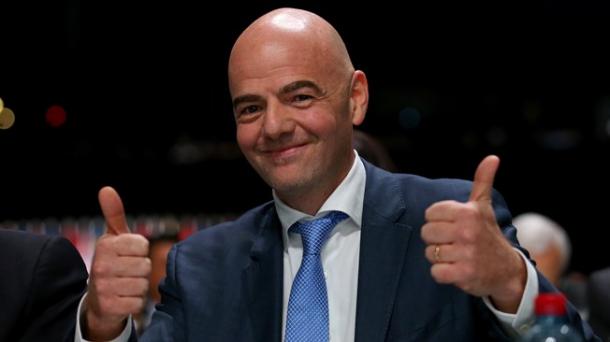 "FIFA has gone through sad times, moments of crisis, but those times are over. We need to implement the reform and implement good governance and transparency. We also need to have respect.
"We're going to win back this respect through hard work, commitment and we're going to make sure we can finally focus on this wonderful game."
The task will not be easy for Infantino, who will have to ensure the footballing federations of each nation adheres to the reforms. However after a turbulent time for FIFA, their image and reputation can now begin the much-needed rebuilding process in order to gain the respect from all that have a passion for football.