Zlatan Ibrahimovic was the hero for Manchester United as they lifted their 21st Community Shield in front of a packed Wembley on Sunday afternoon, after beating Leicester City 2-1.
England international Jesse Lingard gave Manchester United the lead after he was awarded the start ahead of summer signing Henrikh Mkhitaryan, and the winger duly performed, despite grumbles from United fans after hearing the starting XI.
Lingard opened the scoring in the first-half with a delightful goal that will surely please new England manager Sam Allardyce. The 23-year-old local boy picked the ball up just inside Leicester City's half before finding his way past three players and slotting the ball beyond Kasper Schmeichel – who recently penned a new five-year contract with the Foxes.
Despite Manchester United being on top in the first-half, it didn't take long for Vardy to get on the scoresheet, who rounded the keeper and passed the ball into an empty net following a poor back-pass from Marouane Fellaini.
With eight minutes left to play, step up new arrival Ibrahimovic. The former PSG and Sweden striker rose above his marker at the far post, to head in the winner that carved Manchester United's name in the Community Shield.
Claudio Ranieri didn't name any of his new signings in the Leicester City starting XI, whereas Jose Mourinho named Ibrahimovic as the main focal point of Manchester United's attack, whilst Wayne Rooney and Anthony Martial also started.
Community Shield draws in the crowds
Leicester City got the game underway kicking from left-to-right and it was the boys in blue who created then first chance when Jamie Vardy drove into the Manchester United area, before the ball was subsequently put out of play.
Martial was at the heart of every Manchester United move inside the opening 10 minutes, with the France international weaving his way between to Leicester defenders before hit shot found the side-netting, to Schmeichel's relief.
Rooney got Manchester United's first effort on target after 13 minutes after the England captain managed to get his head on a cross from Luke Shaw, who returned to first-team action following a horrific leg break in the Champions League against PSV last campaign.
The return of Luke Shaw
If you said Shaw had been out of action since September 2015, this performance didn't show otherwise. The England international played like a seasoned professional for Manchester United, barely putting a foot wrong.
Marking Riyad Mahrez was always going to be a tough ask for the 21-year-old, but the left-back did so with ease, working with Martial to combat the threat. Ahead of the coming Premier League season, Mourinho will indeed be pleased with the return of Shaw, which saw Marcos Rojo play there last campaign.
Missing Mahrez?
Rumours of a departure to Arsenal might have distracted Mahrez, but the Algerian got off to a positive start however, after failing to get past Shaw on numerous attempts, Mahrez was forced in the middle, where there just wasn't enough space to manoeuvre.
No matter how many step-overs Mahrez performed, Shaw was always close to him, which limited his play, and ultimately Leicester's.
Leicester City see more possession, Manchester United more constructive
Another moment of brilliance from Vardy carved an opening for Shinji Okazaki, whose effort took a deflection and winced past the post of David de Gea, with the resulting corner seeing Okazaki get his head on the ball, which cannoned off the crossbar.
Lingard opened the scoring 32 minutes into the match before dribbling his way past three Leicester City players before slotting the ball past Schmeichel. A truly magnificent goal.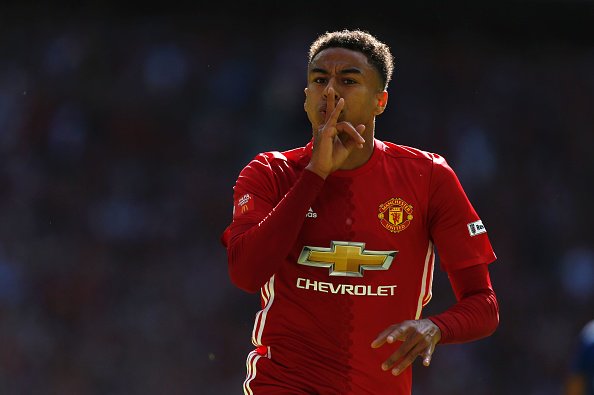 Meaningful competition, or glorified friendly?
There's always been that argument as to whether the Community Shield is just a curtain opener for the coming Premier League season, but you only have to look at the support from both teams to see that this is more than a friendly.
Action packed second-half sees Leicester City on top
Ranieri wasn't pleased with the performance in the first half, which saw the inclusion of summer signing Ahmed Musa – who scored a brace against Barcelona – whilst Demarai Gray also made an appearance.
It took Leicester City just seven minutes inside the second-half to find the equaliser, and it was that man Vardy who had the easy task of finding the net.
Musa made an instant impact driving forward before being dispossessed from Fellaini whose poor back pass was intercepted by Vardy, who slotted the ball into an empty net.
That one goal gave Leicester all sorts of confidence as they went pressing for another. This time it was Gray who tried his luck from distance, forcing De Gea into a save – as chants of 'Champions of England' came from the Leicester support.
Danny Drinkwater was the hero in the closing stages for Leicester City as his goal-line clearance denied Ibrahimovic a winner with 10 minutes of regular time to play.
A long through was flicked on by Vardy – who linked up well with record signing Musa – whose header landed on the roof of the net.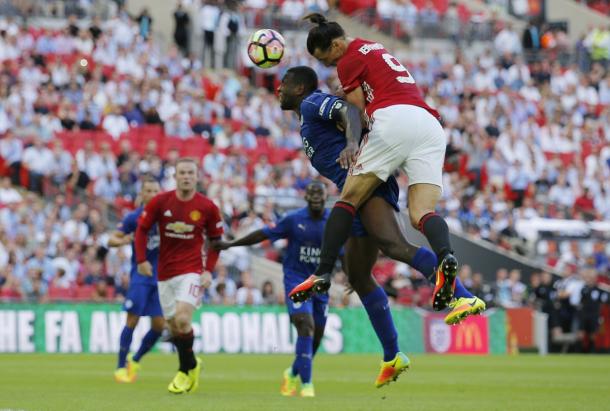 Persistence finally paid off for Ibrahimovic and he got his deserved goal after 83 minutes, which won it for Jose Mourinho and Manchester United.
Mahrez had one last go to level things for the second time, but it just wasn't meant to be for Premier League champions Leicester City, who again gave their fans a performance to be proud of.