Well, that's it here today and you'd have to say that's probably it in this play-off semi-final, if not both. Brighton and Derby need their best performances of the season if they're going anywhere near the Wembley final. Until the next time, I've been Sam France and this has been a pleasure. Have a great Saturday.
Boos ring around almost the whole stadium as Derby blow it on their big day - they've been second best since the half-hour mark, and Hull's celebrations in front of their travelling fans tell the whole story.
Full-time: Derby County 0-3 Hull City.
90+8' Hull counter from a woeful corner and Robertson has time and space at the edge of the area to drill a left-footed shot across the keeper and into the bottom-right corner. The Tigers are going to Wembley!
90+8' GOAL! That'll do it! Robertson finishes Derby off on the break!
90+8' The corner is headed away bu the first man.
90+7' Derby have a corner in the last moments as a long free kick forward is headed behind by Dawson.
90+6' Alex Bruce, son of Steve, comes on to replace Diame.
90+5' That could have killed it! It's a good chance for Akpom as he finds space down the right and bursts into the area, but his shot is poor as he fires over the bar.
90+4' Looks like we're ready to get going once more, with a few minutes of extra time needing to be added on now. Hull give the ball back to Derby from the drop ball.
90+1' A coming-together of players in the Hull penalty area sees a half-chance for Ince go begging as Jakupovic collides with Odubajo. Both keeper and defender need some seeing-to, and for once this time it doesn't seem like the Hull players are making it up.
90' Five minutes of stoppage time are added on at the end of the game.
88' We're entering peak 'cameramen picking out crying children who will never hear the end of it at school on Monday' time as another Derby attack is halted, this time by the offside flag.
87' Darren Bent comes on for Will Hughes, and Sam Clucas comes on for Snodgrass. The red part of the fourth official's board isn't working, adding further delay to proceedings.
86' The free kick is headed away from danger, but Derby keep the pressure on. However, a poor touch from Christie sees the ball out of play for a throw.
85' Livermore puts in a heavy challenge over on the left and hurts himself in the process. As the referee looks to call the physios over, the midfielder miraculously gets to his feet and takes his defensive position once more.
83' Goalscorer Hernandez is replaced by Chuba Akpom.
82' Ince has a pop from range now and his daisy-cutter from a similar position looks to be dribbling well wide but Jakupovic puts a glove to it anyway, forcing Robertson into a hurried clearance.
81' Butterfield finally goes for goal from some distance, drilling a low left-footed shot straight down the keeper's throat. Sarcastic cheers greet what may well have been their first shot on target in the game.
80' Hull don't concede two goals in a game at home, so Derby need something here. They haven't done a great deal to suggest they're capable of getting it, but they continue to probe at the edge of the area.
76' Bryson is getting patched up after an accidental arm to the face from Snodgrass. There is some blood, but he's made of sterner stuff than that and will continue when play gets back underway.
74' The free kick is flicked on towards the back post where Christie heads over from close range, but he was offside anyway.
73' Odubajo fouls Ince and he really should be seeing yellow for the second time in a minute - he was sent off in the 4-0 defeat here six weeks ago.
72' Odubajo is booked for some pretty obvious timewasting ahead of a throw-in, before spending another five or six seconds berating the referee for his decision.
71' Blackman comes on, with Johnny Russell making well.
71' Oh dear. Jakupovic makes a mess of a punch and Russell shapes to shoot... before laying off Butterfield who shapes to shoot... before laying off Bryson, who slices his right-footed effort well wide. Anticlimactic.
70' Former Reading hotshot Nick Blackman is tying his boots as Derby ready a second substitution. He looked on course for the golden boot with Reading before his January move but has gone off the boil somewhat since.
68' Diame goes for goal from range but his low shot towards the bottom right corner is held by Carson. Derby are on top at the minute but they were for the first 30 minutes as well - another Hull goal would be an absolute sucker-punch.
66' Martin threads a pass through a tiny gap towards Olsson, who wins a corner. It's a better sign of intent from Derby but the set-piece delivery is poor and headed away easily.
64' Butterfield looks to combine with Russell at the edge of the area but the latter's lay-off is too obvious and is picked off by the defence. Butterfield was lining up a shot there, and he does score goals from that sort of range.
63' Hughes wins the ball back from the corner and looks to start a counter, but he's fouled inside his own half before he can break free.
62' Snodgrass goes for goal from the free kick - which is a fair distance out - and Carson looks to have it fairly simply covered, but Shackell decides to make sure and heads behind for a corner.
61' A nice piece of footwork from Odubajo looks to create an opportunity for Hull to attack, but they're content to hold onto the ball long enough to frustrate Derby into a foul - which eventually comes from the obliging Shackell.
59' Derby's current gambit of passing the ball patiently around some 30 yards from goal just is not working right now. Johnson, perhaps not yet fully fit, is the man to be replaced by former Middlesbrough and Huddersfield man Butterfield.
57' The Hull fans are olé-ing every completed pass at the minute, much to Derby's frustration. They need to start being more assertive if they're going to get anything out of this game, and attack-minded midfield player Jacob Butterfield is getting ready to come on.
55' Robertson gets away down the left and and just keeps the ball in, winning a corner as the ball takes a tiny touch off the boot of defender Keogh. The corner is cleared at the second attempt, but Derby's attempted counter comes to nothing.
53' Derby force a couple of defensive throw-ins high up the pitch, but Hull take their time taking both of them - that isn't going to help the spectacle if it keeps going for the next 40 minutes but if it helps them keep their clean sheet, the visitors aren't likely to care.
52' Russell and Hughes combine to work a shooting opportunity for Ince at the edge of the area but his low shot is instantly blocked. Not a hugely inspiring start from Derby in this second period so far.
50' Some of the passing in this game has been a bit questionable. Huddlestone looks to dink a ball over to the left but his pass is poor and bounces disappointingly out for a Derby throw in their own half.
49' Hull have the first chance of the second half as Snodgrass delivers a corner from the left, but Davies' flying header soars over the bar for a goal kick.
46' We're off! Derby get us going once more, with both sides unchanged from the first 45.
The second half is about to get started as the players come out to take their places. The last time Derby were 2-0 down at home they went on to win 3-2, but no side has ever come from two goals down in the semi to win these playoffs.
Still not sure if Carson should be stopping the first goal or not. It is right in the corner but it's a bobbling shot rather than a screaming one. He had no chance for the second goal, though - that was just horrible luck.
So, one good goal and one really bad one sees Hull joining Sheffield Wednesday in having one foot at Wembley already. Derby need a big reaction in the second half, they've been totally second-best since the first went in.
Half-time: Derby County 0-2 Hull City
45+2' Derby get a free kick inside the centre circle as Livermore is booked for a studs-up challenge on Keogh. The chance comes to nothing and Hull look to counter through Hernandez - Odubajo wins a corner but the whistle goes for half-time before it can be taken.
45+1' Two minutes added on at the end of the first half.
45' The delivery isn't a bad one but the Hull defence organise once again to hack the ball clear. They'll be very happy with their performance so far, but Derby have been totally off the pace since Hernandez opened the scoring.
44' Snodgrass puts in a teasing low ball from a corner over on the left which just evades Huddlestone as he looks to gear up for a shot. Derby counter, and Ince wins a free kick on the Rams' left.
40' Lady Luck doesn't seem to be a Derby County fan. Odubajo gets the ball on the right and chops inside to deliver a curling left-footed ball which deflects first off Olsson, then Shackell to leave Carson wrong-footed and creep inside the far post. Steve Bruce can smell Wembley.
40' GOAL! A horrible moment for Shackell, it's 2-0!
39' Poor from Hernandez there. He combines with Snodgrass to win the ball high up the pitch and launch a potential counter-attack, but the Uruguayan's eventual pass towards Elmohamady on the right is lazy and easily intercepted.
38' Diame finds space over to the left-hand side of the penalty area and after a couple of stepovers he looks to find the far post with his left foot, but he drags a weak shot across the face of goal and wide.
36' Odubajo looks to be away down the right after skipping past Olsson's poor tackle, but Ince keeps pace with him and puts in a solid challenge to win a goal kick.
35' Dawson is booked after fouling Martin and kicking the ball away. If the card is for the second part, that's very silly from an experienced centre-half.
34' Almost some more trouble for Derby there! Keogh dithered on the ball and Elmohamady was bearing down on him, but the defender just managed to get the ball out of his feet before he was tackled.
33' Derby had been well on top before that goal, and their response now is crucial. Hull have the wind in their sails and look to find Diame going forward but he can't stretch his leg far enough to get a foot on the ball.
30' A clearance from Jakupovic and a loose pass from a Derby player combine to see Hernandez in some space 30 yards from goal and he fires a low, left-footed effort into the bottom right corner. It's perfectly accurate but not especially powerful - Carson might well be feeling disappointed with that one.
30' GOAL! What a finish from ABEL HERNANDEZ!
29' The delivery is better this time and Hernandez gets free of his marker but he seems to jump late and sends his header across goal and wide.
28' Odubajo looks to get free down the right and he's hacked down by Olsson, who earns himself the first yellow card of the afternoon.
26' Another deep free kick, from the left this time, is delivered by Huddlestone but the ball sails straight into the arms of Carson once more.
24' Olsson tees up Martin at the edge of the area. The burly striker takes a touch before attempting a spectacular half-volley, but he doesn't catch it right and the ball loops over.
23' The free kick is delivered from deep but Carson catches the ball fairly easily and launches a counter attack. Dawson once again gets his head to the ball to clear.
22' Carson's low kick is straight to Livermore on the right. The midfielder thinks better of attempting to go for goal from some 40-50 yards, and as he holds onto possession he is fouled by Russell.
20' Derby are starting to turn the screw now. Another Christie delivery from the right sparks an attack as Hughes bursts into the area following a one-two, but as he picks out Johnson in the area the latter's touch is heavy and Hull eventually manage to clear. The Rams look the most likely to strike first at this point.
19' Christie does well down the right, beating Robertson and delivering deep towards Russell, but the attacker is second to the ball and is adjudged to have fouled Dawson in attempting to win the header.
18' Livermore is first to the ball and heads behind for another corner. Christie rises highest this time but not quite high enough and he can only glance a header some distance wide of goal for a goal kick.
17' The delivery from Ince is an excellent one but no Derby boot can get to the ball first and it's turned behind for another corner, over on the other side this time.
15' Derby get a corner over on the left as a dangerous cross is headed away from the dangerous Martin, but it's played short and initially wasted. They get the ball back and Ince wins a free kick in a promising position, by the left corner of the penalty area.
14' Close! Hull attack again and Elmohamady's cross deflects up into the air, before Huddlestone's drive from the edge of the area flies wide. Looked like a corner at first glance, but a goal kick is given.
12' "We are Hull, we are Hull, we are Hull," cry the Hull fans, in case there was any doubt. Livermore beats Bryson to the ball but fouls him in doing so, and play breaks down once more.
11' Derby pick up the ball just outside the Hull area as Huddlestone slips and Russell tries to spin and feed Martin, but his pass is overhit and skims straight out of play for a goal kick.
10' Ten minutes in and it's fair to say this one hasn't really got going here. Both teams - understandably - look a little nervous, but as Sheffield Wednesday showed last night, fortune favours the brave.
8' The first shot of the game! And it's an absolute shocker, as the ball breaks for Hernandez at the edge of the area and the Hull top scorer swings a hopeful boot at it, sending a half-volley flying high and wide into the stands.
7' Johnson is up and off the side of the pitch, but he's just waiting for the referee's signal to come back on. Derby sportingly knock the ball back to the Hull stand-in keeper Jakupovic after the break in play.
6' Johnson is down after what looked like a clash of heads with his own teammate Shackell, and the medical team are straight onto the pitch. Hopefully he just needs a moment to come to his senses.
4' First moment of quality comes from Russell as he skins one defender down the left but loses the ball, before a Hull counter-attack breaks down similarly at the edge of the area. Derby counter the counter and Martin delivers towards the back post, but Russell falls over and the ball bounces past him.
3' The point remains. A lot of long balls forward getting nodded straight back to the goalkeepers so far. Brian Clough is a favourite round these parts - what was it he said about playing football in the air?
2' A bitty start to the game in the opening couple of minutes, with neither side yet managing to get the ball down and hold onto it.
1' We're off! Hull get us underway, pumping the ball forward straight from kick-off and winning a throw-in over on the right-hand side.
Derby's mascot (a ram, no less) posed with Hull captain Dawson rather than his Derby counterpart during the pre-match picture. Mind games.
And here come the teams! Both sides are coming out of the tunnel, led by an actual ram and two handlers. A generous sprinkling of white confetti is drifting through the air - will there be celebrations for the home fans in two hours' time?
The fans are in excellent voice, with a sea of black and white flags surrounding the pitch.
Ten minutes until kick-off: have that last bathroom break, fetch a snack and get yourself settled. This could be a cracker.
Derby boss Wassall has just been speaking with the Sky Sports cameras, and he's rolled out the classic Football Manager "you're in the wrong job if you can't get yourself up for games like this" line. Textbook.
Both sides are warming up and the stands are gradually filling. This is one of the Championship stadiums that has the capacity to rock if the players give the fans something to shout about - could the twelfth man be the key player today?
If anybody is going to, you really have to look at the strikers. Chris Martin is a big man for the big occasion, and Abel Hernandez looked like a Champions League-level player for the first half of the season. With Darren Bent, Nick Blackman, Sone Aluko and Chuba Akpom all sitting on the bench, there are options for both managers in attacking areas.
Half an hour to go. Burnley are up. Middlesbrough are up. Sheffield Wednesday have one foot in the final. Can somebody make themself a hero here today?
One change apiece, then. Johnson in for the injured Thorne for Derby, and Jakupovic in for first-choice keeper Allan McGregor for Hull.
Hull City subs: Kuciak, Bruce, Maguire, Maloney, Clucas, Aluko, Akpom.
Hull City XI: ​Jakupovic, Odubajo, Dawson, Davies, Robertson, Huddlestone, Livermore, Elmohamady, Snodgrass, Diame, Hernandez.
Derby County subs: Grant, Buxton, Hendrick, Bent, Baird, Butterfield, Blackman.
Derby County XI: Carson, Christie, Bryson, Keogh, Martin, Russell, Shackell, Johnson, Hughes, Ince, Olsson.
The teams are out - coming your way, right this second.
The Tigers have also issued a warning about the use of pyrotechnics and smoke bombs, which are of course banned within football stadia. A few Championship games in recent weeks have seen the 'no pyro no party' line adopted but, while they might look nice, they are also dangerous. This is Pride Park, not La Bombonera.
Windass also said that the games "can do weird things to the mind", and that the players would have to be "brave" and play with the right mentality to have a hope of coming out on top.
You can't say Hull don't have play-off experience in their ranks. Club ambassador Dean Windass (remember that Wembley screamer?) described the play-offs as "two finals and then a big final", which is almost right. Sounds good, though.
The 47-year-old Wassall went on to state that he is aiming to go into the second leg next week with a lead, but admitted he is fully aware that his opposite number Steve Bruce will be hoping for exactly the same thing.
Derby boss Darren Wassall has been speaking to the club's website ahead of the game. "Everyone is raring to go," he said. "We have performed very, very well of late and got some good results".
It's looking like an excellent day for football in Derby today, with some sun throughout the day without being as hot as we've had over the past week or so. We're also expecting around 45% humidity throughout the game, if that interests anyone. No? Alright then.
*ONE HOUR UNTIL KICK-OFF KLAXON*
Odubajo also spoke about Hull's final-day drubbing of Rotherham, claiming that the resounding scoreline will have "sent a message out" to Derby that Steve Bruce's side "shouldn't be underestimated" as they are "back on the ball".
The former England U20 international has told Hull's website that he is "actually looking forward to this one", believing that the Tigers have "a big, massive chance" of finishing the job.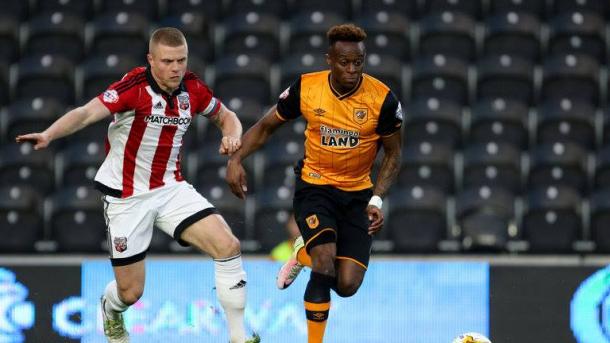 Moses Odubajo knows all about the play-offs. The Hull City wing-back is featuring for the third year in a row after losing in the League One play-off final in 2014 with Leyton Orient and being blown away 5-1 at this stage in the Championship last term with Brentford.
Of course, football isn't about money, whatever Arsenal's shareholders might try and tell you. The play-offs have given us so many magical moments through the years, and today's game is a chance for one of these players to write themselves a footnote in the history books - get to Wembley, and they'll have the chance to pen an entire chapter.
The prize in this game is, of course, greater than ever before. Much was made of Middlesbrough's final-day promotion shoot-out with Brighton being 'the £200million game', and the play-offs are no different. Next season's bumper Premier League TV deal is a prize that no self-respecting club chairman can afford to miss out on.
Dawson claimed that the side's disappointment at missing out on automatic promotion has been long forgotten, and reiterated his belief in his teammates' "determination and desire" to take the more difficult route back to the Premier League.
In the other camp, Hull captain Michael Dawson told the club's official site that his teammates are "ready and hungry to get back where we want to be" after a season away from the top flight.
Ince also warned against the dangers of getting "too upbeat or excited" about the game, and assured fans that the team know exactly what they have to do. A case of playing the game rather than playing the occasion for former Hull man Ince, it seems.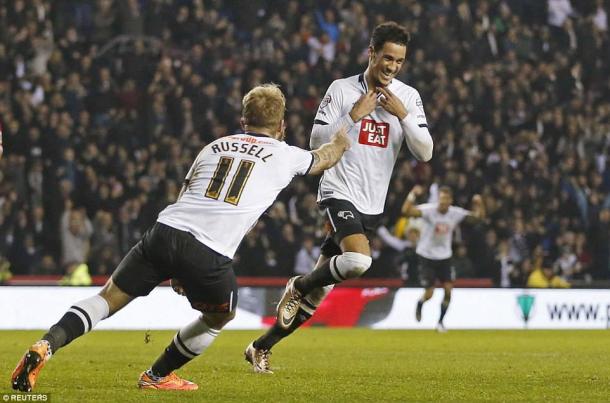 Speaking on the Rams' official website, Ince said that the team had "delved deeper into the tactics" during the week, but spoke of "a general feeling of calm" within the squad ahead of the game.
Tom Ince was one of the second division's marquee signings at the beginning of the campaign, and he is raring to go as his side look go get the job done.
So, that's the story so far. Last season, the teams in third and fourth went through to the final at Wembley and the team in third (Norwich City) prevailed, but after Brighton's defeat last night all logic is out of the window this time around. Want to know where to place your bets for this one? Find a coin, and flip it.
Yet, their season faltered around the time of that 4-0 defeat to Derby and a damaging last-minute loss at Middlesbrough, who went on to pull away and claim automatic promotion. They eventually finished six points behind Boro in second, and ten behind champions Burnley.
With an experienced manager and the core of their relegated Premier League side remaining intact, Hull were also one of the bookies' favourites to go straight back up. At one stage they seemed destined for the top flight with Abel Hernandez (21 goals in all competitions) in particular helping the Tigers set the early pace.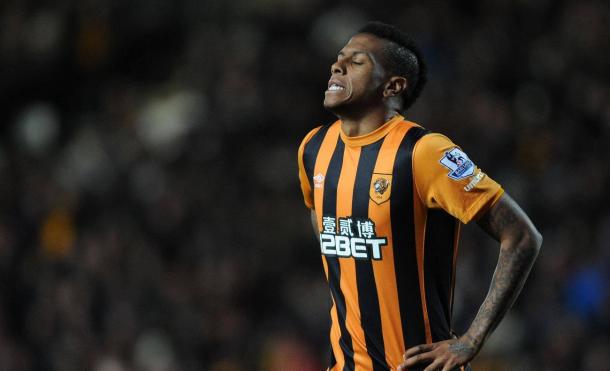 However, their early momentum faltered around the middle of the season and manager Paul Clement was surprisingly sacked, to be replaced by Darren Wassall. They eventually finished fifth, thanks in no small part to the goals of Chris Martin, their talismanic targetman. He has fifteen to his name so far this season, with Ince and Nick Blackman also breaking double figures.
Derby were among the favourites for automatic promotion at the start of the season after an expensive summer which saw big money splashed on players such as Tom Ince, Andi Weimann, Jacob Butterfield and Bradley Johnson.
I'm aware that not everybody here might be an ardent follower of the Championship (shame on you - it's great) so how about a brief run-through of how the two sides got this far?
Hull have no new injury concerns of their own to worry about, with Steve Bruce perhaps tempted to stick with the side that beat Rotherham on the final day.
In terms of early team news, Derby will have to do without midfielder George Thorne, who is out until the new season with a double-leg break sustained in the defeat to Ipswich.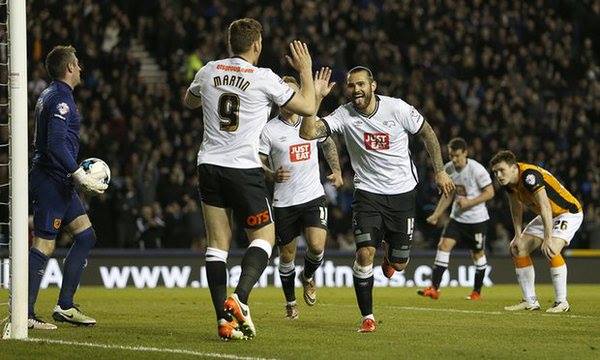 These two sides have been competitive in recent encounters - the Tigers came out on top home and away in their most recent season in the Championship in 2012/13, but Derby have won both encounters so far this term. Most recently, the Rams essentially put an end to Hull's automatic promotion hopes with a 4-0 thrashing at today's venue at the beginning of April.
Visitors Hull City, meanwhile, have three wins, one draw and one defeat in their last five and come off the back of a 5-1 spanking of Rotherham United on the final day. All seems rosy on the Humber - but then, their solitary defeat came at Bolton Wanderers, who finished the season last by nine whole points. Ladies and gentlemen; welcome to the Championship.
Now onto the task at hand. Today's hosts Derby County come into this one on an indifferent spell of form, with two wins, two draws and one defeat in their last five games. However their last win came at relegation battlers Bristol City almost a month ago, and they finished the regular season with a 0-1 home defeat to Ipswich Town, who were in the play-offs last season.
Of course, before we kick things off here, we should first look back to last night and the first play-off tie of the year. Sheffield Wednesday finished some 15 points behind Brighton and Hove Albion in the regular season, but they put that behind them to come out on top 2-0 at Hillsborough on Friday night. Another mountain for the Seagulls to climb after their final-day heartbreak at Middlesbrough.
Kick-off is set for 12:30PM in this lunchtime kick-off, so make yourself a sandwich, pour yourself a drink and settle in for what promises to be a cracking game. You won't miss a kick, I promise.
Good morning and welcome to our live commentary of the second Sky Bet Championship play-off of the 2015/16 season! We'll have all the buildup, minute-by-minute coverage and reaction to the first leg of Derby County v Hull City right here on VAVEL UK, so don't move an inch.