Even the most hardened of Aston Villa fans are struggling to imagine a scenario where, come May, their side will still be in the Premier League. On Tuesday night it doesn't get much easier, as they prepare to host Roberto Martinez's Everton at Villa Park, with the Toffees the more refreshed of the two teams.
Restless
One man that is far from relaxed at the moment, is Villa manager Remi Garde, who has recently admitted that he is "not sleeping well" - as one can imagine is the case when your club are firmly camped at the bottom of the league table, with a climb to safety looking very unlikely.
The Villans have won just three league games all season, and are eight points adrift of Newcastle United in 18th place. It is no small wonder Garde has suggested that although he has tried to "do [his] best", the situation - in essence, masterminding Villa's survival - is now "difficult".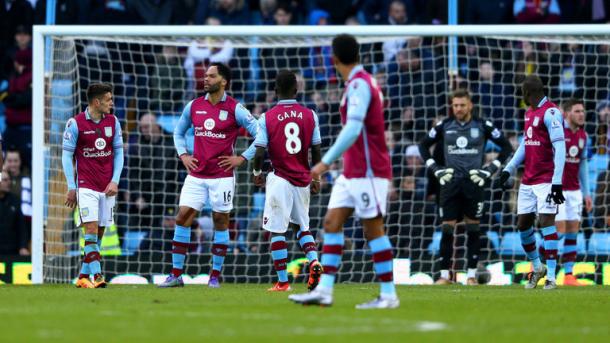 Since his arrival at the start of November - to replace Tim Sherwood - Garde has struggled to make enough of an impact on a Villa side that have arguably improved, but who are still lacking that killer instinct in front of goal. In fact, Villa have found it neigh on impossible to find the net this season - a largely contributing factor to their inability to win games - with just 21 goals from their 27 fixtures in the league.
Poor form
To make matters worse, their leaking goals at the other end too, and prepare for the visit of Everton will confidence low. Their last two games were a 2-1 defeat to Stoke City and a 6-0 mauling at the hands of Liverpool - and they meet the Toffees having had just two days in between games, whereas Martinez's side have had a week off due to their prospective opponents - Liverpool - being in Capital One Cup final action.
The signs don't look great for a side seemingly doomed to drop to the Championship next season, but Garde will take heart in the fact that Everton are underachieving during this campaign: the Toffees sit just 12th in the league table, despite having a wealth of talent - Romelu Lukaku, Ross Barkley, and Gerard Deulofeu, just to name a few - at their disposal.
A bright future
"This is a big moment in the club's history"

- Roberto Martinez
Still, with the news this week that new billionaire investor Farhad Moshiri has agreed to put significant money into new signings and the club's infastructure, Everton will be looking to kick on and show just how good Martinez's side could become with a bit of investment. The manager has described the news as a "big moment in the club's history", but with the new funds will come added expectations.
Martinez, however, is ready for this, suggesting it is exactly what he wanted when he arrived at Everton, as opposed to just "going through the motions". He has spoken of "embracing the pressure", with the suggestion that the move will "take Everton to the next level" - the aim being Champions League football sooner rather than later.
In what becomes an interesting dynamic as these two sides prepare to meet at Villa Park on Tuesday night, Everton look to be well set for a positive - and successful - future, whereas the home side looked doomed to a couple of years in the doldrums, should Garde fail to mastermind a miracle with just 11 league games left.
Should Villa fans harbour any ambitons of remaining in English football's top flight, Tuesday night would be a good place to start.