Aston Villa appearing to be falling apart at the seams, after new reports emerged of players openly questioning manager Remi Garde's methods, and there being a split in the camp between playing staff.
Villa lie bottom of the Premier League table, having taken a woeful 16 points from their 28 games so far. They're eight points from the side directly above them, Newcastle United, and with games against the likes of Manchester City, Tottenham Hotspur and Chelsea still to come, surviving relegation looks an impossible task.
Villa better under Garde, but not good enough
Although the Villans are faring slightly better under Garde than they were under sacked manager Tim Sherwood, averaging 0.7 points per game compared to 0.4, the players are reportedly growing discontent.
Per reports in the Telegraph, senior players including the likes of; Gabby Agbonlahor, Alan Hutton, Leandro Bacuna and Brad Guzan have all questioned the Frenchman's tactics, whilst growing frustrated at his inability to criticise the underperforming team.
Whilst it's good to show some positivity in the face of crisis, Garde might well need to shake things up at some point, as there'll likely come a point where he can no longer state his team will keep fighting for survival.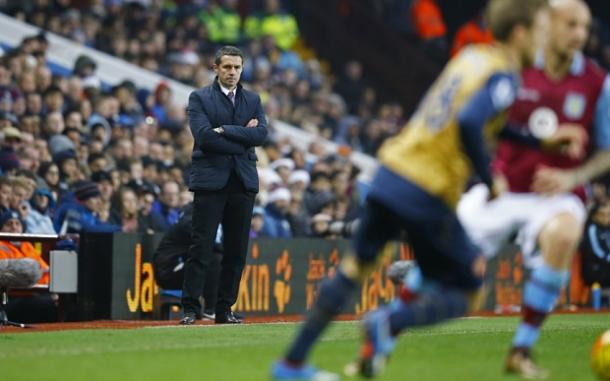 The squad are said to be cut into two
An even bigger concern, potentially, is that there is a reported rift in the Villans squad. New summer signings from abroad have, often unfairly, been the scapegoats for Villa's failure this season. The likes of Jordan Veretout, Jordan Ayew and Idrissa Gueye have all been amongst Villa's better performers this season, but haven't much credit, and are said to believe that their 'established' Premier League teammates aren't pulling their weight, yet don't receive nearly as much criticism.
Whether Garde will be at Villa Park to oversee these apparent divisions for much longer remains to be seen, with rumours suggesting that he could walk should his side lose a fourth league game in a row on Saturday, away at Manchester City. Who would be next throught the door, remains anyone's guess.