Remi Garde was left disappointed following Aston Villa's second half collapse against Manchester City, as they lost 4-0 to further weaken their position at the bottom of the Premier League.
There were positive signs at the Etihad for a while, as Garde's men kept the score at 0-0 until half-time against the title-chasers. However, things quickly feel apart after the break.
Sergio Aguero scored twice, with Yaya Toure and Raheem Sterling netting either side of his brace, Villa conceding four times within 21 minutes to be firmly put to bed.
Second half collapse did for Villans
Opening up about the defeat following the game, Garde said that after a "good first half", his team "collapsed totally". He stated that "the game plan was to defend very well for as long as we could", but admitted that it was undone as soon as Toure opened the scoring.
It was concerning that Villa folded so quickly after conceding the first goal, Aguero waiting just two minutes to tuck the next goal away, leaving Garde to admit that "the team is getting more and more fragile game after game", due to the nature of their scenario.
That scenario being, that they've only managed 16 points from 29 games, and are nine off safety, and 17 points from 16th place, with just nine games left to go in the season.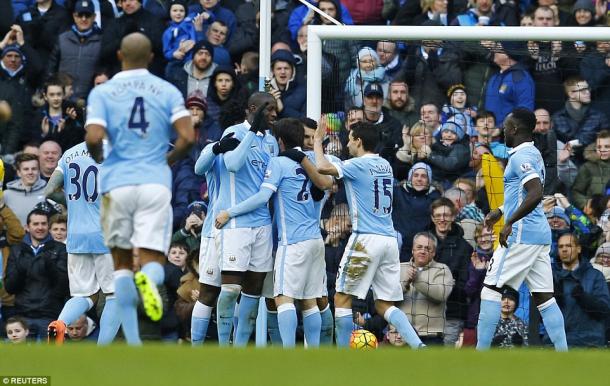 Can they survive? Probably not...
The Frenchman has looked to remain positive for the majority of this season, but it was hard to do so after such a soul-destroying defeat. Asked about his sides chances of staying up, he told that "we can do it [survive], why not?" before admitting that both he and his players "have to be realistic" about their chances of survival.
Villa have a week off before their next game, at home to Tottenham Hotspur next Sunday. The manager admitted that "the next one will be difficult", stating that his players "will have to be very committed and dedicated in that match".