Aston Villa have confirmed the suspension of club captain Gabriel Agbonlahor, amid an internal investigation over the striker's behaviour whilst holidaying in Dubai last week.
Unsurprisingly not selected for England duty, the forward was allowed a few days off from training as Villa players flew off to join their countries on the international break.
Agbonlahor pictured with Shisha pipe
The problems seem to have arose from Agbonlahor's behaviour whilst out of the country, with the veteran having been pictured appearing to hold a shisha pipe in his mouth whilst relaxing with friends at a party.
If the pipe, regarded by most Premier League clubs as off-limits to players, was being smoked by Agbonlahor, then he may be subject to further punishment by the B6 club.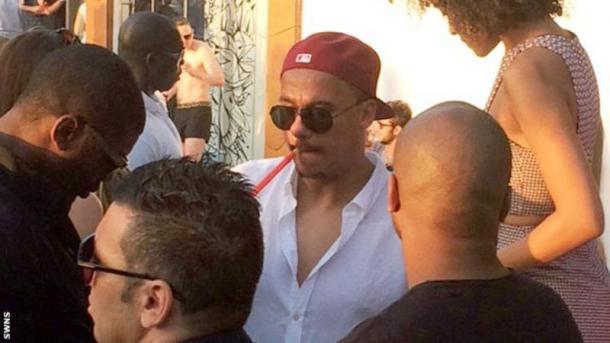 Black ditches striker for Chelsea game
Eric Black, caretaker manager following Remi Gade's sacking earlier this week, adressed the issue in his pre-match press conference ahead of the Chelsea game. Asked why Agbonlahor wasn't to feature against the Blues, Black said that he didn't want to "distract the players".
"I'm not going to go into the details because the investigation is on going. I want us to get back to football and football alone," the 52-year-old added.
Villa struggle with off-field issues again
It's not the first time in the past year that Villa have been caught up in such a situation, with young winger Jack Grealish involved in a similar incident during Tim Sherwood's time at the club.
Given his experience, Agbonlahor is unlikely to be treated with as much sympathy as Grealish was, should the matter go any further.
Grealish has come back from both the shisha incident, and injury, and is set to return against Chelsea, alongside Adama Traore - the pair recovering from foot and ankle injuries respectively.
These off-field issues couldn't come at a worse time for Villa, with the club bottom of the Premier League table, and looking certain for relegation.