As Hull City's pre-season training camp draws to a close in the soaring Portugese temperatures, the defensive duo of Curtis Davies and Michael Dawson have taken time out of a punishing schedule to explain the positive atmosphere surrounding the Tigers' squad.
"We will be ready for the challenge"
Davies claimed that the squad have "come back with a spring in their step". After a few weeks away from training and basking in the glory of their Championship play-off final success, Davies admitted to "missing the lads as they are a lot like your family".
The former West Bromwich Albion defender explained how "Portugal is a great place to prepare. We're looking at temperatures reaching 35 degrees which makes it a little bit tougher", adding that "if we are back playing on a hot opening day of the season, we know we will be ready for that challenge".
"Great feeling" in the squad
Captain Michael Dawson confirmed his colleague's opinions, claiming there is a "great feeling" amongst the camp. Dawson explained how the players are undertaking "two or three sessions a day" and returning to pre-season "does not get any easier but it is what you expect and you come back prepared to work hard".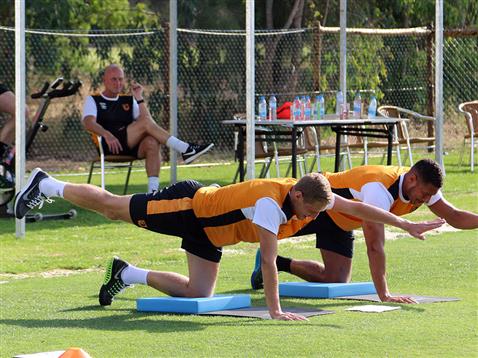 Dawson went on to agree with Davies about the camp in Portimao, explaining "the facilities are perfect and it is the perfect place to bond". He also mentioned that "the staff can work us as hard as they need to", although in the case of Alex Bruce and Alan McGregor it was too much as they picked up long term injuries on Monday.
"We want the players to train in tough conditions"
Manager Steve Bruce attributed the success of the training camp to former player and coach Nick Barmby. He admitted that "it was all put in place before I arrived at the club four years ago and it has been a fairly happy place for us as on the whole we've got off to decent starts to the season".
Bruce agreed with his defensive duo about the ideal setting of the training camp, suggesting that "it's hot and that is what we want. For the players to train in tough conditions and be ready for when we return to home soil". The squad are due to return to Yorkshire in a couple of days time before their pre-season match schedule begins on Friday evening.