Jürgen Klopp's Liverpool may claim their dramatic Europa League victory last week against Borussia Dortmund to be special, possibly even unique, yet lest we forget the similar heroics performed by Steve McClaren's lowly Middlesbrough team in 2006.
In the semi-final of the same competition, then known as the UEFA Cup, Middlesbrough, who finished that season in 14th position, were left in a tricky predicament having lost 1-0 away to Steaua Bucharest, a side who had the appropriate grit and quality to be labelled not only favourites in the tie but as genuine contenders to win the tournament.
From bad to worse
Matters were made worse for Middlesbrough as they were put 3-0 down on aggregate after 24 minutes of the second leg, as Steaua raced into a 2-0 lead at the Riverside stadium. Nicolae Dica was the first to strike as he tucked away a shot from close range following a parry from Brad Jones, the Boro keeper who later spent 5 years at Liverpool. Following this, Dorin Goian smacked home another ten minutes later following a failed clearance from yet another Jones parry.
Boro looked set to be leaving the competition at the Semi Final stage, as they had done in the FA Cup four days previously against Alan Pardew's West Ham, before the tides suddenly turned for the Teesside club.
Physical forward Massimo Maccarone replaced the injured Gareth Southgate following the second Bucharest goal in an attempt to boost Boro's attacking impetus. And this he did, starting the comeback seven minutes after being brought on with a fierce strike past Bucharest keeper Carlos. This gave the English club some hope with a significant change in the run of play having been brought about.
Maccarone almost set up a second just after half time with Jimmy Floyd Hasslebaink coming agonisingly close to turning in his cross. In fact Boro had to wait till after the hour mark to score their second, which brought them level on the night but still set to exit the competition. But by the time prolific Australian forward Mark Viduka had risen to head home Stewart Downing's inviting cross the momentum was already going Middlesbrough way despite them still needing two more goals to qualify.
The drama mounted as belief augmented amongst Middlesbrough fans and they didn't have to wait ten minutes before they were level on aggregate, with Chris Riggott's goal leaving Middlesbrough with less than 20 minutes to find a goal to send them into the final.
Chance after chance ensued as Steaua became paralysed by the attacking determination displayed by Steve McClaren's men, yet with three minutes to go the score remained 3-2, with Steaua fans the ones believing that it would be them watching their side in the final in Eindhoven.
Italian forward the hero in frantic finish
Massimo Maccarone however, the man who had started the spectacular comeback, had other ideas. In the 89th minute, with the promising Stewart Downing yet again the creator, Maccarone soared to sensationally head home, sending the Riverside into rapture suitable of a cup-winning goal, to put Middlesbrough 4-3 up on aggregate, having been 3-0 down with less than an hour remaining of the tie.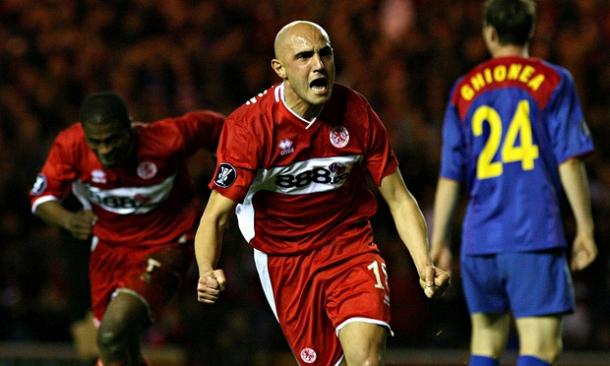 Boro's run to the final was special and memorable not only for their ardent fans but for English football as it meant an English side took part in both the UEFA cup and Champions League finals. Although Middlesbrough, like Arsenal, lost in the final to a Spanish superior, the run to the final was certainly one to remember, particularly as they had also fallen 3-0 behind against Basel in the previous round and come back to win 4-3 to reach their first ever European semi-final – Maccarone, who currently plays for Italian side Empoli, was once again the hero scoring a 90th minute equaliser in the quarter-final.
Will Liverpool reignite the comparisons between the run of the two clubs against Villarreal by completing yet another unlikely comeback in the Semi Final? If Manchester City also overcome Real Madrid then there will be a true feeling of Deja-vu amongst English football fans.