Soon after Middlesbrough's promotion to the Premier League, the focus quickly switched to how Boro would survive their return to the top flight.
One of the first players to be ousted from many fans' provisional team sheets was goalkeeper Dimi Konstantopoulos. At 37, many believe the Greek to be too old or are still yet to be convinced despite his impressive record of 22 clean sheets last season.
Konstantopoulos can continue to improve
When it comes to goalkeepers it is often the case that they improve with age, given it is a position that relies on good judgement rather than something such as pace.
Konstantopoulos has become a better goalkeeper during his time with Middlesbrough and there is every reason to suggest he would only improve if he was given the opportunity of Premier League football.
Other goalkeepers have been a top of their game at an old age; a notable example is Brad Friedel who played all 38 games for Tottenham Hotspur at the age of 40 when they finished fourth in the 2011-12 season.
When he first arrived at Boro, he was the third-choice goalkeeper and was unlikely to ever appear for the club. Middlesbrough went through Jason Steele and Shay Given on loan before they had to give the Greek a try.
He ended the season strongly but still lost his place to Tomas Mejias at the beginning of the 2014-15 season. However, the Spaniard disappointed and Konstantopoulos made the number one shirt his own.
Dimi was part of Boro's biggest strength last season
An age-old saying that could ring true when it comes to this is 'don't fix something that isn't broken'. The Middlesbrough defence was a solid unit last season and only conceded 31 goals throughout the campaign. To break that by taking Konstantopoulos out could be seen as harsh and perhaps even foolhardy.
With Victor Valdes now with the club, it might seem slightly ridiculous to even suggest that Konstantopoulos could get the nod above him. But for someone who was so pivotal in Middlesbrough's promotion push, it seems only fair that he be given the opportunity to retain his shirt.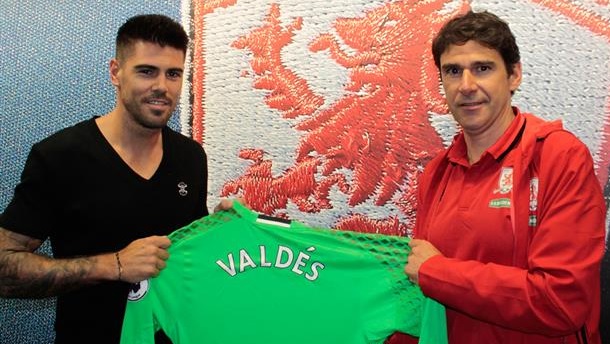 Occasion upon occasion he kept Boro in games; one notable match was the 2-1 win at Nottingham Forest when he saved a penalty to prevent the home side from levelling up at 2-2. He does have mistakes in his game such as the error in the previous season's 2-1 play-off win over Brentford, but his big saves in games far outweigh the mistakes.
He has more than earned fans' respect
It is a case of showing Konstantopoulos respect for what he has done for the club so far. For people to merely push him to the wayside because they don't see him as Premier League quality is harsh.
Before he signed for Boro many may have questioned whether he was good enough to play in the Championship, considering his less-than-impressive stints with both Coventry City and Cardiff City. He knocked those critics away and established himself as Boro's number one in a promotion-winning team.
He's not ready to let that number one shirt slip away just yet.