It was with a sense of excitement and satisfaction that Aitor Karanka talked to the press during his first press conference as a Premier League manager.
After two and a half seasons at Middlesbrough, Karanka returned the club to the top flight on the final day of last season, with a one-all draw with Brighton and Hove Albion enough to guarantee promotion on goal difference.
The Spaniard, formerly assistant manager to Jose Mourinho at Real Madrid, was quizzed on his side's first game at home to Stoke City, their impressive business in the transfer market, and his recent decision to join the club's fans on Twitter.
"Special moment" for Karanka
"It's a special moment for everybody", Karanka smiled about the club's Premier League comeback. "We've worked for two and a half years to get to this moment.
"In my first press conference I said this club deserved to be in the Premier League and now we are there.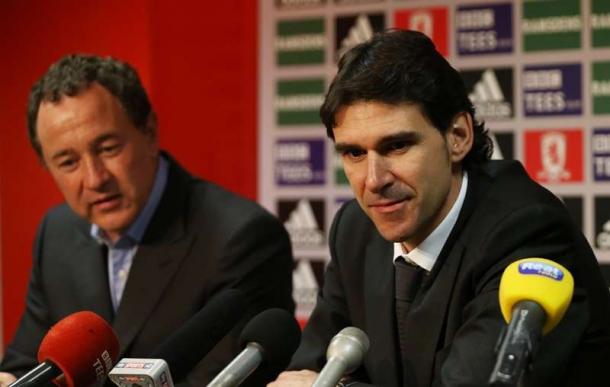 Karanka noted that he has been happy with the work put in by his legion of new signings in pre-season, claiming that some had rejected offers for more money from elsewhere to make the move to Teesside.
Winning mentality key for Middlesbrough
However, any suggestion of favouritism towards big-name signings such as Víctor Valdés or Álvaro Negredo was dismissed. "It's not about the names of new players. It's about performances and attitude".
Despite this, Karanka is clearly pleased with his new aquisitions and he praised the winning mentality they have helped to bring to the club, saying that Valdés "does not like to lose one game even in a training session" and pointing to Negredo's Premier League win with Manchester City.
The last game at the Riverside Stadium had a party atmosphere as a sell-out crowd willed Boro over the line but, while Boro have sold out again for their clash with Stoke, the 42-year-old insisted that he would be in no mood to celebrate come three o'clock on Saturday.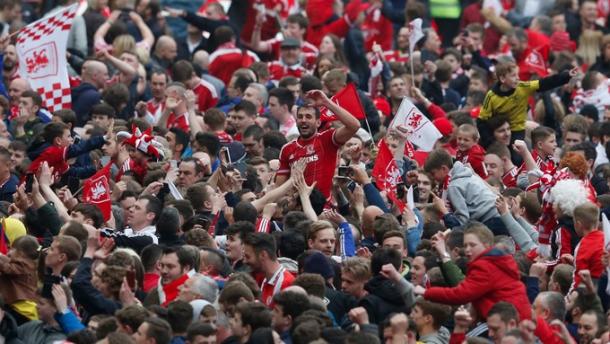 "Saturday won't be a celebration game," he warned. "Hopefully we can celebrate at the end of the season when we stay in the Premier League."
Karanka hopes to strengthen bond with fans
Finally, attentions turned to Karanka's first foray into the world of social media. After joining Twitter on Wednesday (@Karanka), he has gained close to 15,000 followers in 24 hours, further exciting an already feverish fanbase.
"I like to be in touch with our crowd", he told The Gazette. "Since I've been here I've felt their warmth and confidence. It's a good way to chat with them."
Most recently, Karanka tweeted his congratulations to Spanish Olympian Mireia Belmonte, who won gold for the women's 200m butterfly, her country's first gold at Rio 2016.