Since signing from Doncaster in 2012, Goerge Friend has been almost a constant in the Middlesbrough starting 11, nailing down the left back spot and making it his own.
A superb signing
Tony Mowbray was the Middlesbrough manager who brought Friend to the club from South Yorkshire for a minimal fee (claimed to be £500,000 by Transfermarkt and Mail Sport, but often said to be £100,000 by local paper The Gazette) but the Barnstaple-born defender, who started his playing career at Exeter City, really made his name under Aitor Karanka.
Over the past two and a half seasons that Karanka has been at the club, Friend became one of the best left backs in the Championship before gaining promotion with the Teesside outfit.
The former Real Madrid defender had to aid Friend with his defensive work, after racking up numerous defensive errors during Karanka's debut season. But the man who Boro fans know as 'Gorgeous George' has his main strengths in the attacking wing back role. He demonstrated that last season, scoring once and assisting three times for Boro last year.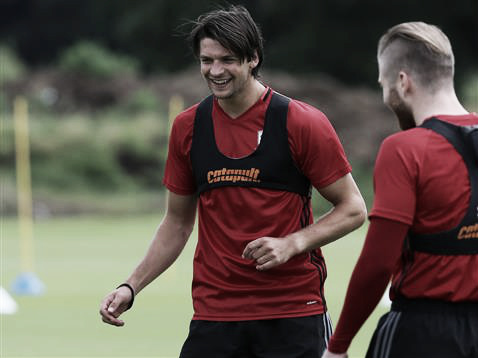 A new contract was never in doubt
Since joining, George Friend has become a fan favourite - if not THE fan favourite - as Boro fans love and admire his work rate. Friend was possibly the standout player in Middlesbrough's playoff loss to Norwich City over 12 months ago.
In return, Friend is always glowing with praise for the club and the fans. He has gone on record many times to make his passion and pride for the area known. In the interview with the club following the signing of his 2-year extension, Friend said: "For me committing to the Boro for another four years is because of so many things - a fantastic chairman, a brilliant manager and staff, great teammates, absolutely amazing fans and a beautiful area in which to live."
This news comes shortly after fellow defender Daniel Ayala committed his future to Middlesbrough as Karanka looks to tie down his players who did so well in the 2015-16 season and the backline who went 11 games without conceding a goal.