Sunderland under-21s coach Andy Welsh believes his side have nothing to fear following their 3-2 win over Middlesbrough which kept their title hopes alive.
Mikael Mandron, who has recently returned form an unsuccessful loan spell with Hartlepool United, scored a brace to edge the young Black Cats past their local rivals.
Nothing to fear in league
The win over Boro means the young Black Cats are just two points behind top-spot, and Welsh believes his players can go out and push for the title.
"Nobody is taking us lightly and they are putting their best players out against us because they are trying to knock us off the top," Welsh said.
"You have to win games, stay in game and find ways of winning in football matches," he added.
"These lads have done that and there is no reason why they can't continue to do that."
Youngsters rewarded for efforts
Some of the under-21 side have been rewarded for their efforts in recent weeks by training with the first team, with the likes of Tom Beadling and George Honeyman making recent appearances on the bench.
Honeyman said: "I have been at Sunderland since I was 11 and we have had a lot of different managers and things change from one manager to another.
"I think it proved with Duncan [Watmore], if you put in performances, you get noticed, and there is a lot of contact with them [first team]."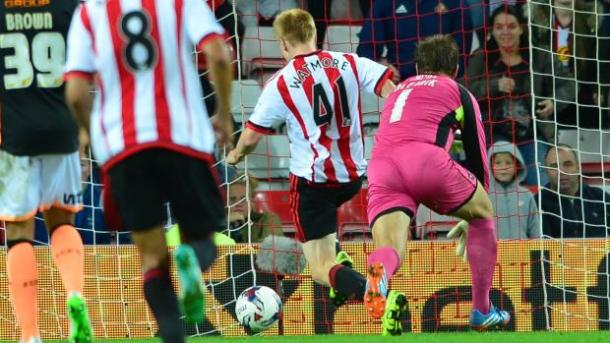 Welsh frustrated with loans
Welsh has challenged some of the younger players to step up and fill the "frustrating" void left by players being loaned out to Football League clubs.
"It can be frustrating, but that's the nature of reserve team or under-21 football," Welsh said.
"Some of the younger ones have to come through and they have to be the next phase."
Goalless run comes to an end
The young Black Cats hadn't scored a goal in their last three games in all competitions before the Boro game, but Welsh was pleased with Mandron's early goal in the game.
He said: "We have done lots of work this week in training, in the attacking third, getting shots off and getting more bodies in the box.
"We were a little slow around the penalty area against PSV and against Chelsea at times, we moved the ball slow, but tonight we were a lot faster."