On-loan Sunderland midfielder Emanuele Giaccherini is hopeful of a permanent move to Bologna.
The Italian has said that "all parties are working this direction" and sounded optimistic about his future at the Italian side.
Tough time on Wearside
Giaccherini initially moved to Wearside in 2013 for a fee believed to be around the £6.5million mark but despite featuring in the Black Cats' Great Escape under Gus Poyet, the Italian international was one of many Paolo Di Canio signings that failed to make the grade.
The midfielder scored five goals in 32 appearances, many of those off the bench. Giaccherini's second season on Wearside was hampered by injuries and he was restricted to just 11 games, all of which ended goalless.
Life in Serie A is good
Giaccherini joined Bologna in the summer transfer window and has never looked back.
The pint-sized midfielder has six goals in 16 games and his side are currently 10th. He is said to have one eye on the European Championships in France and is eager to remain in his home nation beyond his loan spell at the Stadio Renato Dall'Ara.
He said, "I've already made my decision. I want to stay at Bologna. My agent and the club are already working in this direction."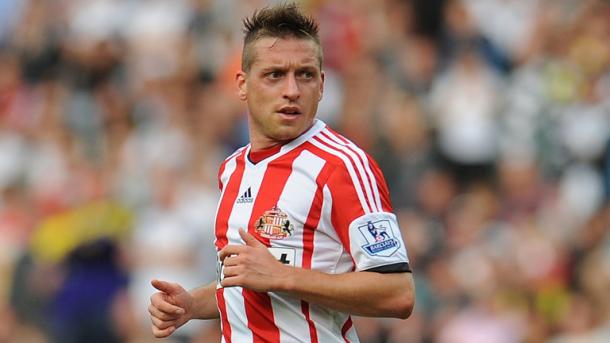 Is the Academy of Light really improving?
Meanwhile, under-21 regular George Honeyman insists a "better pathway" is now in place for Sunderland's young players to reach the first-team.
However, the club have confirmed four of their under-18 squad will be released at the end of the season.
Honeyman has just one senior appearance for the Black Cats, coming on as a late substitute in last season's FA Cup defeat at Bradford City.
The youngster joined Gateshead on loan earlier this season and played nine games, scoring once for The Heed during a three-month spell.
Sunderland have been plagued by injury of late and the 21-year-old midfielder was named as a substitute for Saturday's Premier League victory over Manchester United at the Stadium of Light, albeit unused.
Honeyman said, "I've been at Sunderland since I was 11, we have had a lot of different managers and things change with each one."
He believes "at the moment" Sam Allardyce has put in place "a better pathway" than ever before to make a breakthrough.
The 21-year-old sites the involvement of Robbie Stockdale and Paul Bracewell, who have been with the under-21s, for the increasing amount of chances.
"It is down to yourself at the end of the day, if you are good enough, you will get a chance," he added.
Honeyman sites the success of Duncan Watmore, explaining: "He was with us all last year and it shows that if you put the effort in, performances get you noticed."
Unfortunately for Avis Ganiyu, Keiran Graham, David Lowrie and Greg Purvis, that will soon no longer be the case.
The four youngsters were informed this week they will not be offered new contracts.
Ged McNamee, the Academy boss said, "We're supporting them in their exit strategy and making arrangements to help them."