Martyn Waghorn, Jack Colback, Jordan Henderson and now Jordan Pickford are just a few of the success stories to come out of Sunderland's Academy of Light.
Last week we saw a young George Honeyman named on Sunderland's bench and he's just one of a handful of Sunderland youngsters that are tipped for stardom.
Life in the North East
Life can't always be easy for North East clubs when it comes to attracting players, both Newcastle and Sunderland have struggled to bring players to the region in the past. Players can be reluctant to move away from the bright lights of London or the big cities of Birmingham, Manchester and Liverpool.
The region's three main clubs, Sunderland, Newcastle and Middlesbrough are fighting in such a small catchment area to sign the best talent available making life even harder for the clubs.
The North East can seem a million miles away, in the far corners of earth to some players. When Roy Keane was managing Sunderland he expressed his anger and disbelief at a players unwillingness to join the club as his wife has no-where to go shopping.
Craig Gardner is another recent story of Sunderland falling foul to it's isolation from the rest of the country, whilst Gardner was a good servant to the club, the midfielder made it no secret that he was home sick during his time at Sunderland.
Just last year, in the summer transfer window, Tiago Illori refused to join Sunderland because the city was 'too cold and windy'. So what can the club do when it struggles to attract players? Turn to its academy?
Can the club afford to give youth a chance?
It isn't that simple for Sunderland. Whilst the u21s have just overcome Liverpool 2-0 this afternoon and currently head the Premier League table and the u18s are currently 5th with a game in hand.

For the past few years, Sunderland just haven't been in the position where they can make the gamble to give their youth team a chance. The Wearsiders are often at the foot of the table desperately trying to avoid relegation and that may be one of the things hindering the academy presently.
Is Honeyman next?
If the youth players are given a chance it is often in cup games or in pre-season. Honeyman has just made one senior appearance for Sunderland in the club's FA Cup defeat to Bradford in 2015.
However, after being named on the bench in the Black Cats 2-1 victory over Manchester United, the midfielder is optimistic for the future and is enjoying working with Sam Allardyce.
He said, "I've been at Sunderland since I was 11 and we have had a lot of different managers and things change with each one."
Honeyman added, "Under the gaffer at the moment there is a better pathway than there has been to get into the first team squad."
The youngster also said, "People like Robbie Stockdale and Paul Bracewell, who we have all worked with at Under-21 level, are now involved with the first team."
The midfielder paid homage to his manager Andy Welsh and academy manager Ged McNamee, "Our gaffer and Ged are always backing us to go up there and that really helps. Duncan Watmore proves it," he added.
"He was with us last year and it just shows if you put in performances then you do get noticed and there is a lot of contact with the first team and coaches."
Honeyman concluded, "It is down to yourself at the end of the day, if you are good enough, you will get a chance."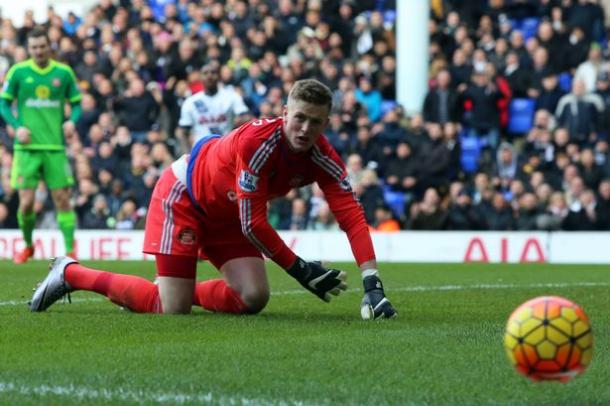 Success stories
Whilst Duncan Watmore may have come through Altrincham's youth set-up, there is no denying that the Academy of Light have played a pivotal part in the 21-year-old's development.
Watmore, currently out with an ankle injury, has been a bright spark in what has been a very on off season for Sunderland. The youngster has five Sunderland goals to his name; against Exeter, Norwich and Stoke to his name and is also playing well for England u21s.
Watmore's hard work has rewarded with a new contract and the youngster signed with Sunderland until 2020.
Jordan Pickford, an academy graduate at Sunderland was also rewarded with a new contract. The goalkeeper who has spent time on loan at Preston this season has received rave reviews from pundits and fellow goalkeepers have likened him to Joe Hart and Jack Butland.
Pickford broke the a club record at Preston for the amount of consecutive clean-sheets and was recalled by Sunderland, much to the dismay of Preston fans.
The 21-year-old was rewarded with a start against Arsenal in the FA Cup and delivered a brilliant performance which led to the away end chanting "Jordan Pickford, he's one of our own". Allardyce then rewarded his performance against Arsenal with a start in the Premier League against Tottenham Hotspur, although Allardyce's men succumbed to a 4-1 defeat, Pickford delivered yet another brilliant performance.
Sunderland fans picked up on his excellent distribution and as a result of his good form at Preston and impressive performances for his parent club, the youngster was promoted to number two which led to the sale of Costel Pantilimon to Watford.
And whilst Honeyman highlighted Watmore as someone for the youngsters to look up to there is a handful of players the current u21s and u18s can look up to.
Martyn Waghorn currently has 20 goals for Rangers this season after signing from Wigan Athletic. Jordan Henderson is perhaps Sunderland's most famous success story, the midfielder now captains Liverpool and is being tipped to captain England.
Although Jack Colback went to the dark side and signed for Newcastle, he is another example that Sunderland's academy is more than capable of producing Premier League players.