Sunderland Ladies fell to a 2-1 defeat at the hands of Hibernian on Sunday as they continue their preparations for the new season.
It was their Scottish opponents' quick fire start that resulted in a loss for the Lady Black Cats, with Lizzie Arnot on target after just four minutes. This gave Hibs a very early upper hand, one which they consolidated on the half hour mark when Abi Harrison struck home.
Brooke Chaplen scored a second half screamer for the hosts, but it was unable to inspire Sunderland into the comeback needed to salvage a draw in the match - coming just eight minutes before the final whistle.
Visiting goalkeeper Jenna Fife was kept busy as Sunderland enjoyed a late flurry in the game, but it was Hibs who went home with the win, travelling back across the border full of confidence ahead of the Scottish Women's Premier League's start in just over two weeks' time.
Disappointing start to preparations
Following a goalless draw with Glasgow City earlier this month, this defeat to Hibs leaves Sunderland without a win in their pre-season campaign so far.
Both of their opponents have been high quality ones, making up the top two of the SWPL in the 2015 season last year, but the gulf in class between the Scottish division and the FAWSL that is believed to exist did not show itself on Sunday, or in the game prior.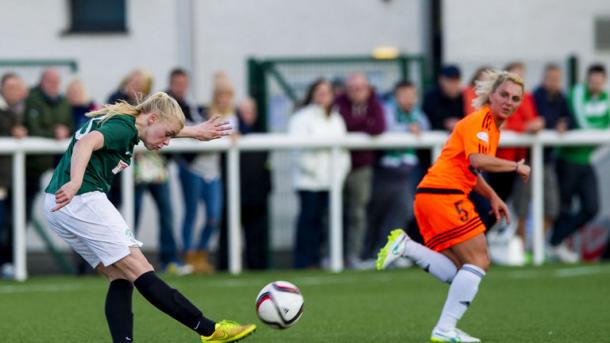 Nonetheless, manager Carlton Fairweather was pleased once more with his side's performance, namely in the second period where he said, speaking to Sunderland's official website, that his side "played much better" than they had in the first.
"We created lots of chances and moved the ball much better," he explained, which he was pleased with despite the failure to secure a draw.
"Brooke scored a really good goal but we just couldn't get the equaliser."