Vito Mannone may very well be Sunderland's first choice goalkeeper again, however he is yet to keep a clean sheet this season and is annoyed at the fact.
The former Arsenal shot-stopper has been the number one again for nearly two months now on Wearside, since he was reinstated for the trip to Manchester City on Boxing Day. Mannone had been out of league action for over a year with Costel Pantilimon replacing him in goal, but the giant Romanian was moved onto Watford in January, leaving the door open for the Italian once again.
Mannone going 'crazy' without clean sheet
Mannone has featured eight times since Christmas, but has yet to go a full game without conceding, despite the team returning to form for the most part since then. The closest he came was at home to Aston Villa where the team grabbed a crucial 3-1 win and he was cruelly denied a clean sheet by a goal of the season contender form Carlos Gil.
Head coach Sam Allardyce has been trying to drum into his players the importance of keeping clean sheets, so for the goalkeeper it's been really frustrating, with him telling the Sunderland Echo that it's driving him "crazy".
"We're desperately trying to get [a clean sheet]," he added, "but we're finding it tough."
Damning stats
It's perhaps harsh to heap blame on Mannone for Sunderland's woeful defensive record, as they've had it all season, which is reflected in the stats.
Before he was made first choice again, Sunderland had only kept three clean sheets - a joint league low with Norwich City who, like the Black Cats, have conceded 50 goals in their 26 Premier League games.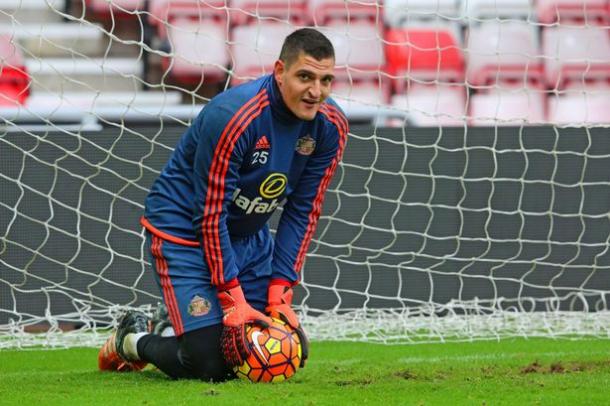 A team effort
However you dress it up, Mannone has not kept a clean sheet now since September 2014 but it's not just him and the defence who are responsible; "it's the work of the whole team, from the strikers through to [the 'keeper]."
"All 11 players have to be concentrated on not giving cheap goals away," the Italian believes.
The rest of the team have been doing work in other ways though. Goals going in down the other end from various sources has allowed Sunderland to pick up four points from tricky games against Liverpool and Manchester United, points that leave the Black Cats only a point from safety.
Mannone, like everyone else at Sunderland, realises the importance of points over anything else now, saying that, "at the end of the day, points are the main thing."
However, he is hoping that the points can give the team "the mentality and fighting spirit to get a clean sheet in the next game," which is at home to West Ham United on Saturday.