Sam Allardyce, the current manager of Sunderland, has the unenviable task of guiding another Black Cats side who, for the fourth year running, find themselves in the relegation dogfight.
If this article was written in October before the sacking of Dick Advocaat, it would have been a more popular idea than not, to accept relegation to help rid Sunderland of their so-called 'deadwood' and aid the restructuring of the club to gain promotion.
Would the second divison 'revitalise' Sunderland?
As we see, on a yearly basis however, former Premier League clubs are finding it increasingly difficult to get out of the Championship and get themselves back into the upper echelon of the English Football pyramid. The past four years has seen only three from 12 relegated sides come straight back up the following season, quite a damning statistic for people who believe relegation is a 'good thing'.
What are the positives for a Premier League club like Sunderland to be relegated? Can anybody be content buying a season ticket for a club who are going to win, on average, 7 games a season, with not many of those coming at home? The Championship would certainly bring a more competitive edge to the Stadium of Light for the devout follower, but the attendances with relegation always get smaller and would likely diminish the atmosphere, alongside the matchday experience.
A common mythical stigma that comes with relegation also includes 'reducing the wage bill'. People forget that footballers in the second division get paid, on average, more than most of the top divisions in the world, therefore the likelihood of players leaving due to cutting the wage bill would actually not happen.
Can Sunderland attract the kind of players that will keep them in the top flight without having to battle against relegation? It wasn't so long ago that they had a very exciting side to watch and were beating sides reputably larger than them on merit.
Bruce's exciting team has been dismantled
Since Steve Bruce put together a side which included 2010 Ballon D'or nominee, Asamoah Gyan, prolific goalscorer Darren Bent and pacey workhorse Danny Welbeck on loan from Arsenal, Sunderland have stuggled to piece together a side capable of consistency, or, at least the ability to excite the fans.
Under Bruce, Christmas for a Mackem in 2010, was a treat. 6th in the division, anything was possible for the red and whites and, although the team didn't win a game from February until the end of April (nine games), Sunderland fans were content with midtable mediocrity and a successful season in 2011 was likely to be on the cards, with the resources at Bruce's disposal.
Unfortunately, 2011/12 brought nothing but disappointment. Bruce had sold Darren Bent, Asamoah Gyan, Jordan Henderson and failed to sign Danny Welbeck from Manchester United and took the club to a lowly 16th place, which essentially cost him his job in November 2011.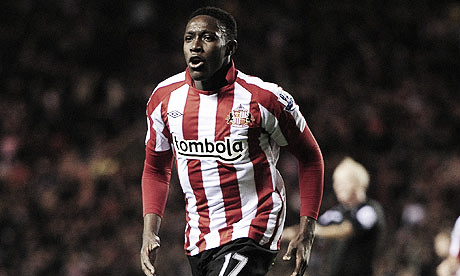 A relvoving door of managers hasn't helped
Since then, Sunderland have had five full time managers in five years, fan favourite (at the time) Martin O'Neill, fiery Italian Paolo Di Canio, the talented Gustavo Poyet, the seasoned veteran Dick Advocaat and another seasoned veteran, yet lover of modern sports science, 'Big' Sam Allardyce. All of whom appear to have brought hope, and a new sense of optimism to supporters with their approach to football styles, passion for the club/fans and ability to discipline. Excluding Allardyce, all the previous coaches managed to keep Sunderland afloat, but could not maintain their position the following season, costing them their jobs, individually.
This run of bottom-of-the-league battles, incredibly, has statistically brought more fans through the gates at the Stadium of Light and with their unwaning support, they have seen Sunderland survive by the skin of their teeth for four straight seasons.