Sebastian Larsson has said Sunderland AFC are searching for a "massive" three points ahead of Sunday's trip to bitter rivals Newcastle United.
All on the line
The contest between these two North East rivals is always a spectacle but Sunday's clash is arguably the biggest between the two sides since their play-off semi-final clash back in 1990.
Both clubs currently sit dangerously near the bottom of the league table with the Magpies currently in 19th and Sunderland just outside the relegation zone in 17th on goal difference.
Only a point separates them ahead of the Black Cat's trip to Tyneside and on paper it could be the decider to who will be joining Aston Villa in the Championship, and with next season's television deal reportedly worth £100m to each club both will be battling to avoid such a seismic blow.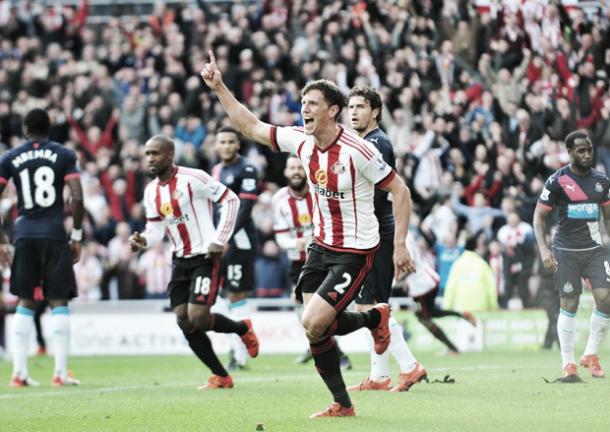 Fired up
Despite what is potentially at stake on Sunday, Larsson, who has been involved in all of the last six consecutive wins over Newcastle, is the relishing the prospect.
He admitted to the Shields Gazette that there is "more pressure" on this match but said you "always look forward to this game".
He continued saying that despite the pressure you want to be "involved" and wants to walk away from Tyneside with "three points again" which set up Sunderland "nicely for the run-in".
Larsson said it was a "massive game" and that he has been in the area long enough to realise "how important" it is but said there is a "lot of games to go" after Sunday's game.
On the up
Sunderland have improved their game in the last few matches heading into this game despite Sam Allardyce's side collecting only six points in the last six matches but Larsson believes they will be eventually be rewarded for their performances.
He said that it doesn't "always mean much" to play well as making the points is the "major thing" but that there is a belief that the club are "difficult to beat" and that's the way Larsson believes Sunderland have to be in "every game" until the end of the season.
Sunderland AFC will take on Newcastle United at St James' Park on Sunday, March 20 with kick-off at 1:30pm BST.