It's been a whirlwind 12 months for Sunderland Ladies, and we're surely set for another as they prepare for the new 2016 season.
After surprising everyone in 2015 with a fourth-placed finish on their top flight debut, the Lady Black Cats will not be underestimated in the coming FAWSL campaign, but they will be no easier to handle.
Transfer business
Manager Carlton Fairweather has been busy during the off-season. As well as bringing in players to strengthen what the team already have, he has done a superb job in ensuring the core of the 2015 squad remains.
New deals for captain Stephanie Bannon, stalwart Victoria Williams and, most notably, star striker Beth Mead, have ensured that the team remain one to beat in 2016, whilst the club's recruitment has been similarly impressive.
The talented Lucy Staniforth has arrived from Liverpool, experienced forward Krystle Johnston has made the switch from Manchester City, whilst Kylla Sjoman and Rachel Pitman return to England after spells abroad.
The latter can certainly help cushion the blow of Victoria Greenwell's exit, whilst the rest all provide great attacking options that can help share the goal-scoring burden on Wearside - or at least making it easier for players to carry by creating chances for them.
Pre-season
Whilst you should never read too much into pre-season results, you can't just ignore them when they are the only indication of a team's form prior to the start of the campaign.
Sunderland's preparations for the new season haven't gone swimmingly, with them managing a draw against Scottish Women's Premier League champions Glasgow City, but losing 2-1 to last year's runners-up, Aberdeen.
They managed a narrow 1-0 victory over WSL 2 side Durham earlier this month, whilst a 5-4 win over Sheffield FC at the weekend could not have been more contrasting.
However, Fairweather has cited positives from all games as his team get their match fitness up, and they will hope to build on these with a result in their first competitive match of the year against Yeovil Town this Sunday in the FA Women's Cup.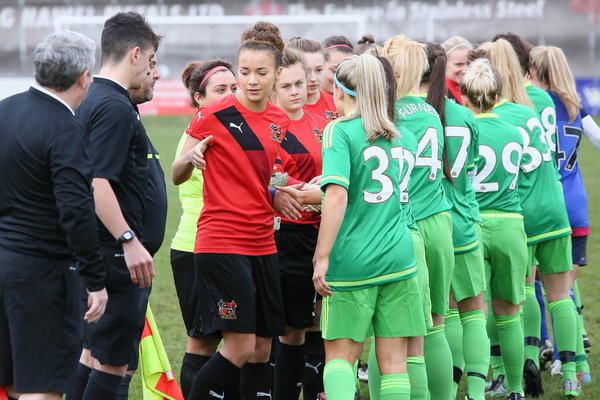 Important fixtures
After that fifth round tie with Yeovil, Sunderland kick off their new WSL 1 campaign with a relatively kind fixture; at home to newly-promoted Reading.
It won't be an easy game, as the Royals are bound to target the 2014 WSL 2 champions as a team they can get points from in order to stay up, but they will be confident of starting the year with three points.
Following that though, their quality in comparison to last season and potential title credentials will be tested in two tough games against Liverpool and Manchester City. The Reds have recruited well during the off-season, whilst City are certainly a favourite for the title.
A run of games starting in mid-May will also test these qualities, starting with their hosting of Liverpool. Following that, they are away to Chelsea and Arsenal, before welcoming the former to Wearside.
The Lady Black Cats will end the season at home to Birmingham City, following a double header against Notts County.
Key players
If Sunderland are to replicate last season's successes, it's about key players performing again. Mead is the obvious player that the Lady Black Cats need to be on top form, as it was her 12 goals in just 14 league games that was the driving force behind their splendid year.
However, with everyone in the league well aware of her threat now after such a high profile 2015, it's about her teammates making things easier for her and helping her out.
Brooke Chaplen's creativity can ensure that Mead receives the amount of chances needed to hit those heights once again, whilst the midfielder can chip in with goals herself too - as she proved by scoring three last year.
Nonetheless, the fact that those three efforts made Chaplen the team's second highest goal-scorer shows that they need goals to come from elsewhere. Staniforth could be an answer to this potential concern. The 23-year-old has had her injury problems, but she has shown around these that she has an eye for goal alongside an abundance of creativity.
The likes of Stephanie Roche and Emma Kelly are also attacking talents that have plenty to give going forward.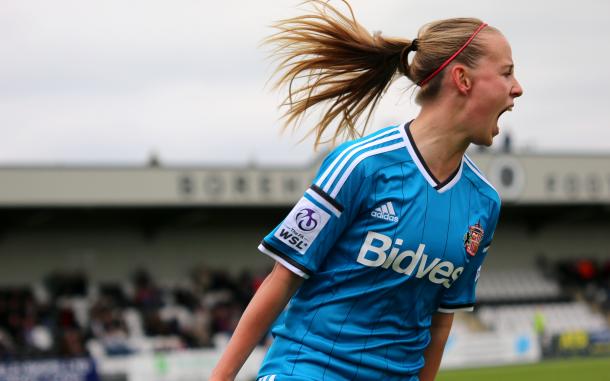 At the back, the Lady Black Cats need to sure things up too after conceding 24 goals in 14 league games. In between the sticks, they are in good stead. Rachael Laws, recently called up for England, and 2015 mid-season signing Hilde Gunn Olsen rotated brilliantly in the latter half of last year, with both really athletic shot stoppers.
However, they were called into action far too often. With Greenwell leaving, captain Bannon needs to step up more than ever to ensure that the back line is organised this year. Her leadership will be key if Sunderland want to improve in their own half, with the skipper needing to ensure Pitman fits into the team well in defence too.
Potential worries
There are a couple of concerns for Sunderland heading into the new campaign. The obvious one is the potential of second season syndrome. The team flew up the standings last year thanks to the momentum carried over from promotion, something that won't be a factor in 2016.
Not only could this affect the team as a whole though, but individuals. The likes of Mead and Chaplen, who posed so many problems last term, are much more well known now and will be tightly marked by opponents, meaning they could suffer a slump if they don't raise their game further, or if they are not helped out by new arrivals and other teammates.
The side's reliance on Mead's goals could be another downfall, with her 12 superb but hardly closely followed by a teammate. Chaplen was Sunderland's second top-scorer with three, whilst no-one else managed more than one in the league. The likes of Roche, Staniforth and Kelly need to offer more going forward to ease the burden on their teammate.
The added attention that Mead is bound to receive from defenders this season should give her teammates more space though, and so the sharing of goals could come naturally.
Fixing their leaking defence is another thing that Fairweather is sure to have worked on during the off-season too, with Laws and Olsen needing much better protection.
Prediction
There's a lot to consider ahead of the new season. As well as focusing on Sunderland themselves, other teams have strengthened well and are sure to jump up the standings as a result. Liverpool will not struggle like last year, whilst Doncaster Belles could spring a surprise after their great recruitment.
However, having kept the core of their squad and built upon it, the Lady Black Cats should not be leapfrogged significantly by improving sides and should manage another strong mid-table finish.
A relegation battle should not worry them, but the top two, which Fairweather set as the target towards the back end of last year, seems too far off given the strength of those above them - the likes of Chelsea and Man City.
Cup success is not a pipe dream though, as Sunderland are a top quality team who are capable of clinching some silverware in 2016.