Sunderland midfielder Jan Kirchhoff has urged his colleagues to believe in themselves following a demoralising late equaliser against rivals Newcastle United, and understand that the chances of survival are in their hands.
The Black Cats have effectively dropped four points in the last two games due to their inability to hold a lead and have now gone 17 games without a clean sheet.
Sunderland good enough to stay up in unpredictable season
This season has been the most unpredictable yet most competitive of Premier League seasons. It has given the viewers twists and turns, shock defeats, ill-timed managerial changes and a season where relegation favourites, Leicester City, remain eight points clear at the top of the league with eight games remaining.
However, Kirchhoff believes that Sunderland are the favourites to survive as they hold their destiny in their own hands.
"We are still above Newcastle," the January import from Bayern Munich told the Daily Mail before reminding his teammates that they're only "two points behind Norwich City," who have one game fewer in the run-in.
The 25-year-old German believes that his team can "remain sharp and focused," adding that he feels comfortable with the position that the Mackems are in and that they "are good enough to stay in the league".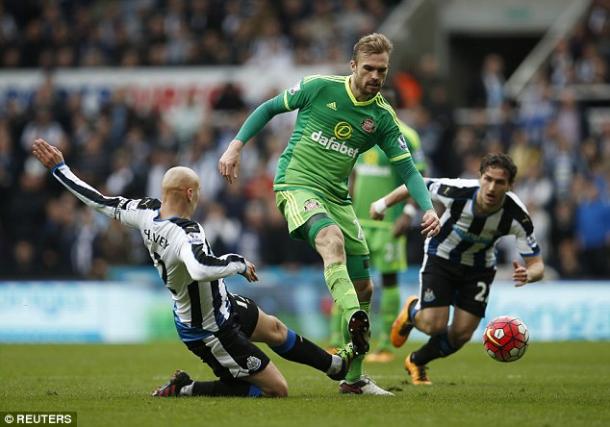 "We don't have to focus on Norwich"
Following the draw at St. James' Park on Sunday afternoon, Sunderland now have two weeks off thanks to the international break.
When the Wearsiders return to action, they have two successive games at the Stadium of Light, with West Bromwich Albion and Leicester respectively visiting the North East. Sunderland will see the game against West Brom is a winnable one, especially after the Baggies stagnant performance against Norwich on Saturday.
"It's a good feeling for them," Kirchhoff commented on Norwich's victory over West Brom, but he insists that Sunderland "don't have to focus on Norwich" as his side still have to face them at Carrow Road, in what will be billed as a huge relegation six-pointer.
Clean sheets
Sunderland manager, Sam Allardyce, meanwhile, remains adamant that his side must keep their concentration in defence for the full 90 minutes, and maintains that if they do not begin to keep clean sheets "it's going to go down to the very wire", in regards to the relegation scrap.
Allardyce has also shown a lack of confidence in the teams ability to score goals as, when pointing out that his side will likely require 16 goals in the remaining eight games, he claimed "we can't do that" - meaning clean sheets become even more important.