Vito Mannone feels his side conceding late goals are costing them the all-important points, and if this is a continuous habit the great escape won't be fulfilled again this season.
Sunderland have missed out on four extra points from their last two games which could have seen them sit 17th in the Premier League. They would be two points clear of Norwich City with a game in hand and 5 points ahead of rivals Newcastle.
The Tyne-Wear derby saw Aleksandar Mitrovic level the scoring in the 83rd minute, whilst Virgil van Dijk earned his side a point in the fourth added minute disappointing the fans who endured a 320-mile trip to Southampton.
Failure isn't just a defeat
Speaking to Chronicle Live, the Italian believes it's not just losing a game that leaves disappointment within a team.
"It's funny because in the last two games we have all felt like we lost," he said. "We dominated the game and let the opponents come back in and get a point."
The 28-year-old mentioned positively that "the game we played in the first hour does bode well" but the team "have to see off games."
He knows the team "are still well in trouble" but he feels it's important the team are "positive" and "try not to focus on the negatives."
Battle for survival continues
Premier League football is still in Sunderland's sights for next season but the determination needs to show from all the players when they face West Brom, top of the table Leicester and especially against fellow struggling side Norwich.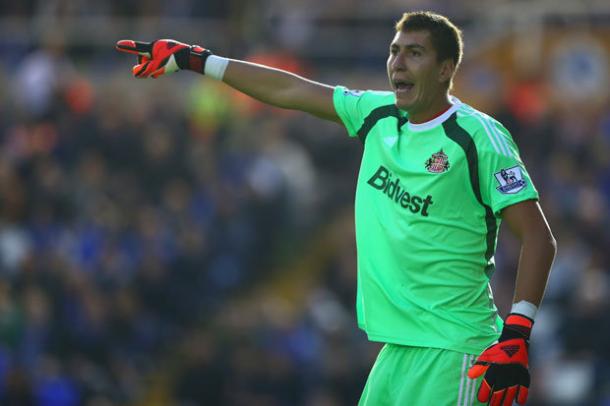 The first two games are at home which Mannone feels "is a good thing" and "the whole club needs to push together for survival."
He says "we can't let ourselves down" and must "aim to be positive in the next game."
The game away to Norwich on 16 April will prove vital to keep Sunderland's chances of staying up alive.
Even though Sunderland couldn't keep the lead at St. James' Park, Mannone is "confident" his team has what it takes to survive. He believes they "have improved a lot" and the only thing that is missing is "that edge to not concede."
Norwich face Newcastle on 2 April, which is an important game for all three teams in the battle for survival, it could prove a result beneficial or harmful to Sunderland's fate.