Sunderland Ladies head coach Carlton Fairweather was keen to praise Brooke Chaplen after her brace won their FA Cup tie with Yeovil Town Ladies.
In what was effectively a curtain raiser for the upcoming WSL 1 season, Sunderland took on Yeovil at Huish Park on Sunday in the Women's FA Cup fifth round.
Midfielder Chaplen took all the plaudits after this encounter as she grabbed a late brace in the south west to send Sunderland through to the quarter-finals.
Praise for Chaplen
The midfielder's goals both came in the second half, as opened the scoring with at the second attempt with a rebound off her own shot. Then, 10 minutes from the end, Chaplen wrapped up the victory by getting on the end of ball from last season's top scorer, Beth Mead, across the face of goal.
When describing Chaplen's performance, Fairweather had this to say: "We are pleased for her to get on the score-sheet, it's good to see her supporting Beth in the final third." Chaplen's goals will hopefully be a sign of things to come for Sunderland this season, in terms of taking some of the burden off striker Mead.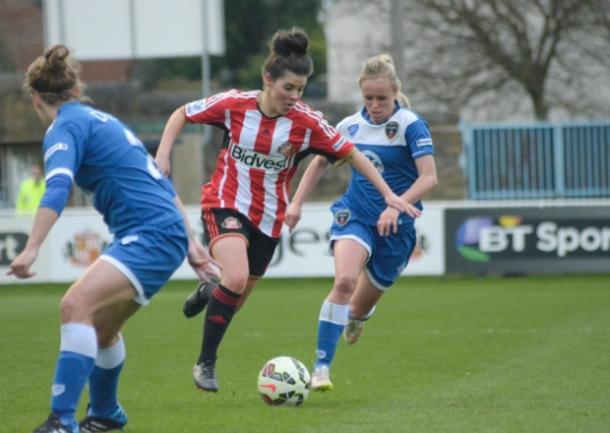 The team's performance
Fairweather certainly feels his team can do better, as he was hoping for a more convincing victory than the one he got against WSL 2 outfit Yeovil. When asked about the overall performance he said: "We played very well in the first half, but we need to try and be a bit more clinical."
He continued, "We did better in the second half and overall we deserved the win." Fairweather will now turn his attentions to the start of the league campaign this coming weekend, where the Lady Black Cats will face Reading Women at Eppelton CW, who are newly-promoted into the top tier.
In addition to hosting Reading to start off the league season, they'll also take on the Royals in their FA Cup quarter-final the very next week at the same venue. Fairweather has urged caution with regards to the cup tie, as he concluded: "It's nice to get through to the next round, but we need focus on our first league match next Saturday."