Fabio Borini has said that it is important that Sunderland pick up victories in their consecutive home matches against West Bromwich Albion and league leaders Leicester City to boost their survival chances.
Slowly but surely
The Black Cats have improved week by week since the arrival of Sam Allardyce and they have only been defeated once in their last five league matches.
However the Wearside outfit still find themselves inside the relegation zone, with two points between them and 17th-placed Norwich City.
Recent results wont have boosted confidence though, as certain victories against both Southampton and bitter rivals Newcastle United were snatched away in the last moments by Virgil Van Dijk and Aleksander Mitrovic respectively.
Crucial opportunity
Allardyce's side will have home advantage for the first time since the 2-2 draw with Crystal Palace when they host West Bromwich Albion on April 2 and, with Leicester the following Sunday, Borini has stressed the importance of gathering six points in front of a home crowd.
Borini told Sunderland's official website that the two home matches were "big" and that the side have to "make the most of it" with the home fans "behind us".
He continued, saying they are "winnable games" with Norwich showing that Tony Pulis' side "can be beaten".
Borini admitted that the fixture with Claudio Ranieri's league leaders will be a "tricky one," but is adamant that Sunderland will do their "best" to get the wins they need.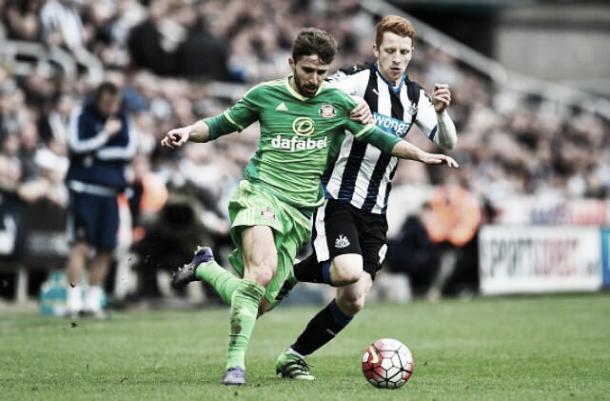 Snatched away
Borini played in last Sunday's Tyne-Wear derby which was touted as the most important since 1990 as Sunderland looked to make it seven consecutive victories against their rivals.
They looked like they had done it with Jermain Defoe's first-half strike, but Mitrovic's strike shared the points and Borini shared his appreciation for the Sunderland faithful on social media after the game.
He wrote on Twitter: "We tried our hardest to make it 7! A point will do for now... #SAFC fans were louder then ever before! Love you all!"
The team will hope for the same support when they take on West Brom at the Stadium of Light on Saturday 2 April, with kick-off at 3pm BST.