15:29 - Thank you for joining me for Sunderland - Leicester City you can find me on Twitter @Danialkennedy95 and unitl next time enjoy the rest of your Sunday !
15:27 - Vardy's brace sends Leicester TEN ponts clear at the top of the table with Tottenham kicking- off in over 45 minutes time while the gap at the bottom for Sunderland remains four as they head into next week's crucial clash with fellow strugglers Norwich City
15:26 - It was a lot better in the second period with Jamie Vardy giving them lead and Sunderland should have grabbed a least a point with Jack Rodwell's great chance but Vardy sealed the win in extra-time
15:25 - It was poor showing in the first period from both sides with the only real chances coming from Wes Morgan and Fabio Borini
15:24 - AND IT'S OVER Leicester City have secured yet another win in their pursuit of the Premier League title
FT - Sunderland 0-2 Leicester City
95' - VARDY SEALS IT Gray plays it to Vardy who gets around PVA and then past Mannone to seal the win and three points closer to the Premier League title
94' - GOAL Sunderland 0-2 Leicester City
92' - Vardy plays it into Amartey but Mannone is again on hand to stop the effort
90' - How crucial could that miss be from Rodwell for not only Sunderland's survival but Tottenham's slim title ambitions ?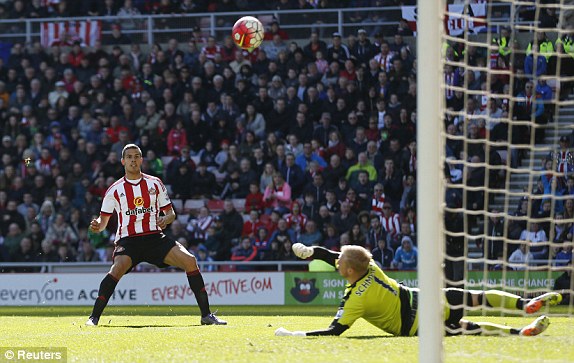 90' - Five minutes added time, still time for a Sunderland equaliser ?
89' - Another good chance as Drinkwater gets to the byline and pulls it back for Vardy but Mannone saves and more importantly holds on to it
88' - One minute left of added time and it looks all but over here on Wearisde with Sunderland's best chance to get back into the match passing them by
83' - Final sub as Albrighton comes off for Amartey little over six minutes left
82' - Ulloa looks to chip Mannone but he is equal to it
81' - CHANCE The ball from PVA makes it through to Rodwell and he some how managed to put it over the crossbar from around six yards out should have brought the game level
80' - Another change as Mahrez comes off for Gray with the sub not playing to his usual high standards
79' - It's Jamie Vardy's strike (pictured below) that seperates these two sides at the moment with little over ten minutes to play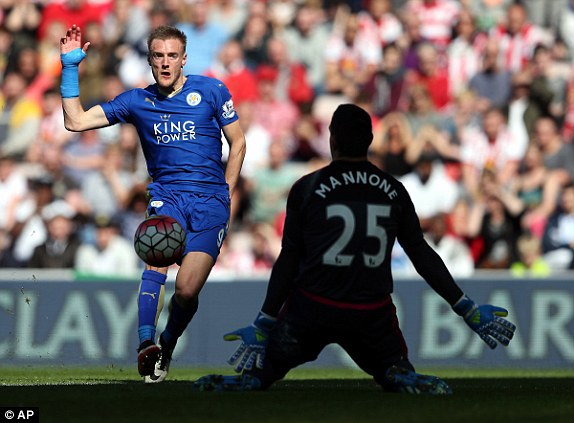 77' - The flick on from Huth falls perfectly for PVA but he isnt alive to the situation as it deflects off him and behind
76' - Albrighton goes for goal but Mannone is equal to it, still remains 1-0 Leicester
75' - Final change for Sunderland as Borini comes off in place of the returning Lens
75' - Little over 15 minutes to go as Leicester City look to hold on for a fifth consecutive 1-0 victory thanks to Jamie Vardy's strike
71' - Great ball from PVA looks perfect for Borini but he strikes himself in the face and out for the goal kick
70' - Mahre nearly takes it all the way through but in the end it makes it way through to Mannone
68'- Sam Allardyce makes two changes as M'Vila and Khazri come off for Rodwell and N'Doye still over 20 minutes for Sunderland to get something from this
67' - Vardy's 20th goal of the season currently sit TEN points above Tottenham in their imminent kick-off against Manchester United
66' - LEICESTER TAKE THE LEAD Vardy has ended his six-game drough as he gets on the end of a long ball from Drinkwater and Kaboul can't keep up as he slots it into the bottom corner 1-0!!
65' - GOAL Sunderland 0-1 Leicester City
63' - Khazri picks up the corss-field ball and looks to cut inside but again it is well wide from distance
62' - First change as Okazaki comes off for Ulloa who will be looking the difference
60' - Hour gone and still remains goalless with Leicester poised to make their first change of the afternoon
58' - Mharez tees up Drinkwater who attempts to place it in the bottom corner but it was easy for Mannone to smother
57' - Khazri tries from distance but it is deflected wide
53' - floated ball from Vardy to Drinkwater but Sunderland get bodies back and Mannone eventually collects
51' - Good move as Okazaki does well before playing it to Kante but recieves it back immeadiatley but the ball is behind him as the shot sails over
50' - Defoe shot deflected to Borini who has time and lets fly but went wayward of the top corner, still 0-0
46' - Get's another chance as the ball comes back in but it is miskicked by the Italian
46' - Borini steps inside and takes the shot with the deflection taking i over
45' - Back underway here at the Stadium of Light with Leicester City kikcin-off the second half
14:19 - Coverage of the second period will follow shortly
14:18 - pretty open first period with both sides have one good chance each coming from Wes Morgan and Fabio Borini but a misque and good save respectivley sees the game goalless going into the break
HT - Sunderland 0-0 Leicester City
46' - CHANCE first real Sunderland opportunity as Schmeichel is called upon as Borini's effort deflects off Morgan which forces the Dane to save with his legs
45' - three minutes added time
44' - Okazaki plays it to Vardy who had space and time but fluffed his lines with the first-time effort
36' - Good play from Khazri finds Van Aanholt on the overlap who looks to get it in from the byline but it is cleared amongst hand ball appeals. Better from the Black Cats but still goalless
35' - Cross in finds Kaboul who runs into the area but a little bit too much on header as it is just over the crossbar
30' - Half a hour gone and it has been quite a open game so far with Leicester City having more of the opportunities but havent proved clinical
29' - Fuchs recieves a yellow on the half-way line for a late challenge on Borini. Still 0-0
27' - Corner makes it all the wat through to Drinkwater near the edge of the area but was well over
25' - Okazaki brings the ball down on his chest but goes down under the challenge of Yedlin but penalty appeals are waved away
22' - Great floated ball to back post looking for Khazri who was sliding in but was just too much for him
21' - Free-kick to Sunderland for Huth's inpedment of Defoe
20' - First yellow of afternoon goes to Borini after diving into the tackle
17' - Kirchoff picks up the free ball and decides to pass instead of taking it on himself pushing it to Khazri and the chance breaks down
15' - Kirchoff finds the running Borini but makes a hash of trying to find Defoe
14' - Morgan left free at the corner but poorly timed as the chance goes well wide
13' - Okazaki looks to find Vardy with a low cross but Kaboul clears. End-to-end stuff so far but still 0-0
11' - Vardy tries to get his first goal since the defeat to Arsenal as he tries with the header but was alway going away from goal and his drought continues
9' - Borini attempted to put Defoe through eith the header but there was too much on it for the his strike partner to chase
7' - Okazaki looks ok to continue as Sunderland pressure is cleared by Morgan
6' - Okazaki currently limping, could it be the end of his afternoon ?
5' - Freee-kick to Leicester out on the left-hand side
3' - Kante attempts the shot on goal but it is straight at Mannone
1' - Bright start from the away side as Vardy tries to find Okazaki but Kaboul puts it behind and the resulting corner came to nothing
1' - We are underway on Wearside!
13:26 - The players are out on the pitch and it is a great atmopshere at the Stadium of Light
13:25 - The players are in the tunnel ready to go out onto the pitch, kick-off is minutes away !
13:20 - The visitors certainly head into this match the favourites winning their last four matches while Sunderland have drawn their last four with three of those coming from winning positions
13:19 - Leicester City players warming up ahead of today's match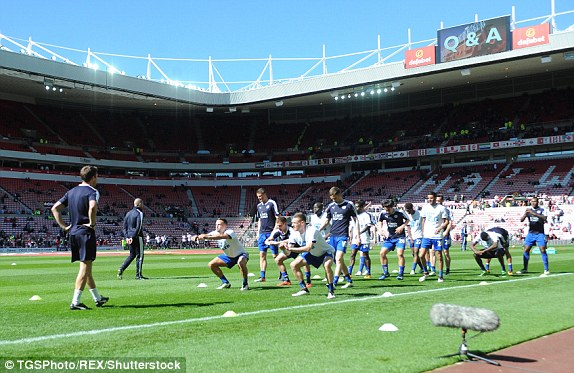 13:16 - FACT 18 of 20 of Leicester City's victories this season have come despite having the lower share of the possession
13:16 - Little under 15 minutes until kick-off
13:07 - Sunderland manager looking in high spirits as he arrives at the Stadium of Light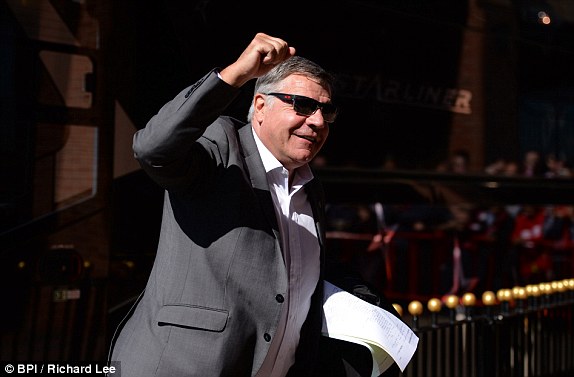 13:05 - A handful of Leicester City players out on the Stadium of Light ahead of kick-off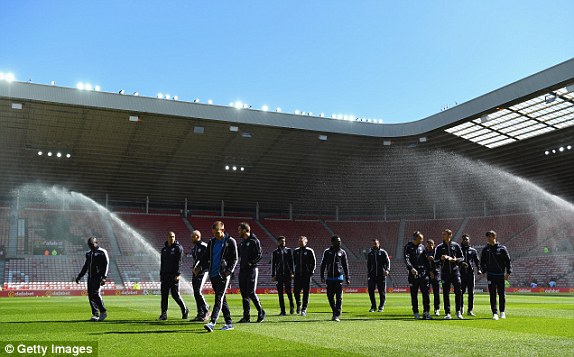 13:02 - A little under half a hour until kick-off on Wearside in what is a crucial match for both sides at opposite ends of the Premier League table
12:52 - German Jeffery Schlupp has returned from injury but isnt even named on the bench for this clash
12:51 - Claudio Ranieri has also named an unchanged from the win over the Southampton last SDunday which means the Italian has named the same side for the fifth consecutive match
12:50 - Sam Allardyce names an unchanged side that drew with West Brom last weekend with Lee Cattermole keeping his position ahead of Jack Rodwell
Subs: Schwarzer, King Amartey, Schlupp, Gray, Ulloa, Wasilewski
12:35 - Team to play Sunderland: Schmeichel, Simpson, Morgan, Huth, Fuchs, Mahrez, Kante, Drinkwater, Albrighton, Okazaki, Vardy
Subs: Jones, Larsson, Rodwell, N'Doye, Pickford, O'Shea, Lens
12:33 - Team to play Leicester City: Mannone, Yedlin, Kaboul, Kone, Van Aanholt, Kirchhoff, Cattermole, M'Vila, Khazri, Borini, Defoe
12:32 - Team news will follow shortly
12:31 - While Leicester come to the North East looking to strengthen their position at the top of the Premier League table with Tottenham playing Manchester United later this afternoon
12:30 - It is set up to be a great game at Stadium of Light as the Black Cats look to capitalise on Norwich's defeat to Crystal Palace yesterday and strengthen their survival hopes
12:30 - Hi everyone I am Danial Kennedy and I will be guiding you through today's contest between Sunderland and league leaders Leicester City
It was that opening game of the season is what set this extraordinary journey into the motion for Ranieri's side with goals from Jamie Vardy, Riyad Mahrez and Marc Albrighton cancelling out consolations from Defoe and Steven Fletcher to give them a resounding 4-2 win.
Allardyce's side dominated their counterparts in terms of their recent head-to-head record up until recently with the opening day defeat this season been their first defeat in eight matches to the Foxes winning four of those matches.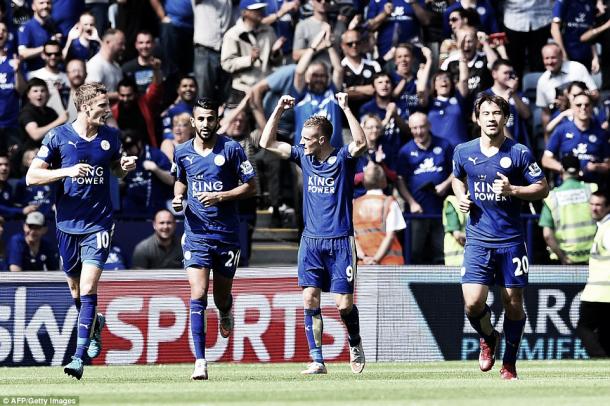 Jeffery Schlupp is expected to return to the fold after missing last weekend's win but is expected to be demoted to the bench for this trip to the North East.
Like their hosts, Leicester have no real injury problems with Matty James been the only absentee and like Allardyce, Ranieri isn'texpected to make any significant changes.
Fabio Borini and Wahbi Khazri are expected to play wide of Jermain Defoe with Younes Kaboul partnering Lamine Kone in favour of John O'Shea.
Jack Rodwell is fighting for a spot in the middle after a impressive run of form but it is expected that Allardyce will lead with the same team from Saturday's goalless draw.
The only significant long-term absentee for the Black Cats is youngster Duncan Watmore which sees Allardyce left with a host of options for this crucial match-up.
They now stand on the brink of history with seven-point gap over second-placed Tottenham Hotspur who play Manchester United late Sunday afternoon and will look to cement a grip on the Premier League title with a fifth consecutive victory.
Their performances continue to impress winning their last four matches by one goal and that continued last Sunday with a goal from captain Wes Morgan giving them the victory over Southampton.
Many at the start of the season would have expected that the Foxes would be down at the bottom of the table with the likes of the Sunderland under the new management of Claudio Ranieri.
Leicester City were in a very similar position to their hosts this time last season but a miraculous 12 months now sees them on the brink of completing one the greatest triumphs in sport.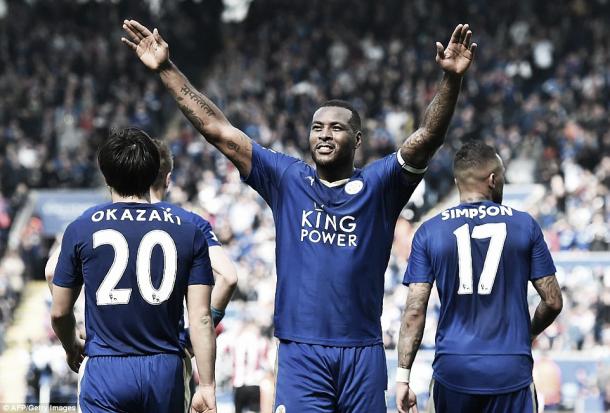 The Black Cats will face a monumental task against a side that has lost three times all season but a potentially season-deciding game at Carrow Road the week after, they will have to give it everything they have.
A big opportunity passed them by last weekend as they failed to bring down Tony Pulis and his West Bromwich Albion side in a goalless draw which was worsened by Norwich City's 3-2 victory over Newcastle United which increased the safety gap to four points.
Their performances have improved vastly since the arrival of Sam Allardyce but winning and seeing out matches has proven their problem of late drawing their last four matches, three coming from winning positions.
It looks a worsening situation on Wearside as the Black Cats try desperately to keep their above water in their fight for Premier League survival.
Hello and welcome to VAVEL UK's live minute-by-minute commentary of Sunderland's clash with Leicester City in the Premier League. Kick-off is set for 13:30 BST, so stick with us for the game between the relegation battler's and current champion's elect.