Sunderland passed up another opportunity to catch Norwich City today, as they succumbed to a Jamie Vardy brace in a game that will have filled none of their fans with any confidence.
The Black Cats' refusal to learn from their mistakes in previous games yet again proved the difference, as Sam Allardyce failed to set his team up correctly in order to deal with Leicester City's counter-attacking threat.
So here are five things that we discovered Sunderland have clearly not learned from in the past.
Further proof that three defensive midfielders is one too many
Has this been pointed out by several people previously? Yes. Has Allardyce taken note of this? No.
Lee Cattermole kept his place in the team alongside Yann M'Vila and Jan Kirchhoff for today's game. The former should not be playing any further forward than the holding midfield role, which is now an easy choice for the manager as Kirchhoff is miles ahead of Cattermole in many ways. M'Vila's form has dropped off during the second half of the season, although he just about warrants his place in the team.
Wahbi Khazri should move into the centre of the pitch where he can see more of the ball and take control of the match, with either Jeremain Lens or Sebastian Larsson occupying the wide role for the Norwich game. The three defensive midfielders are not helping the side score nor are they helping to keep clean sheets, so why not use a more attacking player there?
Sunderland are devoid of any fresh ideas
This wasn't an undeserved loss for Allardyce's side, who had one real chance in the game and saw that blazed over the bar by Jack Rodwell with the score at 1-0. Sunderland did not take their one chance when it was presented to them and Kasper Schmeichel was untroubled all afternoon, whereas Vito Mannone was forced into making a couple of solid saves in order to keep the score down as the Black Cats wilted in the North-East sun during the final 20 minutes.
Going forward they were largely impotent, as they lacked any real quality in the final third. Multiple times Sunderland got themselves into a decent position before wasting it with an aimless punt into the box or a scuffed shot from the confidence stricken attackers.
Next week is a must-win against Norwich, but on this showing Allardyce may well find his side drawing their third blank in a row.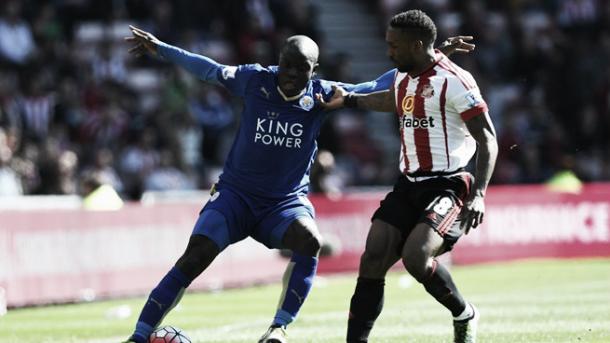 Leicester's threat was clear - yet it was not dealt with
It may have been a surprise at the beginning of the season and Sunderland could be forgiven on the opening day for being caught off-guard by the sheer speed shown on the counter-attack by Claudio Ranieri's side. But this was the 32nd game in the Premier League for Sunderland, and they should have known that the counter-attack needed to be stopped if they were to get anything from the game.
Instead we saw two goals from the Foxes' top scorer Vardy, who must be making these sort of runs in his sleep by now. A simple lofted ball into Sunderland's half and their high defensive line was caught out, leaving no chance for anyone to catch the exceptionally fast striker before he punished them.
Whether the home side were too enthusiastic in their attempts to take the lead and pushed up too much or whether it was simply laziness, all that matters is that it cost them the match.
What exactly does Dame N'Doye offer?
He isn't a lethal finisher, he isn't an aerial threat, he isn't a technically gifted player, so what exactly does 'striker' Dame N'Doye offer his team?
Allardyce is bizarrely insistent on substituting N'Doye on to the pitch for the final 20 minutes to play out wide despite the fact he is a striker by trade. Yet again, N'Doye had zero impact on the game and you can only imagine the joy Leicester's defence felt when they saw his number come up on the fourth official's board.
He currently has one goal to his name in a Sunderland shirt, and even that took a huge deflection that sent the keeper the wrong way. Sunderland fans thought they had swapped Jozy Altidore for Jermain Defoe in January 2015, but it appears he has returned under a new name.
An attacking line-up is a must at Carrow Road
With the Norwich game effectively resulting in relegation for Sunderland if they fail to win, Allardyce must send his team out to win the game, rather than to draw it as he so often does.
We have already mentioned the option of moving Khazri into a central position, and another option could be to partner Defoe with another forward as the lone striker role simply does not work with the lack of creativity behind him.
A strike partner would enable Defoe to find space around the penalty area as well as giving the Norwich back-line someone else to think about, with space around the area non-existent for Sunderland's top scorer today.
One thing is for certain however; failure to secure three points against Norwich now will mean game over for the Black Cats.