Sunderland Ladies will travel to London on Sunday with the hope of booking a place in the FA Women's Cup final at Wembley, in what will be a difficult but entertaining semi-final against Arsenal Ladies. Having already defeated Reading Women and Yeovil Town Ladies to reach this stage, there is a level of optimism and confidence surrounding this cup tie and Lucy Staniforth certainly shares those emotions.
Playing with confidence
Staniforth believes that the club have a "massive opportunity" ahead of them at the weekend, particularly from a personal standpoint. Signing from Liverpool in the January, the midfielder has only played three games for the club since arriving and is already just one game away from a cup final.
She knows that the squad are heading into the game with "all guns blazing" and promises they will try their best.
However it's not just a big day for the players, it's a momentous occasion for the fans and the club in general. The midfielder knows that if they could reach the final it would be an even greater "occasion for everyone at the club".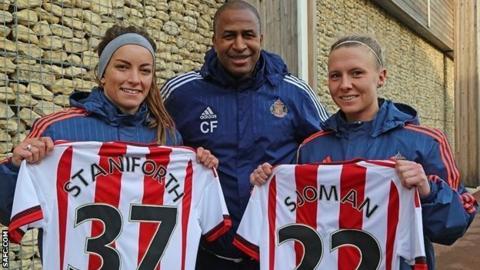 Trying to make a mark
Having not been at the club long, Staniforth is hoping to really make a mark during such an important game to establish herself at the club.
Despite already playing a huge role in the start of the season, Staniforth insists she is not "happy with everything" because she is always "looking to improve game by game", which is an attitude most fans will be pleased to hear.
However she is fully focused on the game now and her desire to "help the team" in anyway possible to reach the dream date at Wembley.
For Staniforth there will be some reflection of her previous time with the club, where she was a part of the 2009 side that lost in the final to Arsenal. She will be hoping to put that memory to bed this year and go one step further.