Some people would say the North East of England isn't the ideal location to live but Canadian Kylla Sjoman seems to be happy since her move to Sunderland Ladies.
New surroundings
Sjoman made the switch from Celtic Ladies to Sunderland Ladies in January this year and has so far started all three of their matches this season.
The 28-year-old has experienced English football before, after a short spell with Doncaster Belles back in 2011, before she moved to Germany to ply her trade. This is her first time playing in the North East.
Upon signing from Celtic, Sjoman stated the environment at Sunderland was the 'most professional' she had experienced since coming overseas.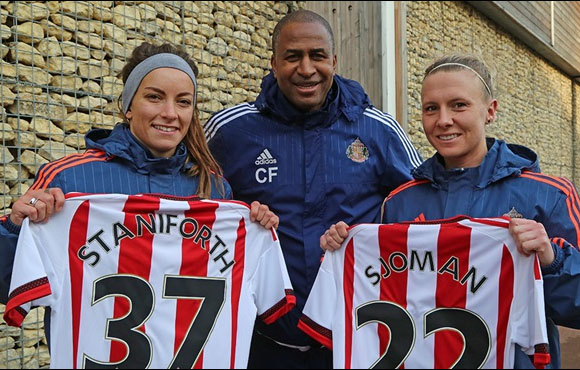 Finding her feet
This wouldn't be the last time Sjoman would compliment the standard of her surroundings at her new club either. Just recently she claimed the move was a 'big step up' from where she had previously played.
It is already looking like the left-back will play a massive part in Sunderland's season over the next few months. The position at full back has been available since Vicki Greenwell announced her retirement last year and Sjoman admits she has taken advantage of the club's need for new blood in the defence by saying it was a 'good chance' for her to finally make her return to English football.
The Canadian also praised the 'presence' of manager Carlton Fairweather, saying he has made her arrival enjoyable.
Up next
Sunderland take on Arsenal Ladies this weekend in the semi-final of the FA Women's Cup and Sjoman is set to start at the back.
It is a massive opportunity for the Ladies to grab some silverware this year and give them some extra momentum for the league campaign ahead.
Lucy Staniforth has spoke of her confidence that Sunderland will be able to progress to the final.