Thank you for keeping up to date with VAVEL UK live, I've been Anthony Gair, you can catch me on twitter @AnthonyGair.
The Sunderland fans are going nowhere here, and are enjoying the hospitality of Carrow Road to the maximum of their ability. Needless to say they'll all have one eye on the Newcastle - Swansea game later, and you can follow that on VAVEL also!
The third came when Van Aanholt spotted substitution Duncan Watmore in the box, who duly took it around Ruddy to finish with a delicate chip into the net.
After the break, Sunderland were the better side, with their central midfield of Jan Kirchhoff and Lee Cattermole holding strong, letting nothing through to the defence. Sunderlands second of the game came when Defoe was played in at the back post following a speedy counter attack.
It was all Norwich before the penalty given, initially controversially, by Andre Marriner, which Borini despatched with aplomb just before half time.
What a game at Carrow Road. Sunderland must now be favourites to save themselves from relegation on this performance.
90 + 4' Full Time.
90 + 3 Lee Cattermole named Man of the Match, deservedly.
90 + 2' Sunderland have been terrific today, and are worthy of the victory. "Are you watching Newcastle" ringing from the away stand.
90 + 1 There will be 4 minutes of stoppage time.
90' + 1 GOAL 0-3: Duncan Watmore marks his comeback from injury with a tap in, as he takes it past Ruddy and toepokes it into the opposite side of the net. Great ball from Van Aanholt to put him in.
89' Wisdom is down with an ankle injury. Nothing is going right for Norwich here.
89' Two minutes plus stoppage time to go, and Sunderland have surely got this one in the bag now. Sunderland will be one point behind Norwich with a game in hand as it stands.
88' Norwich still have that sense of urgency about them, but they still cannot create anything dangerous.
87' Gary O'Neil is the latest culprit to waste a decent opportunity. Smashing the ball over the bar from 25 yards.
86' Cameron Jerome breaks and finds some space in the box, but his touch lets him down. Goal Kick.
85' John O'Shea is going to be Sunderlands last substitution as he readies himself on the touchline. He'll come on for Jan Kirchhoff who has been brilliant with Cattermole in the centre of midfield.
83' Andre Marriner appears to have Mbokani's number, who falls again under a nothing challenge in the area.
82' Cattermole, who has to be given man of the match, clears again.
82' Redmond tries his luck again, and the ball is deflected wide for a corner. Norwich picking up again.
81' Short corner, and Sunderland's defence is asleep. Ball is eventually played in and is headed wide.
80' Kirchhoff with a foul which leads to a freekick. That is played into Redmond who strikes it, and is palmed wide from Mannone.
80' Norwich are struggling to break through Sunderlands defence, and when the do, it's generally a misplaced pass which runs through to Mannone.
78' CHANCE: Watmore played in, infront of Ruddy, but a stray touch lets him down, playing it wide for a goalkick. Should have done better.
77' Kaboul ends up in amongst the Norwich fans after some efficient defending against Jeromes attack.
76' 15 minutes plus stoppage time remains. The Sunderland fans are chanting away, and the Norwich fans look horrified. Is there anything left in this game?
74' The game has calmed hugely from the frantic start we had in this second half. Norwich perhaps collecting their breath before they go for one last push.
73' Cameron Jerome is readying himself on the touchline. He'll be coming on for Naismith.
71' Alex Neil hasn't sat down this half, as he stands dejected in his technical area.
71' Larsson will take this - and he strikes it well wide. Should have gone for the cross.
70' Cattermole, who has been terrific today, wins a free kick about 35 yards out.
69' Shouts from the Norwich faithful that Mannone had claimed the ball outside of his area. Nothing given.
68' Van Aanholt loses his head a bit, with Andre Wisdom. No bookings, which is lucky for him, as he did raise his hands too him.
66' Sunderland Substitution: Sebastian Larsson is on for M'vila
65' Watmore on the break, looking lively, but the ball into Defoe is given offside. What a game this has turned into.
64' Free Kick for Norwich about 25 yards out. Mannone punches it straight to a Norwich player, who strikes it and its cleared off the line again.
63' OFF THE LINE: Mbokani beats Mannone but is unable to put any purchase on his shot which is cleared off the line.
63' Norwich with their tenth corner. Which is easily cleared by Kaboul.
62' Mannone with a save when a poor cross turns into a shot. Out for a corner.
60' PENALTY CLAIM: Mbokani brought down in the box, but goes down too easily in the eyes of Marriner. I've seen those given.
59' Norwich Substitution: Wes Hoolahan comes on for Matt Jarvis.
59' BOOKED: Lee Cattermole picks up his first yellow card in 10 games. Martin Olsson is also booked for a foul earlier in the phase of play.
58' Naismith couldn't do anything with it and it's cleared for a counter attack for Jermaine Defoe.
57' Norwich have a freekick on the edge of the area. Redmond will take it.
55' Sunderland fans are the only ones to be heard here now. Replays have shown that Sebastien Bassong may have been fouled by Kirchhoff in the build up to the goal. Fine margins.
53' GOAL 0-2: Kirchhoff to Borini, to Defoe at the back post, and Defoe passes it into the space left at the backpost. What a massive goal this is.
52' SHOT: Bassong strikes one from around 35-40 yards and it flies over.
51' Sunderland happy with their long ball game at the moment, but you feel there are more goals in this, with Norwich being the more dangerous side.
50' Watmore does well down the left to win the ball, but can't do anything with it. Norwich try and counter with a ball from Redmond, but Mbokani is offside.
49' POST: Redmond picks the ball out 35 yards out, runs forward and strikes one from 25 yards and smashes the ball past Mannone and unfortunately for Norwich, against the post.
48' Neither side can keep the ball and are unable to string two passes together in this frantic start to the second half.
47' O'Neils corner cleared by Van Aanholt.
46' Redmond attacks down the right, and has definitely been brought on to attack Van Aanholts defensive frailties. Another corner.
46' Norwich start as they mean to go on. Naismith winning a corner which is nervously defended by Sunderland
45': Sunderland get us underway in this second half.
Sunderland havent missed a penalty since December 2011 and have scored each of their last 17.
Norwich change: Robbie Brady has made way for Nathan Redmond.
Duncan Watmore is poised to replace Wahbi Khazri for the second half.
Sunderland have been poor by their standards in the first half, but lead this important game 0-1. Norwich have been very attack minded and are causing issues to Sunderlands defence. Sunderland have struggled all season to keep clean sheets and will likely need a second goal before the game ends.
Whats going to happen in the second half? Your thoughts to @AnthonyGair on twitter!
Half Time here at Carrow Road, and boos ring around the stadium aimed at Andre Marriner. Sunderland lead 1-0 through a cool Borini penalty, which was given for a foul by Andre Wisdom.
45 +2 Kirchhoff finds Defoe with a terrific ball down the left, Defoe plays the ball into Borini who smashes the ball over.
45 +1' Two minutes of stoppage time called by the fourth official. Borini fires a shot wide, but was offside anyway.
45' Sunderland trying to calm things down, clearing everything into row Z. Allardyce briefing youngster Watmore, looks like there will be a change before or during halftime.
44' Norwich attack through Wisdom, which is cleared. Throw in.
43' The Norwich supporters are furious at the decision "you're not fit to referee" coming from the stands. One feels that they'll change their mind when the see that again.
41' The replays show that it was a definite penalty and a great decision by Marriner. Great call. If the challenge was any higher, it was a red card.
41' GOAL 0-1: Borini despatches the penalty to Ruddys right. Nobody will ever save that. Great penalty. Sunderland lead 1-0
39' PENALTY: A nothing attack from Defoe, plays a ball to Borini, and Andre Wisdom brings down Borini. Penalty
38' The resulting corner is claered into Defoes path on the counter attack. Ruddy clears it well.
37' Terrific header by Mbokani played into Jarvis, but Cattermole challenges and puts it out of play for a corner.
36' Another misplaced pass by M'Vila but Norwich fail to counter.
35' HALF CHANCE: Ball in from Borini is caught by a stretching Cattermole who balloons it over the bar.
35' Sunderland start passing in triangles, and holding the ball better.
34' Brady with the resulting free kick is cleared. Borini hooking it clear.
33' Finally, a bit of respite. O'Neil is back up, and everyone gets their breath back.
32' BOOKED: Khazri goes in late on Gary O'Neil, naughty and painful for the Norwich midfielder.
31' Naismith with a poor pass into Jarvis, the correct pass would have created an easy opportunity to score.
30' Throw in wasted and thrown directly to a Norwich player.
29' Khazri unable to get through Norwich's defence. Throw in close to the byline.
28' Jarvis tries to play in his strikers but he plays the ball straight to Mannone. Should've done better.
27' Alex Neil has sat back down as Norwich pick up the pace going forward.
26' The resulting corner is punched clear by Mannone.
26' SAVE: Great strike by Olsson which is palmed clear by Mannone.
25' SAVE: Sunderlands defending is atrocious, as Van Aanholt allows Wisdom in, and he plays a great ball in which is punched wide for a corner by Mannone.
24' Alex Neil looking animated there on the touchline. He's not happy with how his side have took their foot off the gas.
23' Sunderland are now the better side. Keeping the ball better with both Khazri and Borini are causing problems.
21' CHANCE: Norwich showing nerves, as Defoe chases down a long ball, Ruddy comes out and doesn't get it. Defoe plays the ball back inside but unable to do anything with it, and cleared off the line by Norwich.
20' Great ball from Cattermole into Borini, who gets the ball stuck under his feet. Borini getting into this game.
19' Van Aanholt shot goes miles wide, from poor passing from Norwich.
18' CHANCE: Free kick in the middle of the field to Sunderland. Launched forward to Kirchhoff, played to Borini who plays a terrific ball across the box and Defoe just cannot reach it, thanks to Wisdom.
17' Norwich Corner. Out for another. Second corner comes to nothing.
16' Naismith showing a bit of magic, with a no-look ball into Mbokani, which was cleared by Kaboul.
15' Free kick launched into the box from Norwich, directly into Mannones arms.
14' Ruddy with a dodgy pass to Bennett which he controls well, and clears. Nerves beginning to show all over the field.
13' CHANCE: Robbie Brady with a great ball to the back post, which Mbokani heads directly at Mannone. Sunderland breathe again.
11' Another long ball to Defoe, free kick given for handball against Defoe.
10' Norwich have had most of the ball. 62% possession stats.
10' Kone long ball aimes at Defoe, Ruddy claims the ball well.
6' Chance: Jonny Howson given the freedom of the box from the corner, but his volley is charged down by Van Aanholt. Sunderland have started poorly here.
5' Norwich the better side at the minute, corner kick to the Canaries.
4' Foul: All of that fracas led from DeAndre Yedlin being shoved into the advertising hoardings.
3' Tensions are bubbling over, Sam Allardyce involved in a fracas on the touchline. John O'Shea calming everyone down.
2' Offside called: but Sunderland are very lucky defensively as the linesman calls offside.
2' Free kick just outside the area for Norwich. This will be swung in by O'Neil.
1' Van Aanholt clears early counter attack. Nervy defending already from Sunderland
12:45: Andre Marriner blows the whistle, and we're off.
12:43: Potentially £90million riding on this match, thats what awaits the side that remains in the Premier League at the end of the season.
12:41: The teams are ready to leave the tunnel, infront of a packed house here at Carrow Road.
12:31: Allardyce trying to play down the games importance and relieving the players of the pressure of needing a victory. "If we can't win, make sure we don't lose".
12:30: "The team has been functioning very well", Allardyce speaks before the game.
12:25: Twenty minutes until kickoff - tweet me your predictions @AnthonyGair
12:15: Both teams are warming up on the field.
12:13: Sunderland have named an unchanged starting eleven in three consecutive Premier League games for the first time since May 2014.
12:00: In, what is potentially the biggest game of the season, Sunderland's first eleven remain unchanged and, as reported yesterday, Norwich were forced to take Timm Klose out of the side due to a knee injury.
11:56: As the crowd are filtering through the turnstiles into their seats, I can't help but feel they're about to witness a cup-final kind of game. Perhaps, I've just cursed it...
11:50: Norwich bench: Rudd (GK), Jerome, Hoolahan, Dorrans, Mulumbu, Redmond, Pinto.
11:50: Sunderland bench: Pickford, Jones, O'Shea, Larsson, Toivonen, Watmore, N'Doye.
11:49: Jack Rodwell dropped from the bench, as is Jeremain Lens and replaced by Duncan Watmore on his return from injury and out of favour Ola Toivonen.
Norwich Line-up: Ruddy, Wisdom, Bennett, Bassong, Olsson, Jarvis, Howson, O'Neil, Brady; Naismith; Mbokani
Sunderland Line-up: Mannone, Yedlin, van Aanholt, Kaboul, Kone, Kirchhoff, M'Vila, Cattermole, Borini, Khazri, Defoe.
Sam Allardyce has been throwing soundbites around this morning, perhaps playing a few mind games with his Scottish counterpart exclaiming that Norwich will be happy with a draw today, and may set the field out to do just that.
One of the main negatives going into the game for Norwich though is that their record at Carrow Road is not the best, having ony won five there all season, and Sunderland will hope this statistic doesn't budge.
Norwich are the proverbial, perennial bogey team for Sunderland, with the Wearsiders unable to beat them in their last five Premier League fixtures. Discipline appears to be an issue in this tie also, with red cards coming in three of the last four meetings between the two.
A win for Sunderland would leave them one point away from safety with a game in hand over Norwich and, with a sell-out allocation of travelling Mackems making the long journey to East Anglia, they will not be short of support.
Allardyce, however, hasn't approached the game in the same manner, claiming that most of his players "will not play for a bigger club than Sunderland". He has also stated mental frailties as his sides main weakness, but remains positive about the physical fitness of his players.
Neil appeared bullish before the game too, stating that it's the "ideal match" for the Canaries, knowing that a victory against their relegation rivals will send them seven points clear of the drop.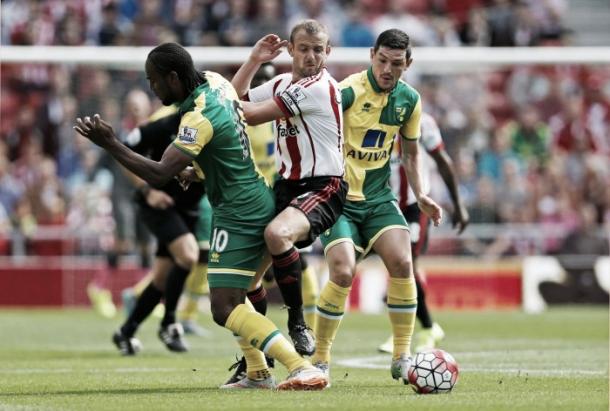 Alex Neil's side go into this game knowing that a victory will all but save them from relegation, and they've picked up some massive points in the last four games. A shock 0-0 draw with Manchester City sparked back-to-back wins in the next two games against West Bromwich Albion and Newcastle respectively. They did suffer a battling defeat at Selhurst Park however, and Neil will be trying to keep confidence levels high going into what is undoubtedly both teams' biggest game of the season.
The Black Cats have lost two of their last six in the Premier League. The overwhelming negative, however, is that they've drawn the other four games, with Allardyce bemoaning his teams concentration levels, giving away victories in the dying embers of matches against Southampton and in the North-East Derby at Newcastle United.
Sam Allardyce's side find themselves unscathed, injurywise, after their two goal reverse against league-leaders Leicester City on Sunday. Allardyce, meanwhile, will move to fourth in the all-time Premier League list of games managed after today, with this being his 462nd.
The Canaries line-up today will not see Alex Tettey's name upon it, as he will miss the remainder of the season with an ankle ligament injury. Talismanic centre back, Timm Klose, is also doubt with a knee injury, which he picked up in the game against Crystal Palace.
Norwich wake up today four points clear of the last relegation spot, as they face the team who occupy that position, Sunderland.
Hello and welcome to VAVEL UK's live minute-by-minute match coverage and commentary. Today, Saturday 16th April 2016, sees Norwich City host Sunderland from Carrow Road. This massive relegation six-pointer will kick-off at 12:45PM BST in Norwich, but until then - we'll have plenty of build-up to this huge encounter and more analysis from me Anthony Gair. Make sure you continue to follow the action.