Sunderland's crunch clash with Arsenal is likely to be a decisive factor in their Premier League survival challenge. Ahead of the Super Sunday showdown, Sam Allardyce has heaped praise on Sunderland's star striker, Jermain Defoe.
Lone striker role
Allardyce admitted that he was almost "brainwashed" into thinking the club's top scorer could not play as a lone striker, following Dick Advocaat's reluctance to play him as one.

However, following Advocaat's persistence to play Defoe out-wide, the striker has proved to Allardyce's predecessor that he can play as a lone striker and has bagged a total of 16 goals doing so.

Allardyce spoke about Defoe's positioning problem, or lack of in this case, in his pre-match press conference, revealing that he was "almost brainwashed into the fact that he couldn't play up front on his own" which he revealed "is a bit of a nonsense, really."

The Sunderland boss heaped praise on Defoe, knowing that if it wasn't for his goals Sunderland would have been dead and buried a long time ago.
He added: "The number of goals he has scored since he has played up front on his own. Long may it continue."
Allardyce also recognised that Defoe has "probably played more regularly for us than he has done for clubs in recent years" with "most of those" appearances coming "up front on his own" which the manager said he is "glad to say has borne us 16 goals in all competitions."
Formation frustrations
Whilst Allardyce acknowledges that some of Defoe's goalscoring form came when playing alongside someone, he states that when he arrived Sunderland were a team that "clearly couldn't play 4-4-2 on the basis of how many goals we were letting in."

Sunderland may have been scoring plenty, but they were also conceding goals at an alarming rate, as noted by Allardyce, who continued: "Jermain might score, but we let in one more than Jermain or whoever scored, so if we scored two, we'd lose three if we scored one, we'd lose two and so on and so forth."

That is something that has caused Sunderland to be in the position they are, which Allardyce recognised as he said that they "had to stop that" but admitted the problem is still ongoing for his side, "and we still have to stop it.'"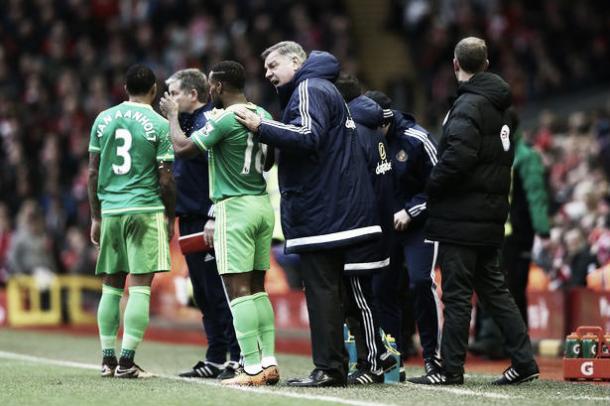 Squad fitness wasn't up to scratch
Defoe will be eager to add to his tally when Arsenal visit the Stadium of Light on Sunday. The former Tottenham man knows how crucial he is to his team's survival hopes.

The veteran striker, who arrived on Wearside in a straight swap deal for Jozy Altidore, paid tribute to the fitness regime implemented by the new management in October. Defoe has claimed that Sunderland were no-where near fit enough under Advocaat.

And Big Sam is shocked to hear that he inherited the least fit squad in the Premier League, "Yes, it was a shock because having to try to increase that fitness was a massive task. Doing too much, you will injure all your players."
He accredited his experience in getting his players fit again, saying that it was "more important to have them not quite fit enough, but available to play than it was trying to get them fitter and then losing them through muscle tears and muscle injuries."

Allardyce was adamant his squad would get back to full-fitness and made sure his staff were aware of this, "I told the staff a player could not get away with anything."

If a player did not do as he was told, he made sure they had to answer to him as he told his staff, "If you wanted him to do that little bit extra, make sure he does it and if he doesn't do it, just send him to me." He described it as a "school-teacher job" but admitted that sometimes "it does work."