Full Time: What an end here, to this game. A Defoe penalty saves a poor performance right at the death. Stoke will feel they've been robbed of three points.
90 + 5' It will be argued that Sunderland didn't deserve that, but the Sunderland fans don't care much for that.
90 + 4 Big chance here for Defoe, he must score. And he does! Straight down the middle!!! 1-1!!! Sunderland are hanging on by the skins of their teeth!
90+3 PENALTY: Sunderland go up the other end, Defoe causes Geoff Cameron issues, who clips Defoes heels and gives away a penalty.
90 + 2: MASSIVE CHANCE: Walters plays in Imbula, who is free of all the defenders, but he inexplicably slows the ball down and puts it wide.
90' +1 Watmore nearly steals the ball from Haugaards feet, but the keeper clears it efficiently.
Whelan has a shot from the resulting freekick, which is dragged just wide. Four minutes of stoppage time has been announced.
89' Crouch goes down, which infuriates Larsson, who left his foot high. Larsson trying to explain that he went for the ball, and it looks like he has missed Crouch as well.
88' Larsson smashes it straight at Haugaard. Poor.
87' Dangerous freekick for Sunderland. Sebastian Larsson territory, this.
86' Corner for Sunderland amounts to nothing.
86' Substitution for Stoke: Charlie Adam is replaced by Marc Muniesa.
84' My credibility takes a knock as it appears Watmore tripped over his own feet in that foul.
83' Imbula is booked for kicking the ball away.
82' Corner from Larsson is cleared.
81' CHANCE: Deflected shot by Defoe from the edge of the box floats wide. Sunderland getting into this.
80' Watmore is clipped by Walters outside of the Stoke area, but the referee has given nothing. Ridiculous decision.
79' Dame N'Doye booked for persistent fouling.
78' Substitution for Sunderland: Seb Larsson is on for the impressive Kirchhoff.
77' CHANCE: Defoe collects a ball in from Kirchhoff, flicks the ball up and volleys it over the bar. Would have been one of the goals of the season had it have gone in.
76' Elsewhere, Yohan Cabaye has missed a penalty against his former club at St James Park.
75' It's still all Stoke here. Imbula pulling the strings. Whelan has a strike from 30 yards, its deflected but straight into the hands of Mannone.
74' Sebastian Larsson is warming himself up, ready to come on for Sunderland.
73' CHANCE: Shaqiri with a terrific ball into the box, Mannone is very brave in taking the ball from Walters crossing header. Adam is booked for a foul on M'Vila.
72' The free kick is cleared by Kirchhoff. Sunderland need to pick up if they're going to make a fight of this.
71' N'Doye concedes a 'foul' on the edge of the area. Bardsley went down very easily there, I wonder what the referee saw there.
70' Stoke have a throw outside of Sunderlands area. Launched by Pieters, helped on by Walters but straight into the hands of Mannone.
As it stands, Newcastle will sit above the relegation bubble, two points clear of Sunderland.
69' Sunderland still giving the ball away needlessly all over the park. Horrifying times for the Sunderland faithful.
68' Two against two here, Stoke on the attack from a terrific ball by Imbula, but Kaboul stretches just far enough to win the ball back.
67' Adam strikes it, but its about a yard over the bar. Allardyce is asking more from his players now, its been mostly Stoke.
66' N'Doye concedes a free kick in a dangerous position, Adam can hit these.
66' News is filtering through now. The fans have been silenced in the away.
65' In other news, Townsend has scored for Newcastle. 1-0 against Crystal Palace, which is huge news for all the teams in the relegation area.
64' Mannone comes to clear the ball, but his kicking is questionable.
62' Van Aanholt tries to pick out anyone in the box, but ends up with it back at his feet, switching the ball to Yedlin who plays a ball in which is cleared by Stoke. A counter attack ensues, but comes to nothing.
61' Watmores first action is to run at the Stoke defence, but Shawcross and Pieters usher him off the ball.
60' Substitution for Sunderland: Khazri is off for Duncan Watmore.
60' Substitution for Sunderland: Borini is off for Dame N'Doye
60' Van Aanholt plays the ball to Defoe, who strikes it over the bar.
59' Kirchhoff is causing all sorts of trouble at the minute, good defending from Pieters plays the ball out for a corner. Allardyce delaying the substitution a little longer while this plays out.
58' Kirchhoff plays in Borini behind the defence, but a last gasp challenge from Shawcross sees away the danger.
57' Sunderland are ready to make a double substitution.
55' Substitution for Stoke: Arnautovic makes way for the returning Jonathon Walters, just back from knee surgery.
54' Sunderland have been given a corner. Arnautovic looks ready to come off now.
52' Stoke are on top now. Although, Arnautovic has a problem, he's scored and now he's asking to come off through injury. Just as that happens, he receives the ball down the left, but is unable to deliver a dangerous cross with his weaker foot.
51' A lot will be made of the challenge Crouch has made on Kaboul. But a goal is a goal, 1-0 it stands.
50' GOAL: Arnautovic has scored! Ball played in by Charlie Adam and Crouch heads it to Arnautovic who smashes it under Mannone to make it 1-0! Sunderland have to fight back, and quick.
49' Stoke having a decent spell of possession.
48' Stoke are giving the ball away cheaply at the beginning of this half.
47' M'Vila gets back up from a knock off Geoff Cameron, Khazri floats the ball in which is cleared immediately by the Stoke defence.
46' Sunderland have a freekick just inside the Stoke half. It's floated in but comes to nothing.
Stoke kick off, from right to left. 3000 Sunderland fans are very loud again, and anticipating what could be a huge win for Sunderland, with Newcastle drawing at the moment.
The teams have left the tunnel, and are back out for the second half.
Sunderland have been poor in the final third, but find themselves equal at the interval after Arnautovic ballooned the best chance of the game miles over. Allardyce was definitely looking at Watmore to replace Defoe before half time as well. We'll have to see how things unfold in the second half.
45 + 1 Defoe has signalled to the bench that he's ok to carry on.
45' Injury: Cattermole finds M'Vila down the left, but Defoe is down with an ankle injury. He landed on the side of his foot, which caused him significant pain. Watmore warming up, just in case. Nervy times!
Almost half time here. The stats show that Sunderland have had more attempts, but most of those have been mishits or failed crosses. Stoke have looked the more likely to score in my own opinion.
44' Khazri to take the corner, which falls to Kone and never looked like scoring, ballooning it wide.
43' Another foul. This time in Sunderlands favour. Lofted in by Van Aanholt, which eventually falls to Kirchhoff who wins a corner.
42' Borini receives a few laughs, dancing on the corner flag with Eric Pieters. The Stoke fullback serves a dummy, but then kicks it out for a throw in.
40' I'm beginning to believe I'm repeating myself - Arnautovic to Crouch, who heads it straight at Mannone. Thats the way it's gone so far, Sunderland havent been at their best yet.
38' Van Aanholt throws the ball in, but Khazri curls the ball miles wide. Perhaps that was a pass? Nobody there to accept it though.
37' The corner comes to nothing.
36' Sunderland are given a corner from some poor defending by Stoke. Haugaard fumbles the ball twice whilst trying to keep it in. The young lad looks nervous, but hasn't been tested yet.
33' CHANCE: Big chance missed by Arnautovic. He gets away from Yedlin down the left, and makes a hash of the attempt, smashing it into row Z. Should have done better without a doubt.
32' The free kick is floated in but is straight at Mannone. Who tries to set Defoe away with a long throw - which is instantly quelled by Bardsley and cleared.
31' Kone gives away a free kick on the edge of the box, unable to defend against the awkward Crouch.
29' Lamine Kone does well to win the ball from Imbula, and it works its way to Cattermole who overhits the pass for a goalkick to Stoke. The Wearsiders are settling into this, now.
28' Shaqiri an Arnautovic are causing havoc down both flanks at the minute. You feel Sunderland just need to keep possession for a period.
27' Khazri and Borini try to link up again, but yet again, are unable to link passes together and give the ball away in the middle of the park, forcing Kirchhoff into a foul.
26' Bardsley plays the ball in to Crouch and, with a great header, drops it just past Mannones post. You feel Mannone wouldn't have reached it if it was on target. Sunderland playing poorly so far.
25' Elsewhere, Newcastle are tied 0-0 with Crystal Palace.
24' Stoke are now on top, and look the more likely to score. On second look of that cross by Arnautovic, I feel Shaqiri could have done a lot more to hget on the end of it.
23' Arnautovic tries to play in Crouch with a terrific cross, but fails and the ball goes away for a Sunderland throw on their own touchline.
21' Stoke win another corner, and is headed, rather awkwardly, by Glenn Whelan out for a goal kick.
19' The game is starting to open up now, Van Aanholt launches an attack of his own, but fires his shot straight down Haugaards throat.
18' SAVE: Crouch gets his head to a ball in from the left, Mannone gets his hand to it, and palms it wide.
17' Charlie Adam free kick amounts to nothing, Yedlin heads it, before Mannone sweeps it up.
14' Wahbi Khazri tries a similar through ball to Defoe and fails, looping it straight to Haugaard.
13' Another long ball from Stoke comes to nothing.
12' Still yet to have a shot on target from either side, but both sides appear to want this.
11' Stoke fans screaming for a foul on Eric Pieters, but the referee gives nothing, for a shoulder charge by Borini.
9' Sunderland have a corner which is cleared, but straight to Van Aanholt who shoots and Defoe nearly gets on the end of it! He looked offside, but could have scored there.
6' Nothing doing here at the moment. The ball is camped in the centre of the park with both sides unable to string two passes together.
4' Stoke aim a long ball at the head of Peter Crouch, which lands into the hands of Mannone.
4' Van Aanholt and Defoe try to connect just outside of the Stoke area, but Bardsley intercepts.
3' Shaqiri feeds a terrific ball through the entire of Sunderlands defence, and Arnautovic almost gets on the end of it. Instead its fed through to Mannone's hands. Magical ball from Shaqiri.
2' The Sunderland contingent are the only people creating any kind of noise here at the Britannia.
1' Phil Bardsley concedes a throw in in Sunderlands half.
Kick Off: Sunderland will kick from right to left.
The Sunderland fans are in full voice already, with nervous anticipation of what the next 90 minutes will provide. The Mackems need the victory a lot more than Stoke, hopefully the performance will show this.
So, Sunderland remain unchanged from the side that beat Norwich 3-0, but Stoke are able to recall Xherdan Shaqiri from his hamstringt injury, which will be a welcome boost to the Potters.
Sunderland XI: Mannone; Yedlin, Kaboul, Kone, van Aanholt; Kirchhoff; Borini, Cattermole, M'Vila, Khazri; Defoe.
Stoke XI: Haugaard; Bardsley, Cameron, Shawcross, Pieters; Wehelan, Imbula; Shaqiri, Adam, Arnautovic; Crouch.
The teams are out!
Having sold out another away allocation, Sunderland fans will also be making the journey, fully intending to celebrate a victory to try and forge a lead over their relegation rivals, Norwich and Newcastle. They will be praying for a Newcastle defeat against Crystal Palace with their former manager Alan Pardew looking to put another nail in the Geordie coffin.
Sunderland predicted line-up: Mannone, Yedlin, Kone, Kaboul, Van Aanholt; Kirchhoff, M'Vila, Cattermole; Khazri, Borini, Defoe.
Stoke City predicted line-up: Haugaard; Cameron, Shawcross, Wollschied, Pieters; Imbula, Whelan; Krkic, Diouf, Arnautovic; Joselu.
Theres are injury woes for the home side, with Glen Johnson definitely out until early May with a knee injury and both Jon Walters and Xherdan Shaqiri are still doubtful with knee and hamstring injuries respectively.
Jermain Defoe is expected to start again today with him enjoying his best goalscoring season in the Premier League (13 goals) since 2009-10 at Tottenham Hotspur (18 goals). This is his highest tally of away goals in a single Premier League season (10 goals).
However, negatively, the Wearsiders have allowed their opponents, this season, a league-high 200 shots on target in the Premier League. This may well reflect highly on stopper Vito Mannone's performances throughout the earlier barren periods and explains why he was given the space between the sticks when many were calling for England U-21 goalkeeper Jordan Pickford to take his place. Mannone has certainly made some important saves in his sides fight against relegation.
Statistical algorithms always tend to be broken when Sunderland are involved, but most of the stats are pointing in the Mackems' favour before a ball has been kicked. Sunderland have only lost one of their last nine Premier League meetings with Stoke, having won five of them.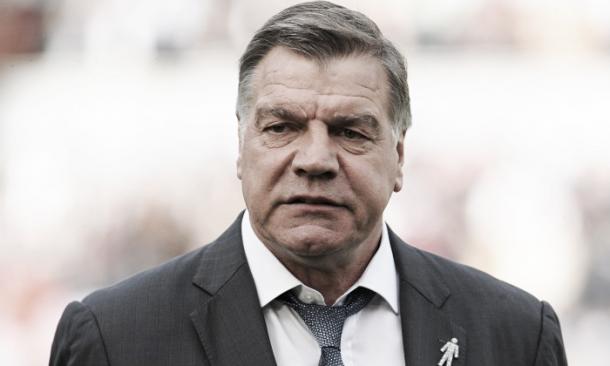 Allardyce will be buoyed by the fact that Stoke are struggling to keep a clean sheet, when his own side have kept three shutouts in their last four games. He has also claimed his January signings as "a mini miracle" in the Sunderland Echo, after explaining that he didn't expect to be fielding Lamine Kone, Jan Kirchhoff and Wahbi Khazri week in, week out.
Stoke fans, who would be forgiven for not selling out the stadium for this particular game, have had nothing to shout about this week and most are disgruntled of the link of their manager Mark Hughes to Everton. The Potters last three games have seen them concede four goals in each, scoring only one. Potters fansite 'The Oatcake" shows that fans are bemoaning the lack of commitment from their side.
Boosted by removing themselves out of the relegation zone for the first time since early March, Sunderland travel 186 miles to Stoke-on-Trent in high spirits. The Black Cats squad have no further injury worries, with the only casualty being Adam Matthews, who is already out for the remainder of the season. Therefore, Sam Allardyce will be expected to field the same side that drew with Arsenal.
Hello and welcome to VAVEL UK's live minute-by-minute match coverage and commentary. Today, Saturday 30th April 2016, sees Stoke City host Sunderland from the Britannia Stadium. This match will kick-off at 15:00 BST in Staffordshire, but until then - we'll have plenty of build-up to this encounter and more analysis from me Anthony Gair. Make sure you continue to follow the action live with VAVEL.