Another day, and another rallying call from a Sunderland player, this time, in the shape of Patrick Van Aanholt.
The left-back has insisted that Sunderland will not lose their nerve during their relegation run-in.
Disappointing display at Stoke
Sam Allardyce admitted that his side showed the first glimmer of nerves as they drew 1-1 at Stoke, last weekend. The Black Cats boss described his team's performance as "edgy". A last minute penalty from Jermain Defoe saw Allardyce's men salvage a point from a poor showing at the Britannia.
However, a point wasn't enough to keep them out of the bottom three, and they slipped into the relegation zone, following Newcastle's win over Crystal Palace.
Now, the Wearsiders face a difficult task as they prepare to take on Chelsea at the Stadium of Light. Regardless of Chelsea's poor season and dreadful defence of the title, it will be a tough ask for Sunderland to get something.
Van Aanholt, though, is full of belief. The left-back, who has been well reformed under Allardyce, believes Sunderland have already proved their mental toughness and is confident of his side's survival.
The Dutchman said: "No, we were not nervous [at Stoke]. "We had the same mentality as we've had in previous weeks." He added, "We got the point in the end which is fine because it's still in our hands."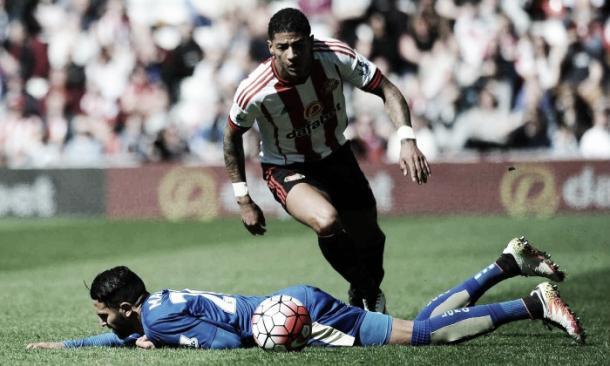 Looking ahead
The 25-year-old acknowledged Sunderland's game in hand on Newcastle and called for Sunderland to just "focus on ourselves", and to concentrate on getting three points against Chelsea.
"Chelsea haven't had the best season, but I'm sure they will be back next season and be challenging at the top of the league."
Van Aanholt paid tribute to the red and white faithful and complimented Sunderland's following ahead of the crunch clash, "Our fans have been outstanding all season, so with that home support, we can do something."
An ode to Defoe
If Sunderland are to walk away from the game with a win, it is likely that penalty hero Jermain Defoe will play a part and Van Aanholt knows that.
"Jermain is sharp in the box and he showed it again at Stoke. All through his career he's scored goals everywhere he's been. You know if you give him chances, then he's going to get goals."
The left-back described Sunderland's late draw as "massive" and accepted that it wasn't the team's best performance, "we went there to get the win, but if you can't win, then don't lose and we managed to do that."
He also admitted that it wasn't his best performance, adding that his "shots let him down", realizing that he "should've passed it Wahbi Khazri a couple of times".
The Dutch international insisted that his team "tried" and in the end, "got the penalty they deserved".