Sunderland manager Sam Allardyce has said that his side must not "lose the plot' like Tottenham Hotpsur when they host Chelsea on Saturday.
Level heads
The Black Cats Premier League survival still remains in there own hands as a late penalty from Jermain Defoe salvaged a 1-1 draw with Stoke City.
However Newcastle United's 1-0 win over Crystal Palace lowered them back into the relegation zone with one point separating them ahead of the weekend fixtures.
They host a Chelsea side that have just come off the back of a 2-2 draw with Tottenham which has been dubbed the 'Battle at the Bridge' with Spurs collecting a record nine yellow cards and Allardyce said that his side can't afford a similar fate.
Allardyce told ESPN in regards to Tottenham's mental capitulation that his side "can't afford to do that" and that they have to "stay focused" from "start to finish".
He continued saying that Spurs "lost a goal" then "lost the plot mentally" and that it is the "last reaction" that he wants from his side in "any of the last three games". He will accept only "controlled aggression" and doesn't want his players to "go over the top".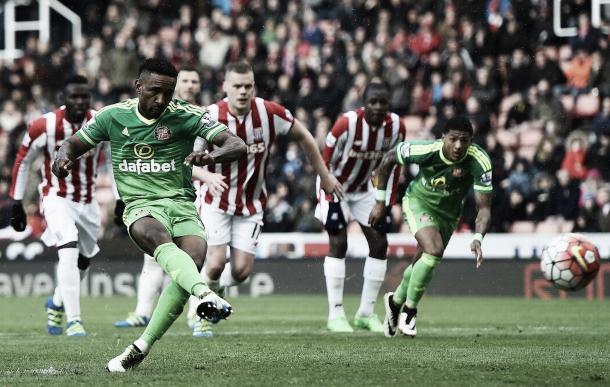 Finding his shooting boots
Defoe seems to be the side's real chance of survival at the present moment with his goal against Stoke been his 14th of the season.
However 11 of the those have come away from the Stadium of Light and with two home games in quick succession, Allardyce is hopeful that his star striker can end his four-month drought.
He said that if Defoe wears different boots "away from home" then he will have to "wear his away boots on Saturday".
Allardyce continued saying that this season has been "fantastic for Jermain" as he has played "on a regular basis" and is happy "playing every week" and becomes a "little bit sharper" and admitted the side would have been "struggling an awful lot more" without his goals.
Sunderland will host Chelsea at the Stadium of light on Saturday, May 7 with kick-off at 3pm BST.