Thank you for following, what I can only describe as a hectic game of football, which had us all on the edge of our seats. If I was you, I'd be straight on the internet looking for footage of Wahbi Khazris goal - what a strike that was. Please, follow me on Twitter, where I will tweet things... terrific things @anthonygair. I'm off for a beverage of sorts.
Sunderland have won this! Coming back from 2-1 down against a terrific Chelsea side. Diego Costa and Nemandja Matic were unable to win the game for the Blues as Khazri, Borini and Defoe all score for this tenacious Sunderland side. The Wearsiders are celebrating as if they've won the title. Incredible scenes.
90 + 5 Full Time: WHAT A RESULT!
90 + 4 Newcastle have drawn 0-0 at Villa Park!
90 + 4 SENT OFF: John Terry is sent off for a second yellow card. Committed challenge but he gets it wrong.
90 + 3 Borini tries for goal from 40 yards and hits the corner flag, much to the dismay of Sam Allardyce, who looks absolutely exhausted.
90 + 3' Here come Chelsea again! But Mannone gathers the ball up from a Chelsea cross. Big cheer and this Stadium is absolutely rocking.
90 + 2' Sunderland are so close to three points here, Mannone clears the ball which John Terry wins back.
90 + 1' It's all Chelsea at the minute, and there are FIVE minutes of stoppage time to be added on!
90' Fabregas is eyeing this one up. Smashed it against the wall, and M'vila wins the ball back.
89' Free Kick in a dangerous position. John O'Shea brings down Diego Costa on the edge of the area. Drama here.
88' Booking: Kaboul and Larsson both booked, Kaboul for dissent, Larsson for a cynical foul to find some time.
87' Kaboul stands over the free kick and is protesting against Fabregas' premature blocking of it.
86' Booking: As I say that, here come Borini and Defoe, the latter is clattered by John Terry.
86' Sunderland appear happy to hoof it clear and park the bus.
85' Chelsea are passing the ball an awful lot, but are providing nothing dangerous in the red and white half.
84' Elsewhere, Newcastle are still, crucially to Sunderland's cause, 0-0 at Villa Park, leaving Sunderland above the relegation zone, for now.
83' The two sides exchanging throw ins in the middle of the field, nothing much happening.
82' Kaboul and O'Shea looking very strong at the back, can they keep this up? Khazri has gone down injured. Breathing time for both sides.
81' "Things can only get better" cry the Sunderland fans, but I'm not sure how much better this game can get. Chelsea have 10 minutes to equalise.
80' Chelsea Substitution: Willian off for Oscar, who scored in the reverse fixture.
76' Chelsea attack, Costa to Willian on the right hand side, to Matic, to Fabregas, to Hazard, to Costa and cleared by Kaboul. Great defending.
75' Corner is taken by Khazri, and its cleared by Terry.
75' Duncan Watmore is full of running here, and wins Sunderland a corner from absolutely nothing.
74' SAVE: Mannone is moving away from the ball, when he realises its going into the top corner, and claws it over the bar. Great save.
73' Kabout fouls Costa on the edge of the area. Very dangerous position. Willian stands over it.
72' As things begin to calm down, the Sunderland fans have exploded into euphoria. Chelsea, however, have the ability to hit you back! I look forward to the next twenty minutes.
71' Substitution for Sunderland: Cattermole makes way for Seb Larsson. For the booking perhaps?
Jermaine Defoe has his shirt over his head, his first touch is terrific, his second touch is a volley straight into the right hand side of the net. I can't breathe!!! What a game!
69' GOAL!!! SUNDERLAND TAKE THE LEAD!!!
Borini strikes one from 20 yards, which is deflected into the net by Courtois. Sunderland have been terrific!
66' GOAL!!! Sunderland have equalised through Borini!
65' Chelsea have all 11 players around their box, waiting for the counter attack.
64' Substitution: Duncan Watmore comes on for the impressive Jan Kirchhoff.
64' The corner comes in from Khazri, Courtois punches it nervously straight to Cattermole who smashes it onto the A1231.
63' Corner for Sunderland, Ivanovic clears from a Van Aanholt attack.
62' Watmore is primed and ready on the bench.
61' SAVE: Mannone saves his side again, as Chelsea carve open Sunderlands defence. Hazard played the ball into Costa who smashes it at Mannone who had time to close his angles. Wonderful move by Chelsea.
60' Elsewhere, it's 0-0 at Villa Park, and Norwich were defeated 1-0 earlier against Manchester Utd.
59' Corner for Sunderland, which is delivered by Khazri and Kirchhoff volleys it wide.
58' Sunderland on the attack now, Khazri, to Borini but the pass from Borini is poor. Chelsea breathe again. Sunderlands fans are making some noise here! Very loud!
58' Mannone claims the ball from the feet of Azpilicueta.
57' Sunderland enjoying the possession at the moment. Unable to carve out a proper chance, but they look lively.
56' Substitution: Lamine Kone is brought off for John O'Shea. Kone didn't look too happy about that.
55' Hazard is back on now.
54' Fabregas floats one in, but it's cleared domineeringly by Kone.
52' Hazard appears to be hurt, badly. He is ushered from the field, and Willian stands over the free kick alongside Fabregas.
51' Booked: Cattermole takes down Hazard, horrible tackle, studs up onto Hazards ankle. Naughty.
50' Sunderland go up the other end and win a free kick on the edge of the area. The ball is played in, Kirchhoff heads it into Courtois hands.
49' CHANCE: Costa free through the Sunderland defence, and must score! Great save by Mannone although it was straight at him.
48' Chance: M'vila plays a great ball into the 6 yard box, but Defoe just couldn't reach it!.
47' The Sunderland players appear to be up for this still, with Khazri, Kirchhoff and Yedlin all having attacks thwarted already by the Chelsea defence.
45' We're underway again, Sunderland kicking from right to left.
Sunderland must get an early goal this half if they're to avoid defeat here, in my opinion. Chelsea have shown, all they need is a sight on goal, and they'll score.
Chelsea haven't been able to play the ball the way they usually would, with Cattermole, M'vila and Kirchhoff having brilliant games in the centre of the park for Sunderland.
Half time: Sunderland can think themselves unlucky to be down at half time. They have been brilliant in the first half but still find themselves 2-1 down.
Nobody heads the ball at the back from Sunderland, and the ball is headed to Matic who calmly slides it through Mannones legs. 2-1.
45 + 3 GOAL: Matic has scored completely against the run of play.
45' The free kick amounts to nothing, but Sunderland are finishing with a flourish in this first half.
44' A Wearside version of 'Wise Men Say' reverberates around the Stadium of Light, and Sunderland win a freekick down the right hand side. 3 minutes of stoppage time at the end of the first half has been indicated.
42' I've just gathered my sense again. What a strike that was. Having just viewed a replay, this has to be a contender for goal of the month, if not goal of the season for technique. Unreal.
The free kick becomes a game of head tennis, and the ball eventually hits the foot of Khazri who absolutely smashes it first time into the bottom right corner. Game on!
41' GOAL: WAHBI KHAZRI WITH A WONDER GOAL
Sunderland have a chance to break, but the referee blows up for a foul against Chelsea. The crowd are going ballistic at the referee.
40' Costa appears to have spent more of this game on the floor than he has on his feet. Down again, this time because of a challenge from Borini.
39' Chelsea given a soft corner, Costa keeps the ball in and it's cleared by a Sunderland defender. The corner is wasted and comes to nothing.
38' Willian, Hazard and Ivanovic brake for a counter attack, Mikel and Costa join in, with the latter taking the ball into the area - Mannone clears up the mess.
37' Sunderland enjoying possession in the Chelsea half, and Kirchhoff has a strike, but it deflects harmlessly into the gloves of Courtois.
36' Both players are back on.
35' The injury break has gave everyone a breather. Borini and Terry are back on their feet. The Italian will have to go through the 'concussion checks' before he enters the fray again.
The replays show that former Chelsea player Borini takes an accidental elbow from Terry. That looks painful in slow motion.
33' Borini and Terry challenge for the same ball, both end up in a heap on the Stadium of Light turf. Looks like a dead leg for both players.
32' Sunderland's defence keeping Costa at bay for now, but you feel that, as Costa builds in confidence, the defence may not be able to hold him back forever.
30' Scrappy again, but Sunderland are getting more and more into this one. Defoe gets free of the defence but is called offside. Great ball by Cattermole to start the move though.
27' Elsewhere, Newcastle are still tied 0-0 at Villa Park.
23' CHANCE: Defoes has the ball out wide, and crosses it in. Yedlin heads it towards goal, and its blocked well by Courtois.
22' CHANCE: M'Vila is played in through the middle, but side foots it into row Z. Poor, but Sunderland are getting back into this.
21' Penalty shout: Cattermole plays a great ball through the Chelsea defence to Borini who goes down, nothing given, but Borini seems to be claiming for handball rather than a foul by Ivanovic.
Defoe runs in behind the Chelsea defence, but is called offside... questionable decision from the linesman.
19' CHANCE: Jermaine Defoe hits the post!
Costa Goal: The Spaniard is played in down the left hand side, and plays the ball comfortably over Mannone, passing it into the back of the net. Brilliant finish. Sunderland trail.
14' GOAL: Costa opens the scoring, 1-0 Chelsea.
11' Diego Costa has taken his gloves off... Thats as exciting as this has gotten, so far.
9' The sold-out crowd trying to build up an atmosphere. But cannot stop Hazard belting down the left wing, who then plays in Willian who cannot strike the ball properly, and sends it comfortably into 'Keeper Mannone
8' Diego Costa tries to break free, but cannot evade Jan Kirchhoff as the big German wins the ball tremendously from behind the Spaniard.
7' Kirchhoff plays the ball to Borini, who tries to play in Defoe, who cannot control it and Chelsea survive a decent Sunderland attack through the centre.
5' A scrappy one this, now. Both sides battling for posession in the centre of the field.
3' Khazri smashes the resulting free kick into the Chelsea wall.
1' Sunderland blast away out the blocks, and Gary Cahill goes in the book for a foul on Defoe. A lot of 'last man' shouts, perhaps lucky it was only a yellow. I think we're 22 seconds in!
Kick off: Chelsea get the game underway!
So the teams have retreated to the dressing room, it's almost time for kick off here in this huge clash! I will try and keep you all updated on the Newcastle - Aston Villa game also as I receive information from elsewhere.
In other news at the bottom of the Premier League, Norwich have bean defeated 1-0 at Carrow Road from a cool Juan Mata goal in the 72nd minute. A win for either Sunderland or Newcastle today will pretty much see the Canaries down.
Just down the A19, Middlesbrough have been promoted to the Premier League after drawing 1-1 with Brighton. Brighton go into the playoffs, so their dream isnt over!
The general consensus on Wearside, on the buses and outside the stadium, is one of optimism, with a lot of the Sunderland fans confident of a win.
The Wearsiders will be praying that their defence can hold out for another 90 minutes - and, perhaps controversially, leave the Stadium of Light happily, with a point.
The ramifactions from this game are massive. Sunderland must win to remain in with a chance of staying up. It is a massive ask, however, as the current champions come to the Stadium of Light looking to finish as high up the league as possible.
The Chelsea team bus has reportedly turned up late, stuck in the traffic I mentioned earlier (and was consequently stuck in, myself).
Sunderland remain unchanged again: Mannone; Yedlin, Kone, Kaboul, van Aanholt; Kirchhoff; Borini, Cattermole, M'Vila, Khazri; Defoe.
This is how Chelsea line-up today: Courtois; Ivanovic, Cahill, Terry (c), Azpilicueta; Mikel, Matic; Willian, Fabregas, Hazard; Diego Costa
Everyone attending the match from the Sunderland area, the traffic in and around the stadium is being hampered by some nearby temporary traffic lights in the Pallion area. This is causing a buildup of traffic on the nearby Queen Alexandra bridge.
Chelsea predicted XI (4-2-3-1): Courtois; Ivanovic, Cahill, Terry, Rahman; Fabregas, Matic; Pedro, Loftus-Cheek, Oscar; Costa.
Sunderland predicted XI (4-1-4-1): Mannone; Yedlin, Kone, Kaboul, van Aanholt; Kirchhoff; Borini, Cattermole, M'Vila, Khazri; Defoe.
Allardyce is looking to mastermind another incredible escape though, and the hosts will be fired up and ready for an incredibly significant game today that could make or break the club's season.
That encounter, at Stamford Bridge back in December, ended 3-1 in Chelsea's favour, and the same result today would be the third time in a row the Blues have beaten the Black Cats by that scoreline.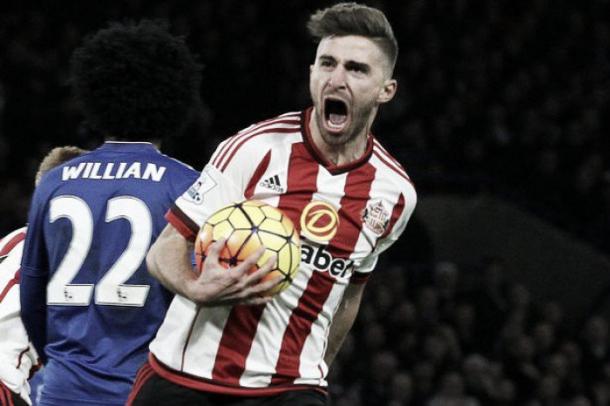 That Sunderland win came at this stage of the 2013-14 season, as they completed another great escape. Fabio Borini, a former Blue himself, scored a decisive spot kick in that fixture as the Wearsiders won 2-1, and he also netted when these two last met.
They will fancy their chances today though, coming up against a Sunderland side who have only won one of their last nine. As well as that, the Black Cats have only beaten Chelsea once in their last 11 meetings.
However, their form hasn't been fantastic recently, with a 4-1 win over AFC Bournemouth papering over the cracks made by a disappointing 3-0 defeat to Manchester City and a 1-0 loss at Swansea City.
The Blues come into this match off the back of a high-profile London derby with Tottenham Hotspur; Hazard's late equaliser in the 2-2 draw seeing the reigning champions hand their Premier League title over to Leicester City.
The likes of Ruben Loftus-Cheek and Baba Rahman could start for the visitors today as changes are wrung, while Oscar could come back into the team as well. Players such as Willian, Cesar Azpilicueta and Eden Hazard are expected to be rested for Wednesday's game.
Allardyce himself has already said that he is planning to rotate an XI that has been very consistent over the last few weeks, while, with the Blues having little to fight for, Guus Hiddink has been handing chances to fringe players recently.
Plenty of changes could be made by both managers though, with both having midweek games around the corner. Chelsea face Liverpool on Wednesday in a mouth-watering clash, while Sunderland welcome Everton in another massive game when it comes to saving their season.
As for Chelsea, they will welcome Thibaut Courtois back from suspension, with him to expected to replace Asmir Begovic in between the sticks. Loic Remy and Kurt Zouma, in the mean time, are both sidelined through injury.
The home side are boosted by a lack of injury concerns coming into the game then, with Jeremain Lens their only doubt. The Dutchman was forced to miss the draw with Stoke City last week through illness and has been racing this week to be fit for this fixture.
Sam Allardyce's Black Cats are scrapping for their lives at the bottom of the table and desperately need a result today. Newcastle United are away at Aston Villa at the same time and are odds on to get a result there, meaning this game is even bigger for Sunderland as they look to keep up in the relegation race.
Hello and welcome to VAVEL UK's live minute-by-minute coverage of today's clash between Sunderland and Chelsea. My name is Anthony Gair and I'll be taking you through events as they unfold at the Stadium of Light this afternoon, with kick-off at 3PM BST.