Sunderland moved out of the bottom three by a single point yesterday, as they secured three points in a thrilling game that saw five goals and a red card by the time the final whistle was blown.
With Newcastle only managing a goalless draw at Aston Villa and Norwich losing at home to Manchester United, Sam Allardyce's side are now firmly in pole position to avoid the drop, with a win against Everton on Wednesday enough to confirm Premier League safety. Here are five of the many talking points that arose from yesterday's game:
Sunderland finally came from behind to win
Yesterday's game was the first time that Sunderland have won at home after being in a losing position, which speaks volumes for the fight and determination on display in such a vital game.
So if Sunderland can do it now, why can't they do it earlier on in the season and perhaps avoid this kind of situation altogether?
Fight and determination are two words that describe yesterday's performance, but they certainly did not apply at the beginning of the season when Sunderland seemed to crumble time and time again after going a goal down. That was one of the many factors in their shocking start to the campaign, and it has been the case in previous seasons.
Hopefully now Allardyce can eliminate this unwanted habit and ensure that this type of display is on show much more often, starting with next Wednesday's game against Everton.
Tactical change to move Borini closer to Defoe paid dividends
In the 64th minute of the match, Allardyce decided to change the shape of the team as he took of Jan Kirchhoff and replaced him with Duncan Watmore. This saw a change from a 4-1-4-1 to a 4-4-2, with Fabio Borini partnering Jermain Defoe up front and Watmore going out wide.
Three minutes after the substitution Borini had made it 2-2. Six minutes after the substitution Defoe had sent the crowd in to raptures by making it 3-2.
The change offered some relief for Defoe, who was being marked by two tall and physical defenders in John Terry and Gary Cahill in the first hour of the match and as a result had not seen too much of the ball in dangerous areas.
Borini gave the Chelsea defence something else to think about, as he and Defoe both found space in the box for their goals that would not have been possible but for the change.
Wahbi Khazri turned it on just when his manager needed him to
One of the star men in yesterday's performance was January signing Wahbi Khazri, who scored one of the goals of the season to make it 1-1 in the first half.
Throughout the game, the 25-year old was a threat to the Chelsea back line with his direct running and non-stop work ethic, with Branislav Ivanovic having a hard time trying to keep him under control for 90 minutes.
Allardyce will hope for another performance like this one on Wednesday, as Khazri showed today that he has the ability to cause problems for defenders once he gets going.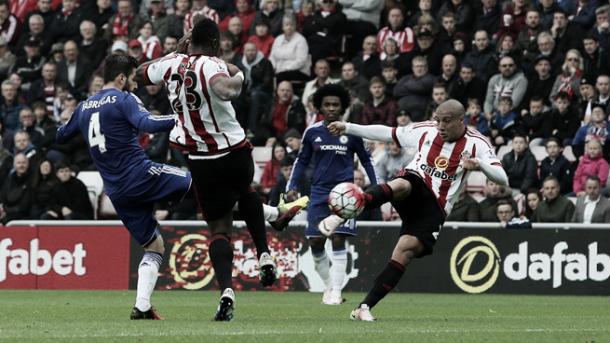 Yann M'Vila put in a performance reminiscent of his older self
One of the more disappointing points of the second half of this season has been the dip in form of Yann M'Vila, who was without a shadow of a doubt Sunderland's best performer in the first half of the campaign.
Now that the signing of Kirchhoff has taken some of the limelight from the Frenchman, he has not come under too much scrutiny in recent times, whereas perhaps he should have been considered as a player that could be dropped for a few games.
However, M'Vila stepped up to the plate yesterday and showed the fans as well as his manager that the player we saw in the first half of the season is still in there, with his industrious and composed performance helping his side on their way to three vital points.
Despite only being on-loan from Rubin Kazan, M'Vila has made clear that he would welcome the idea of staying with the Black Cats next season if they are to avoid the drop, and with performances like this Allardyce would be wrong not to offer him a permanent deal in the summer.
The job is not yet done - but three points on Wednesday and the fans can rest easy
Sunderland may now be clear favourites to survive, but it is still possible that they could slip into the Championship if they don't keep their focus and secure at least two points from the next two games.
With a game in hand and a point seperating them from Newcastle, and four points separating them from Norwich, Allardyce knows that three points against Everton on Wednesday would be the perfect scenario.
Newcastle will hope that Sunderland pick up just one point from their next two fixtures, knowing they need to beat Tottenham on the final day to stand any chance of playing in the Premier League next season even if the Black Cats do lose both of their final two games.
Norwich however must win both of their final two games against Everton and Watford and hope that Sunderland only pick up one point from their last two against the same opponents, and with the Canaries looking uninspiring in recent matches this outcome looks unlikely.
A win on Wednesday would not only secure Premier League safety for Sunderland, but would also send local rivals Newcastle down to the Championship, and would be the perfect end to the season in the eyes of the Black Cats' fans.