Jermain Defoe is a natural goal scorer with plenty of experience and with 18 goals in all competitions this season, having single handily helped keep Sunderland in the relegation battle, his resume couldn't be any stronger; not to mention he has experience playing for his country.
Yet, as it stands, most don't expect to see Defoe's name in the England squad when Roy Hodgson announces the team on Thursday.
That is something that Sam Allardyce would like to change, and he has urged the Three Lions boss to consider his star striker for this summer's tournament in France. After an injury blow to Danny Welbeck, an opening may have appeared for Defoe to squeeze a last minute seat on the plane for the short trip.
Sunderland saviour
It has been another torturous season for Sunderland but Defoe has provided hope to everyone on Wearside, and Big Sam admitted that without him the club would have been relegated a long time ago. He is adamant that his striker is the right man for the job at the Euros, after a "big run of games" that he hasn't had in a "few years".
His record of 18 goals, so far this season, is something Allardyce finds "quite remarkable" for a team that has been in and out of the relegation zone all year; and shows he can get the job done in even the toughest of circumstances. But with England's highest quality players behind him creating him chances, how many could he score in France?
Of course - with the likes of Jamie Vardy and Harry Kane having their greatest ever seasons - even if Defoe was to travel it is unlikely he would start, something Allardyce accepts. But he also makes the valid point that if England "need a goal" then Defoe is the man you want the "ball to drop to" and coming off the bench he could easily make an impact.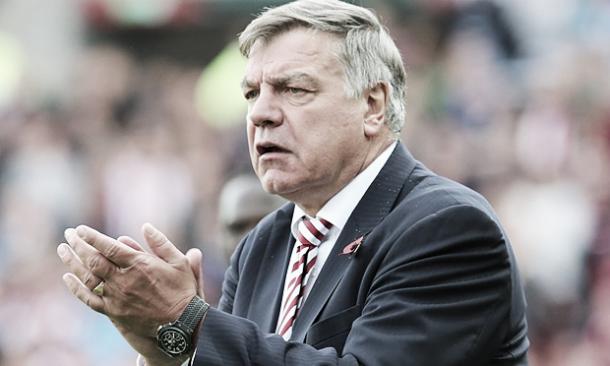 No contact yet
So far there has been no contact from Hodgson to Sunderland, and a leaked squad list that briefly appeared on the FA's website yesterday didn't have Defoe's name in the squad. However, he was on the standby list which could be a sign that the England boss is considering the option if the leaked squad turns out to be real.
Allardyce thinks that Defoe's performances have forced Hodgson to "take a little look" and knowing how much "experience" he has at international level - with 55 caps to his name - the forward has proven he can "do it at that level".
Whilst his focus may be on the upcoming clash with Everton, a potential chance to play in the Euros will no doubt be in the back of Defoe's mind; come Thursday he will know his fate.