Wearsiders will distinctly remember a very emotional Dick Advocaat after he steered them to safety at the end of the 2014/15 campaign, which in turn finally convinced the Dutchman to stay on as manager.
However, things didn't go to plan. Having failed to win their first eight Premier League games, Advocaat took to the exit at the start of October. Highly anticipated Sam Allardyce was his successor, and surely enough Sunderland finally clinched their first win of the season with a very redeemable 3-0 win over local rivals Newcastle United - albeit one which was followed by a humiliating 6-2 defeat to Everton.
To follow, there were further victories in November against Crystal Palace and Stoke City, but after five consecutive defeats in December, the Black Cats started 2016 seven points adrift of safety, which meant there was plenty of work left to do to avoid being relegated.
To the joy of many Sunderland fans, Allardyce strengthened his squad in the January transfer window. The signings of midfielder Jan Kirchhoff, winger Wahbi Khazri and Lamine Kone were all made, while top goal-scorer Jermain Defoe, who has signed in January of the previous year, complemented their arrivals with his great form. These transfers were important to the improved performance of the team and their form in the second half of the campaign.
The Lads have only lost five of their 20 Premier League games since January and, while it was certainly nail biting till the end, they managed to clinch survival after back to back victories over Chelsea and Everton at the Stadium of Light. To much of the fans delight, the latter victory was the final nail in the coffin to send Newcastle into the Championship for the second time in seven years too.
To finish off another hectic, heart in mouth season, a changed Black Cats side secured a 2-2 draw away at Watford. Allardyce made nine alterations and three of those were ones which gave debuts in the senior squad to youngsters, who are starting to prove their worth to wear the Sunderland badge in the Premier League. Those three players were Tommy Robson, Rees Greenwood and George Honeyman, who we may be seeing more of next season,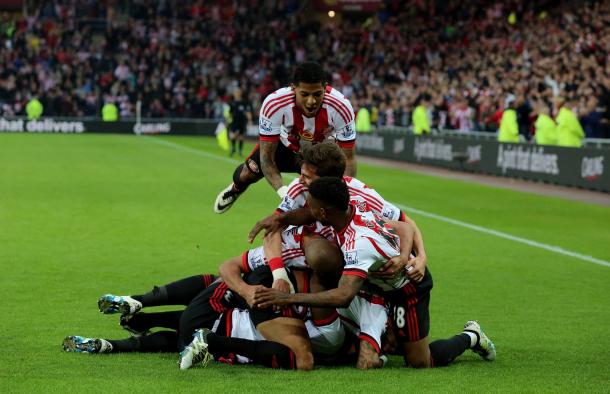 Star player
An already proven goal scorer, Jermain Defoe proved he can even score goals for a team that is struggling against relegation this year, bagging 15 from very little service.
Along the way he has also proven that he can be a lone striker, after Advocaat deemed he couldn't. Allardyce saw this differently and was right as, without Defoe's goals this season, Sunderland would have no doubt been relegated to the second division some time ago.
What went right?
Appointing Sam Allardyce was the key turning point for Sunderland this year.
It did take a while for Big Sam to have any sort of impact, but with great recruitment in January leading to the Black Cats to lose four games in 2016 - those against big teams in Tottenham Hotspur, Manchester City, West Ham United and Leicester City - plus a run of one defeat in 10 games, his arrival certainly kept them in the top division.
What went wrong?
The persuasion of Dick Advocaat to return as manager was what caused the early problems on Wearside.
At the end of 2014/15 it was known that Advocaat was going to leave Sunderland, but having saved them from the jaws of relegation, the outcry of fans to keep him at the club unfortunately backfired.
Having been unsuccessful in the summer transfer window, he was left with a club that was going to struggle to stay up, so made the decision to leave in October which still gave the next manager plenty of time to find a system that worked and undo his poor work.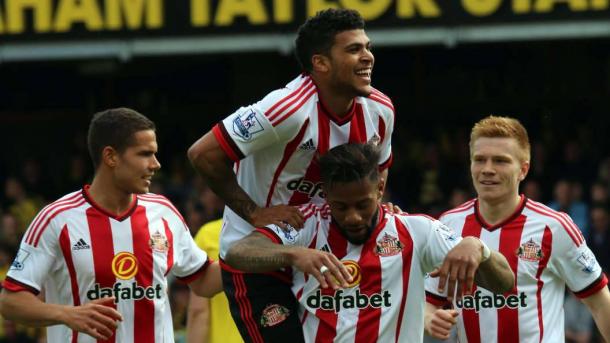 What's next?
Allardyce is now looking to sit down with owner Ellis Short to negotiate a sizeable transfer budget to improve the squad during this summer's transfer window.
He has made it clear already that his first priority is to sign another striker that will help relieve some that pressure on Defoe, as well as a winger, another two centre backs and full backs - particularly a right-back.
The manager does want to get his business done early to get the group for next season ready and together, but the Euros are likely to disrupt that in what will be a hectic summer.
2015/16 Stats
Finished 17th position, with a total of 39 points. Jermain Defoe top goal scorer having scored 15 league goals.
FA Cup: Third round – Arsenal 3-1 Sunderland
League Cup: Third round – Sunderland 1-4 Manchester City
The Black Cats spent a staggering 237 days in the relegation zone but managed to still survive against the odds. Only Southampton back in the 1998/99 season spent longer in the bottom three without being relegated (252 days).