After managing to successfully escape relegation, Sam Allardyce made the decision to debut some of Sunderland's most promising young talent in the final game of the season against Watford, providing left-back Tommy Robson with a moment the young man will never forget.
Following the success of both Duncan Watmore and Jordan Pickford this season, it's clear that Allardyce isn't fearful about giving young players an opportunity and rewarding them if they take it, which has seen both men become regulars within the squad have a great impact on Sunderland's survival.
Now the two have become role models for the club's young talent and Robson is hoping to follow in their footsteps.
Following their footsteps
Both Watmore and Pickford have given hope to those in the Black Cats' youth system as, several years ago, "no-one was getting a chance" at being involved in the first team, Robson told the Sunderland Echo, where now there are "a lot more" players training with the squad.
Whilst Robson knows he is "still young" and has a "lot of years ahead" of him, he admitted it has "definitely helped" him to see Watmore and Pickford so involved in the first team this season, which has left him hopeful for next season.
The left-back knows it will be tough to get a regular spot on the team, with Patrick van Aanholt being one of the club's best players this season. The Dutchman has certainly earned his place in the starting 11 and Robson knows he must "bide" his time, but the experience was crucial to him.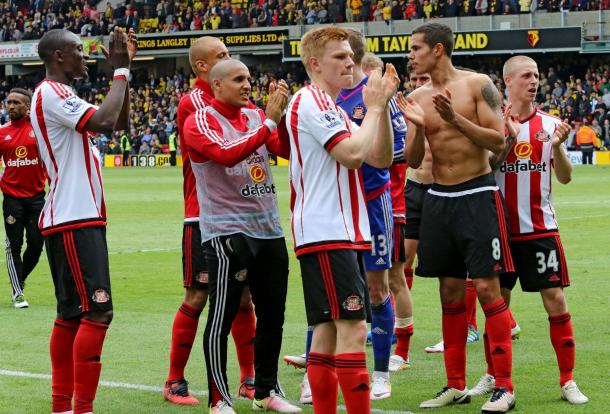 Debut experience
The defender claimed that the experience was "unbelievable," with him finally able to play in a Premier League game after training with the first team for some time.
Robson was notified of his chance on Saturday which created a mix of both "excitement" and "nerves," yet when he stepped onto the pitch he simply "cut everything out" and got on with the task at hand.
Now he has his sights firmly set on next season and starting the "hard work" for it, but he knows ultimately it is "up to the manager" to give him an opportunity. Luckily for him, he has one willing to give youngsters a chance, should they earn it.