Sam Allardyce has set a goal for Sunderland to aim for next season, and that's to start the campaign as how they have finished this one to avoid yet another relegation battle.
On the final day the Black Cats' safety was a guarantee no matter what happened in the last game, which ended with a draw at Watford. They worked hard for safety with wins against Norwich City, Chelsea and Everton and this will "help with the confidence" going into next season.
Confidence boost
Big Sam says the Lads must start next season "where they left off," and that if they do it could produce "top six form."
Talking to the Chronicle, he said: "If we start where we left off then we will gain our confidence back again, and make sure we try and have a better season than this one."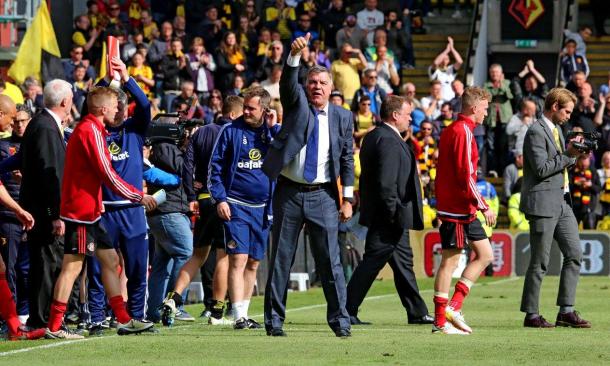 They ended the season with one defeat in their last 11 games and picked up 12 points from the last six fixtures, helping them avoid the drop. Big Sam believes that to "finish fourth from bottom" was "miraculous," and is a very good end to a "very difficult season."
Possible top half table finish next season?
"It was a terrific finish to the season for me, 12 points from the last six games and to finish the day undefeated was very important," Allardyce said.
The performances in the closing stages of the season saw the team average two points per game, which Allardyce called "top six stuff." If only the consistent improved displays were shown at the beginning of the season, as well as at the end.
"Next season, let's get 12 points from their first six games and not from the last six." he added.
Allardyce with have to be smart during the summer transfer and make good decisions to bring in players who will add to the team, but those players who stay next season "will come in with a spring in their step" he believes, after such a big achievement this year.